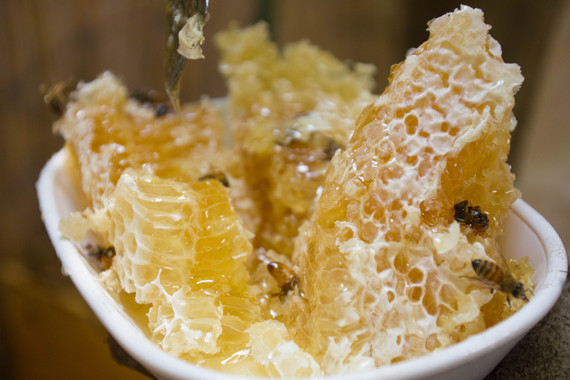 All images © 2014 Maya Albanese, All Rights Reserved.
Alarming plunges in bee populations worldwide are threatening key species and essential food crops. There are speculations as to the reason for the decrease, but an evident correlation is the mounting prevalence of man-made toxic chemicals in the environment.
Two years ago, Jessica Chrustic, 32, the Head of Food and Beverage for the W Hotel Hoboken and a resident of the Bedford Stuyvesant area of Brooklyn, started taking beekeeping classes at the New York City Beekeeper's Association. She became an urban beekeeper to take on a hobby that would protect a species under threat, positively affect the environment, and provide her with a strong connection to nature.
In 2013, her first hive experienced colony collapse disorder, an implicit result of the mass spraying of pesticides to prevent West Nile Virus in Brooklyn that year. Now, with a new colony of a resilient, Italian subspecies of honeybees, she is accomplishing the mission to help them proliferate. Her hive has experienced a population increase from approximately 12,000 to 50,000 bees in less than a year.
Regular hive inspections are an important part of the routine she performs to keep the bees at optimum health. She confirms that the queen bee is still alive, the colony count is increasing, and adequate honey is being produced. This photographic essay examines a day in the life of an urban beekeeper as she performs a hive inspection.
PHOTO GALLERY
Big City Beekeeper