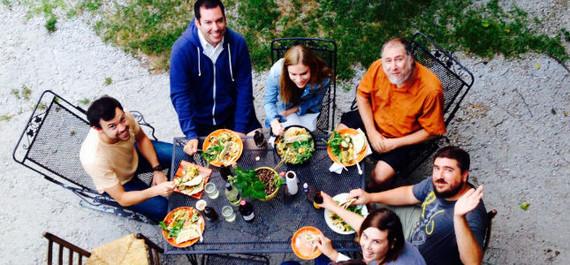 Organization: Howard's Organic Fare and Vegetable Patch is an organic grocer in Kansas City, MO bringing local and organic products to customers through a unique trust-based payment and membership system.
Challenge: Help Howard's grow its grocery membership, plan the launch of a new store and cafe, and use technology to improve both scalability and the customer experience.
Impact: We recommended two technology platforms to improve current inventory and accounting systems, made short- and long-term recommendations for enhancing the customer experience, developed a financial modeling tool to support Howard's upcoming business decisions, and created a road map for next-stage fundraising.
Howard's Organic Fare and Vegetable Patch is unlike any business model we have ever encountered -- and that's precisely why we were so thrilled to collaborate with owner Craig Howard for the week. Howard's operates on a trust-based customer experience: shoppers access Howard's 24/7 via keypad entry and checkout by handwriting items on a notepad and submitting cash payments in a drop box or via Square Cash. Also available is a declining balance system institutionalized by the dozen or so steno pads nailed around Howard's back door. Craig Howard, himself an urban farmer, chef, entrepreneur, and occasional carpenter (he built the store floor by hand out of reclaimed wood), brought us on to look objectively at this model. How could it be improved for customers? Is there a role for technology? Is it scalable without losing the quaint appeal?
Our week started with unexpected news: Howard's would be moving spaces come September. True to Craig's attitude, he saw the operating interruption as a business opportunity. It would give him a chance to strategically pause, add a café to his existing grocery and catering businesses, and to consolidate all businesses under a single roof. Gathered around Craig's central table and rocking chairs, we settled on the week's plan to distribute customer surveys, host a focus group, develop a financial model across his three segments, and recommend 1-2 easily implementable technology solutions.
Through 85 survey responses and an hour-long focus group, it became clear that Howard's challenges lay less in customer positioning. It draws a loyal, energetic customer base seeking to live a community-oriented, farm-to-table lifestyle. But if the unique trust-based system goes far in terms of branding, it also leaves opportunity for operational improvement and customer growth. Our financial model and technology recommendations, we hope, helped illuminate how enhanced sales and inventory tracking, profit analysis, and membership retention could support Howard's growth plans. Our fundraising road map, which included best practices for crowdfunding, hopefully brings Howard's even closer to its goals.
Perhaps the most inspiring part of Kansas City, beyond the bountiful local food and produce, was getting a firsthand glimpse at entrepreneurs realizing their passions. In Craig's own words, "There's no book for how to develop an honor system. I had to figure it out myself." Whether in the local food, art, or tech startup scene, success in Kansas City seemed admirably self-made. We found it awe-inspiring to be surrounded by Craig, his girlfriend Cory, and the other folks in Kansas City chasing and sharing their passions.
This post was originally published on the MBAs Across America Blog on July 22, 2014