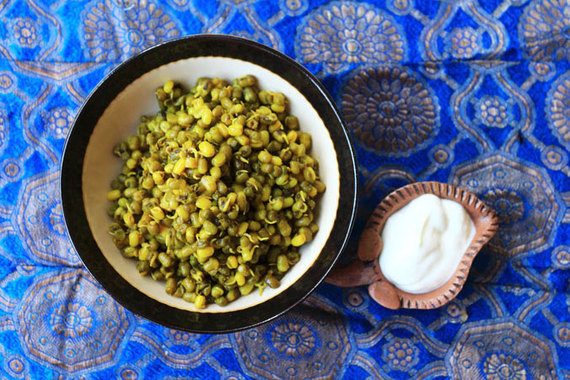 There are so many different ways to include mung beans into a meal; they are such a diverse ingredient. This is one of my favorite ways to eat Green Mung, sprouted and stir fried and eaten with a serving of yogurt. The easiest of all beans to digest and with endless nutrition benefits, mung beans really are a vegetarian's best friend. This simple stir fry goes well with any Gujarati thali as a side, or can be eaten alone with natural yogurt. Since mung beans don't have a strong flavor, the ginger, chilli and lime used in this stir fry seeps through with distinct richness.
Serves 4 as a side and 2 as a meal
250g green mung beans
600ml water
2 tablespoons coconut oil
1 teaspoon cumin seeds
Pinch of Asafetida
4 garlic cloves, finely diced
1 tablespoon ginger, finely diced
2 green chillies, cut in half lengthways
1 teaspoon turmeric powder
1 teaspoon sea salt
1⁄2 fresh lime
Begin by washing the green mung beans under cold running water 4-5 times. Leave to soak in the 600ml water for 6-8 hours or overnight. Once soaked, drain the water and thoroughly check through the mung beans for any beans which have not soaked and absorbed the water. If you prefer to sprout the mung beans, leave for a further 4-6 hours.
In a saucepan, heat the cumin seeds in oil and add the asafetida. Now add the ginger and garlic pieces as well as the long chillis, stir this for a minute and then add the mung beans, turmeric and salt. Cook over a low heat for 15 minutes and then squeeze the fresh lime over the dish before serving.