When I was invited to Tales of the Cocktail, it was described to me as "the Fashion Week of spirits." (Um, yes I will attend, thank you very much.) For this annual event, mixologists, alcohol brand ambassadors and cocktail consumers descend upon New Orleans to taste and see what's new in the liquor world. By way of tasting rooms (example: breakfast at Sailor Jerry's included a rum Bloody Mary with rum-glazed bacon) and seminars, you learn about the brands, which takes them from something you throw down your gullet to something you savor and appreciate the history of. Here are highlights from my experience at the event:
Barrel-Aged Cocktails
This is not a brand new concept, but it's one that's gaining in popularity. During a seminar on barrel-aged cocktails, I learned what these are: basically you make a cocktail (a Manhattan for example) and then put it into a barrel and let it sit for a few months; the flavors meld, the alcohol mellows out and the barrel adds an extra element as well, either from whatever alcohol lived in the barrel before or the barrel itself, which can bring out nut, mushroom, grass or apple aromas. For the imbiber, there are two ways to enjoy this trend: find a local bar that makes them, or make your own. You can do this with a barrel, or what I will be trying this week: use a 375 mL bottle that has a smoky piece of wood from a barrel in it (mine is courtesy of Hudson Whiskey). I sampled a Milagro tequila cocktail that I plan to recreate: Milagro Silver, simple syrup, maraschino liqueur, absinthe and Angostura bitters. (A Manhattan or Negroni are solid options as well.) Of the bartenders experimenting with this process, it seems that three months is an ideal time for letting it sit, and at six months, something distasteful happens in the aging, but then at a year, it's back to a smooth, delicious cocktail.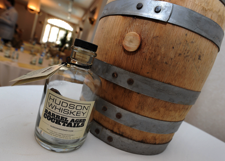 Tasting Oldies but Goodies
Some of these were new to me, some weren't. But they were all worthy sips. Glenfiddich Snow Phoenix is a limited edition that was born from a snow that lasted many months at the Scottish distillery; the heavy snow caused one of the distillery roofs to collapse, exposing casks of the single malt scotch to the winter conditions. Rising from the ashes, like a phoenix, was the Snow Phoenix, a combination of different ages of scotch (from 13 to 30) and is now pretty hard to find (buy it now, you'll be glad you did). Another enjoyable whiskey for novices and connoisseurs alike is Tullamore Dew, a blended Irish whiskey, which is the second-best selling Irish whiskey in the world. And for good reason: it's smooth, full of interesting/unexpected notes like lemon and mixes well (especially in Irish coffee). One of the most beautiful, and decidedly delicious, liqueurs I tasted is Solerno, which is made from blood oranges and gives a luscious smell to anything it's added to. Play with it in margaritas and mimosas.
Spirits on the Horizon
Lillet is one of those brands I love as much for its taste as for its pop culture history (James Bond requested it in his Vesper drink) and its bon-vivant marketing art-work. Next spring, the renowned aperitif wine will introduce a rose. Although it's lovely on the rocks, the Rougissant I tried had me going back for more than my fair share. (2 parts Lillet Rose, 1 part Hendrick's Gin, 1/2 part grenadine, 1/4 part orgeat/ 1/2 part fresh lemon juice, 2 parts soda, served over ice.) Another bev to try soon is from the well-awarded single malt Scotch whisky, the Balvenie. Tun 1401, which comes out in November, is made of six different barrels that are of differing ages (the oldest being 1966, youngest is 1988). And finally, a tequila. In October, Milagro will introduce its Joven Blend, which is the new frontier in tequilas, mixing silver, anejo and reposado tequilas. The taste experience from this $300 bottle goes from a familiar silver to a fuller body reposado to the smoky anejo.
At the end of the day, we all have our go-to cocktails, but if I came home with anything (other than a well-used liver), it's that spirits are meant to be enjoyed, savored, and experimented with. Cheers.