While editors and glitterati are wrapping things up at the European shows, on the opposite side of the world, I just experienced the most exciting fashion show ever. To categorize the World of Wearable Arts as a fashion show is not telling because it is so much more: It is a combination of a high-energy dance performance, with pieces of art worn by models as the forefront and a backdrop of phenomenal sets, dancers and music. Think of an Alexander McQueen show meets the Nutcracker on crack and then take it up a notch.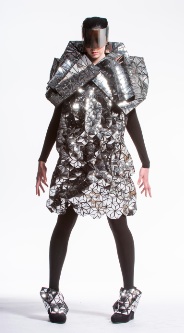 The World of Wearable Arts (WOW) show began in Nelson, New Zealand 25 years ago with 200 people in attendance. It was moved to its present home in the country's capital, Wellington, to accommodate the ever-growing audiences (forty-seven thousand would see the show this week). This year's show, which ran for two hours, featured more than 160 designs, with half of those designers coming from outside New Zealand.
The show opened with an interpretation of the child's tutu. These designs included a blackbird baked into a tutu pie, a carousel, a flying saucer and the Choo Choo Tutu, a wooden train that went around a tutu track. As the child models walked along the five-pronged catwalk, adult ballerinas danced behind, followed by ballerinas suspended from the ceiling by their feet, in a nearly breathtaking display of agility whilst hanging upside down. (How they performed elegant arm movements, which coordinated with the ballerinas below them on terra firm, without passing out is beyond me.)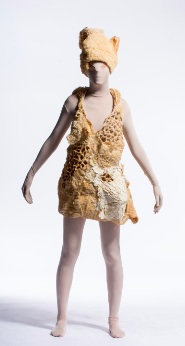 The South Pacific section featured a Kina (sea urchin) dress, as well as other sea-inspired looks and those specific to various islands and peoples. The Creative Excellence category interpreted art forms in nature, including other sea creatures as well as air, fire and land-inspired looks. There was a sixties-esque frock made of recycled phone books. Designers could go all out in the Open section--no rules meant a high degree of originality. There was an A-line dress made of 100-year old pressed tin, reminiscent of an angel Christmas tree topper. One of the standouts in this category was the "Sisters of the Acropolis," which had three women as pillars, dressed in Grecian garb, holding up part of a building along the top. Words don't do the visuals justice.
Other categories with spectacular looks and background choreography included Man Unleashed (menswear), Costume and Film and Avant Garde. One of the most remarkable vignettes was a dancing human kaleidoscope choreographed to "Lucy In the Sky with Diamonds" during the mens section. Again, my description cannot capture the moment, it's just something that has to be seen. I asked the people I went with to the show, who had been to previous shows about half a dozen times, how this one ranked and they agreed that the shows get better each year. And since the magic created on stage by the organizers, designers, dancers and all participants is truly hard to capture in words, I can't recommend this show highly enough. If Europe starts to feel tired, editors and co. can all head south for a fresh spectacle that's guaranteed to please.