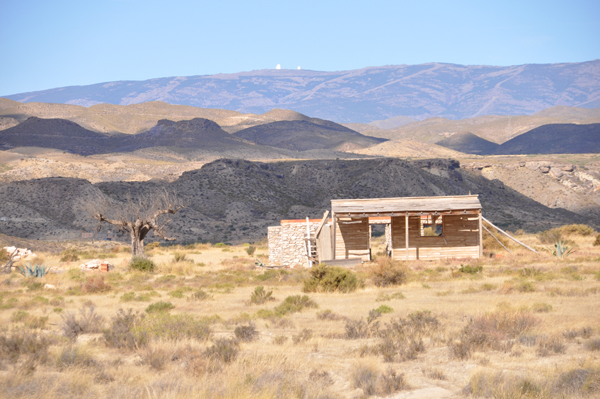 Lisa and I pulled off Highway A 92 at the foothills of Spain's snow-capped Sierra Nevada Mountains and headed east on a rural route into a sparse and unforgiving landscape. Within just a few kilometers, we saw signs emblazoned with "Mini Hollywood." We had arrived in the land of the spaghetti Western; we later learned that movies such as the early Clint Eastwood vehicles For a Few Dollars More and The Good, the Bad and the Ugly were filmed in this vast dusty plain.
As we traversed the winding road deeper into the Tabernas desert, our heads moved in unison from left to right and back again, as we scanned the landscape. We took in scenery that included a dilapidated building branded "The Roadhouse," the hard scrabble remains of old gravel pits, a circle of empty open-air jeeps painted in camouflage colors, and a string of steel electric towers that stretched out to the horizon. Lisa and I exchanged glances and an unspoken "Uh-oh, what have we gotten ourselves into?"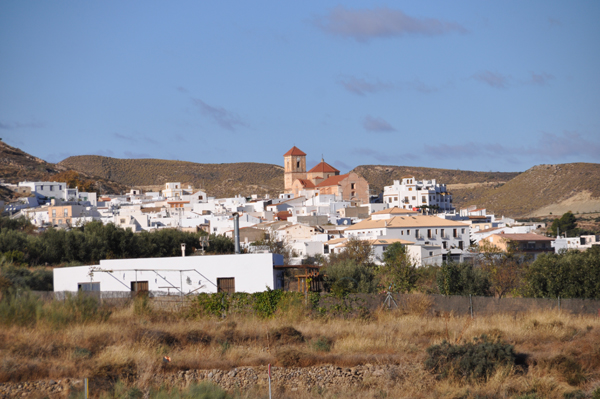 Just as we began to wonder if we had perhaps embarked down a seemingly endless road to nowhere, we saw the promised sign for Lucainena de la Torres. Making the turn, the surroundings seemed to change. The industrial edginess softened and groves of silvery green olive trees replaced abandoned cinderblock structures. Ahead, a pueblo blanco faced us from its perch high on the mountainside, appearing almost to glow in the waning late afternoon light. The bell tower of the village church rose protectively above the white cubist houses sprawled out on either side of it across the hillside.
We followed our directions to the outskirts of town and began our ascent. The road leveled out and I looked out across the valley, cross-hatched in shades of sienna, sage and straw, and admired the undulating contours of mauve mountains beyond, swathed in violet clouds. After six kilometers, we saw the stone we had been told to look for on the roadside, hand-painted with the name "Cortijo El Saltidor." We turned down a one-lane byway, driving farther out into the fiercely beautiful land in silence as dusk began to descend. We were both relieved to see the guest house's name marked on an expansive, white-washed Andalucian farmhouse nestled at the foot of a steep hill. It occurred to me that I had never arrived at an unknown destination so remote in darkness.
As Lisa and I emerged from the car, we were met by Claudia, the property's owner, a woman in her early fifties with rosy cheeks and bright blue eyes. She held back a thick blanket covering an arched entrance, and we entered a large, tiled country kitchen, delighted to breathe in the homey, spicy aroma that wafted toward us.
I asked about cell phone and internet connectivity and Claudia told me that Cortijo El Saltidor was off the grid and without such services but that she could arrange for us to have access later at an inn in town. I have come a long way from my days of getting jiggy for my "crackberry" as a colleague used to refer to hand-held electronic devices; nonetheless, I feel a vague uneasiness when far from the ability to reach out and touch civilization.
Over a delicious meal of an earthy eggplant dish in a Mediterranean tomato sauce, I asked Claudia what she most wished her guests would take away from their experience. She responded that she hoped they would cherish the deep silence of the area, as she did. She spoke of how she often saw clients arrive frantic and then see the fright in their eyes when told there was no telecommunications available.
She witnessed seeing people shrink at the prospect of being left alone with their own thoughts, or the company of their spouse, without the convenient escape of an important phone call or the need to watch the news. Claudia told us of one advertising executive who "ran away," and simply could not stay in the same room with himself.

She also said she enjoyed watching those individuals who seemed to blossom like a desert flower when given the freedom to become untethered from the chains of being a cog in the machine of life. She laughed and then said that it takes all kinds -- her oldest and dearest friend, a city girl through and through, still sleeps with the light on when she comes to stay at Cortijo El Saltidor.
Claudia told us about buying the farmhouse, and how it had been in ruins and needed to be completely re-built, an undertaking that took two years. Having had a mini nervous breakdown myself when dealing with a mere kitchen renovation, I asked whether she had any bad moments. She said seriously that there were two occasions when dealing with the contractors and all the endless decisions and delays had prompted her to grab her sleeping bag, climb into the mountains, build a fire and sleep up in the hills. I was astonished; I may have been tempted to head for the hills but Claudia had walked the walk.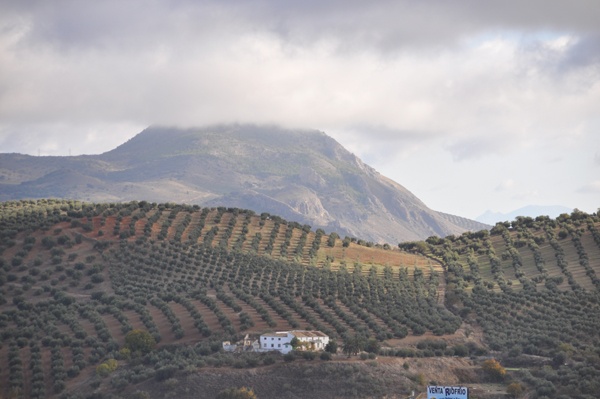 After dinner, Claudia said, "Come with me," and Lisa and I followed her outside and up a set of stairs to the roof. I tilted my head back, looked up and grinned with all my heart. In a velvet black sky of the Spanish desert, the moon shone and millions and millions of stars dazzled. The immensity of my surroundings was exhilarating, and I felt tiny and yet part of something huge.
Later, I tried to imagine having no fear, and sleeping in the mountains by myself... from the safety of being snuggled under the covers, with the light on.