What we eat really does matter. Studies show that real, whole, plant-based foods are best for fueling our bodies, preventing the likes of heart disease, diabetes -- and, yes, even cancer. The Heart-Healthy Grain, Greens, Bean and Sweet Potato Casserole below is one delicious (wheat- and gluten-free) dish that provides such benefits.
My 35-year-old nephew, Harry, recently adopted a mostly whole-foods, plant-based way of eating. This is week five for him and he's already lost 17 pounds, however, losing weight wasn't Harry's intention -- since at 6 feet tall and 190 pounds, he is not considered overweight. The weight loss was a benefit. Harry's real motivation was years of pain.
Since the age of 20-something, Harry has suffered with the pain of rheumatoid arthritis. Over the years, he has been on a number of drugs to combat the disease, but each time the drug would lose its effectiveness and the pain would return. In December of 2012, his doctor had nothing else to offer and because Harry had experienced a noticeable decrease in his symptoms during a brief stint on a mostly plant-based diet a few years back, he saw returning to this way of eating as his only hope. This active father of two young children desperately needed to be pain-free.
His decision to embark on this healthy, plant-based way of eating just happened to coincide with my idea to teach "beginners" (like my nephew) a handful of easy recipes to help them get started. I wanted to help those possessing limited cooking skills, working 40 hours a week with little time to cook -- but highly motivated to learn -- and I was looking for someone, like Harry, willing to invest about two hours weekly in a cooking class centered on easily transitioning over to this eating lifestyle. It was a perfect fit for both of us!
Here is how Harry makes this high-complex-carbohydrate way of eating work. He eats mostly real, whole foods -- whole grains like brown rice, oatmeal, quinoa and millet -- and lots of fresh, frozen, and even canned vegetables. Every day, leafy greens like kale are included. He eats one to two portions of beans per day (chickpeas, black beans and others) packed with plant protein. He eats fruit grown mostly in our region such as apples, pears and berries. He has nuts for snacks, eats no animal products (or very little) and no processed sugar or high-fructose corn syrup. He opts for small portions of desserts sweetened with brown rice syrup, maple syrup or perhaps a little fruit juice, several times per week, and even incorporates a limited amount of plant-based, prepared foods. Harry has greatly decreased his salt intake, using it only in cooking; and if using oil, he chooses mostly olive oil, in small amounts. He is going out to eat less frequently -- about once a week as compared to every other day -- exercising considerable discretion. And Harry's new beverage of choice is water.
As a result, Harry says his pain is decreasing immensely -- "from a seven down to a two." This decrease began around week two and continues to diminish through week five. Because of this, he continues this eating lifestyle with enthusiasm and I continue to enjoy teaching him shortcuts that will help him make this work -- for life!
Just this week, he emailed that he'd like to try a more involved recipe: "that sweet potato pie," a recipe from my newsletter. So today, I'm happily showing Harry how to make this pie (or casserole) using healthy grain, greens, beans and the sweet potatoes he loves so much!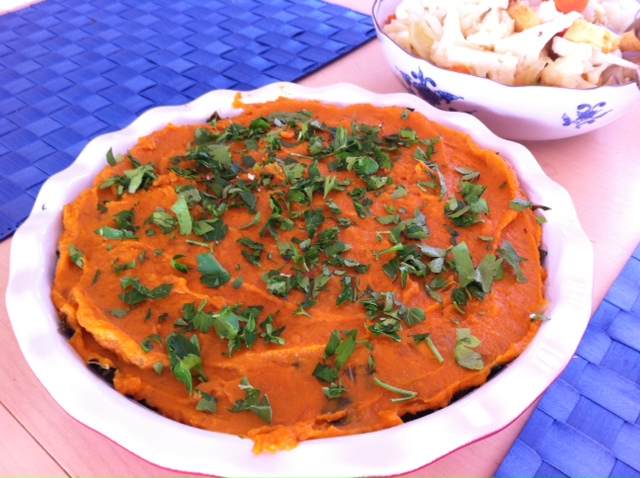 Ingredients:
1 cup millet, cooked
2 cups kidney beans, cooked (canned could be used)
1 large onion, sliced in half-moon pieces
4 large collard leaves, sliced thinly  
One-quarter teaspoon sea salt
1 tablespoon tamari, gluten-free soy sauce
1 large sweet potato
One-quarter cup fresh parsley, chopped
 
Measure 1 cup of millet into small pot, fill with water and rinse millet. Pour off water. Add 2.5 cups of clean, filtered tap or spring water, with a pinch of sea salt. Bring to a boil, turn down to simmer, cover and cook for 25 minutes. When millet is cooked, press it into a pie plate as the crust. 
In a pan on stovetop, heat cooked beans (or canned) to warm and remove from heat. Take an immersion blender and slightly buzz the beans. Some of the beans will be pureed and some will stay intact. Pour the beans onto the millet crust and spread evenly.
Heat a cast iron skillet on the stove to medium-high heat, add 1 teaspoon olive oil (or one-quarter cup vegetable broth), and add onion and collards. Sprinkle with tamari wheat-free soy sauce. Sauté for 5-7 minutes, stirring occasionally.  Now add the cooked onion and collards as the third layer of the pie.
Take the washed sweet potato, chop into smallish squares, add to a pot on the stove with a little salt and one-half cup of water. Steam, covered, for about 15 minutes or until soft (keep skins on). Drain and save any leftover water. Mash the sweet potato with the immersion blender. Add a little of the saved water, if needed. Now spread the sweet potato onto the pie as the top.
 
Garnish the very top with the chopped parsley.
 
Serve as is, while warm. When making this ahead for later, bake in preheated oven at 350-375 degrees F for about 25 minutes, or until thoroughly warmed, before serving.
 
Note: If you want use beans made from scratch, check this out!
 
Enjoy!
For more healthy plant-based recipes and tips, please sign up for my free newsletter.
For more by Meg Wolff, click here.
For more on diet and nutrition, click here.