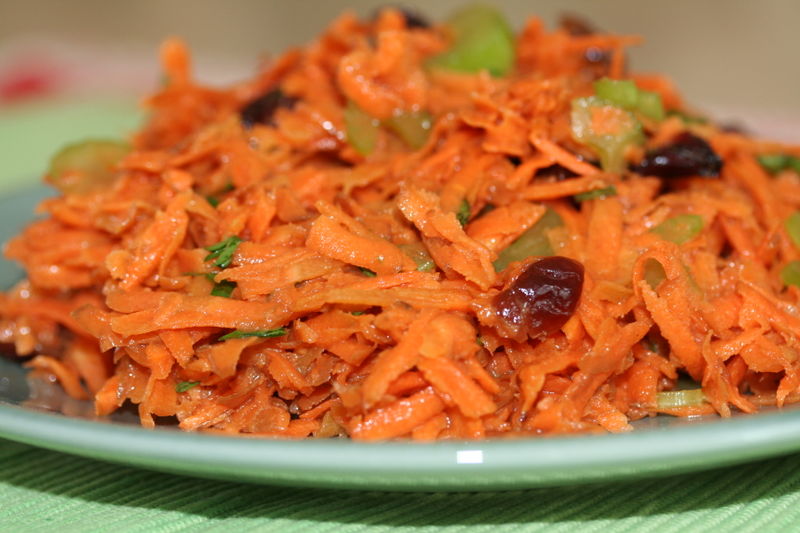 These beautiful and nutritious salads are crowd pleasers and could be used to supplement any occasion! The first and second recipes are from my Life In Balance cookbook. The third is from my mother-in-law, Alice Wolff. Enjoy!
CONFETTI CARROT SALAD
4 large carrots, grated
3 ribs of celery, sliced thinly
1/2 cup of organic apple juice sweetened cranberries
1/4 cup (or more if desired) of parsley
Dressing:
1/3 cup Veganaise (I like Follow Your Heart brand) or homemade tofu mayonaise (see below)
1/8 cup apple juice
2 tablespoons of brown rice syrup (Lois used agave, which was a little bit sweeter)
1 tablespoon lemon juice
Mix the dressing ingredients and mix the vegetbles. Pour dressing onto vegetables & cranberries. Ready to serve!
Tofu Mayonaise:
8 ounces tofu
ᅡᄑ cup water
2 teaspoons sesame or olive oil
1 tablespoon lemon juice
1 tablespoon brown rice vinegar
1 tablespoon mellow white miso (or ᅡᄐ teaspoon sea salt)
sprinkle of dill (optional )
Slice tofu. Steam 3 minutes. Blend ingredients until smooth and creamy.
Note: This keeps refrigerated for 2-3 days. If it separates, just re-blend.
* This recipe is wheat- and gluten-free.
APPLE WALNUT SALAD
1/4 cup toasted walnuts
1/4 cup raisins or currants
4 cups apples, diced
2 ribs of celery, diced
1 grated carrot
2 tablespoons of dulse flakes, or soaked pieces of dulse sliced and cut up (smoked dulse if especially nice)
1/2 cup Veganaise (I like Follow Your Heart brand) or Tofu Mayonnaise (below Confetti Carrot Salad recipe)
1 teaspoon umeboshi vinegar
Put everything in a bowl and mix in small amount of Veganaise or tofu mayonnaise. Splash in some umeboshi vinegar. Taste and season to your liking.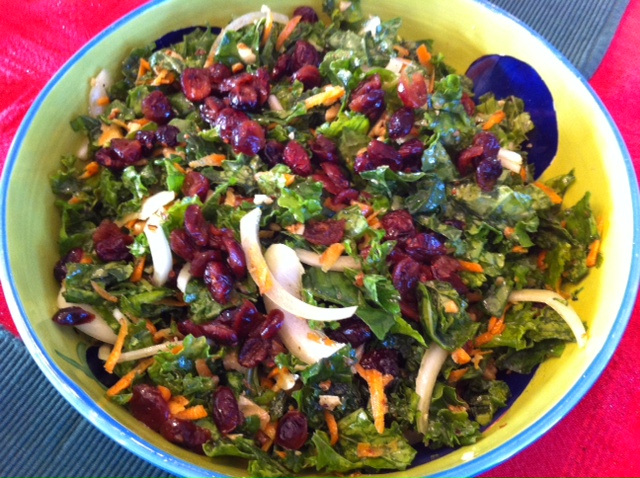 Kale & Cranberry Salad
1 cup dried apple juice sweetened cranberries
8 cups chopped kale (10-12 leaves), spine removed, thinly sliced
Small bulb of fennel, cored and cut into small sections
1/2 cup thinly sliced red sweet pepper (or grated carrot)
Sweet onion, thinly sliced
1 cup blanched slivered almonds
Dressing:
1/3 cup olive oil
2 tablespoons rice or balsamic vinegar
1 tab Dijon mustard
2 teas finely shredded lemon peel
Sea salt & pepper to taste
Combine all the ingredients in the first list, into a large salad bowl. In a separate small bowl, blend the dressing ingredients. Stir the dressing into the salad, then massage into it (with clean hands).. This can be prepared the day before if needed.
Would you consider trying some of these salads? Have your own ideas? Please share them here on my Huffington Post comments section. I love hearing from you.