One of the world's leading experts on plant-based eating was in my neck of the woods (Greater Portland, Maine) this week, and it was a great thrill to spend some time with him. T. Colin Campbell, Ph.D., is my all-time favorite hero.
When I first started eating well 12 years ago to help heal from a second round of cancer (bone cancer, then invasive breast cancer), I did so because eating a diet based on whole grains, beans and vegetables just seemed to make sense to me. I stopped eating meat, dairy, sugars and processed foods and got better, so my leap of faith paid off royally.
Along the way back to health, I wanted to better understand the whys of how I got better. What was the science behind it? What had changed about my body's chemistry?
A lot of the answers came from Dr. Campbell, a professor emeritus of bionutritional chemistry at Cornell University. He wrote a book that I think everyone who values his/her health should read: The China Study. It's based on his 40 years of government-funded research into plant-based eating. And he wrote the forewords to my books, Becoming Whole and A Life In Balance: Delicious Plant-Based Recipes for Optimal Health.

What I've learned from him substantiated what I was figuring out from personal experience. Now we are kindred spirits, spending a lot of life advocating for a plant-based way of eating. We teamed up for an event at the local Whole Foods Market Thursday afternoon before he delivered his keynote speech at Mercy Hospital's Annual Medical Staff banquet that night.
On Friday morning, I appeared on the Good Day Maine morning show, re-inspired by this amazing researcher and man. He made feel even more sure that I'm doing the right thing in encouraging healthy eating. My goal is to make it EASY for people to give plant-based eating a try!
For Friday's TV segment, I decided to go with cooking something super-easy, beneficial and tasty: Beans! (see recipe below)
Do yourself a favor and try locally grown beans. They generally don't have to cook as long, and they're so much tastier. I love buying pesticide-free Maine beans. Beans are so good for you and are loaded with protein and fiber.
Every once in a while, I'll serve simply prepared local beans like these below to my sister, who lives near me, and I love watching her face as she gets that first taste. She closes her eyes, and starts smiling while she's chewing -- ah, satisfying delicious. And Oh, So Easy!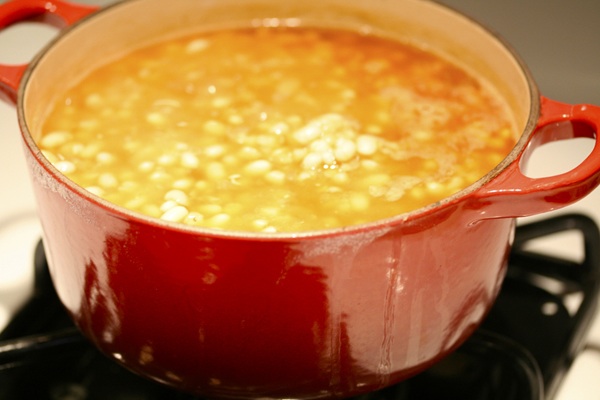 MAINE MELT-IN-YOUR-MOUTH BEANS
Local beans tend to need less soaking and less cooking time. And they're sooooo good!
2 cups of yellow-eyed beans or other Maine-grown pesticide-free beans
1 whole onion, peeled and quartered
1 Maine-grown apple, skin-on, cut and diced (or other if out of season)
Spring or filtered water
1-2 teaspoon of Maine stone-ground mustard
¾ teaspoon Maine (or other) sea salt
Cover dried beans with water and soak for 2-4 hours. (They need less time because they're so fresh!). Drain beans. Cover with water by 1-2 inches. Turn flame to high. Bring to boil. Turn to low. Cover and simmer 1 hour.
Add onion to pot with beans. Simmer 30 minutes. Add diced apples and more water if needed. Bring back to boil. Cover. Simmer 30 more minutes.
Test for softness, and cook a little longer as needed. Add sea salt when beans are tender and cook 10-15 more minutes.
Enjoy!