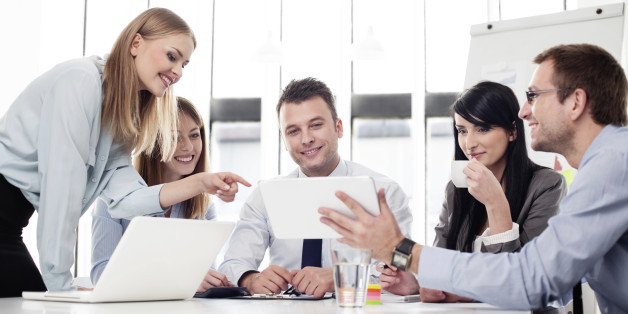 So you have an important job interview. Your sitter cancels. What do you do? When it happened to First Lady Michelle Obama, she packed up baby Malia, carted her into that job interview, and was completely surprised when she still landed the job.

The First Family's efforts to make sure our workplaces are not something out of a "Mad Men episode" comes from a very personal place.

This month is National Work and Family Month. It is a public awareness campaign to encourage companies to respond to America's modern dual income family paradigm.

Why they would have to be encouraged at all defies economic sense. A study of 2400 companies by Credit Suisse -- shows the more women in leadership the more successful companies are. Consumers, workers, and even investors demand a more modern approach. Yet antiquated workplace policies are blamed for the hemorrhage of female talent.

Pipeline Problems

One reason women drop out of the workforce can be tied to parenthood and its effect on pay. Many studies document a fatherhood bonus of promotions and salary increases, and a motherhood penalty of lateral moves and pay stagnation. Company actions suggest men need more compensation to deal with the new responsibility of parenthood, while mothers are viewed as less committed workers.

With research showing 40 percent of American households today depending primarily on a mother's salary, there's more troubling data. A new study indicates parenthood pay impact skews to a socio economic injustice and sociologist Michelle Budig finds not only do high-income men get the biggest boost from becoming a father, but low-income women suffer the greatest penalty.
Another study by KPMG, "Cracking the Code", implicates the leaky pipeline in the dearth of executive women, and recommends companies use data to manage their talent pipeline and make it clear that retaining women is a strategic priority. The study says accountability -- assigning responsibility for delivering change at every level of an organization - is critical for progress to be made.

Not only is this a lost opportunity for companies trying to benefit from the windfall that comes with women in leadership, but this is detrimental to a company's reputation. Virtually every stakeholder in the market today is demanding gender equality.

Pleasing Stakeholders: Pink Is the New Green

Back when market stakeholders started to ask questions about the environmental intentions of companies, certifications (think LEED for buildings) helped differentiate companies that were accountable for being green. Certified companies had to submit to rigorous third party evaluations, and once certified, consumers, workers, and investors knew which companies were verifiably eco-friendly.

Today, pink is the new green. Companies want to demonstrate they are credibly modern and gender equal. More than hiring women, they want to show they are retaining them through a modern workplace culture that supports the true work/life balance. Enter gender certification.

Only one company in the U.S. is globally certified as gender equal. L'Oreal USA underwent a rigorous evaluation process -- including a survey of more than 3,000 employees -- to become EDGE (Economic Dividends for Gender Equality) gender certified, the only established global standard for gender certification. The process takes months to complete and involves 100 percent transparency.

The EDGE seal tells the world L"Oreal USA is achieving a global standard of equality in pay, hiring and promotions, leadership development, flexibility and culture.

"This certification validates our leadership on gender equality and acknowledges our commitment to transparency, accountability and progress," said Angela Guy, SVP of Diversity and Inclusion at L'Oreal USA. "It's helping us create a workplace that truly inspires our employees and works for men and women."

EDGE "triangulates" what's happening in a workplace by comparing data on the workforce by gender with policies in place, and impressions of employees. A third-party auditor -- independently accredited to be able to conduct assessments of organizations against the EDGE Certified Standard -- conducts on-site interviews with executives, reviews materials and evaluates practices, policies and data against the survey results and provides the company with an Action Plan to address any gaps prior to offering up his/her recommendation on certification.


Edging to Parity With External Evaluation
The EDGE certification approach is gaining significant traction. Around the world over 60 workplaces are becoming certified, in 29 countries and 14 different industries ranging from oil companies to banks to construction firms to software companies. The concept was launched at the World Economic Forum in 2011 as a way to address gender equality like any other economic imperative: with metrics and results.

The Dow Jones Sustainability Index uses the EDGE tool incorporating gender metrics into its survey; EDGE is working with the Clinton Global Initiative on its She Works commitment to improve workplace gender equality for 300,000 women in developing economies; some states are even looking at certification as a way to ensure contractors are treating men and women equally.

At the White House Summit on Working Families last June, the White House issued a simple pledge asking businesses to "assess company policies and practices with regard to leave, pay, workplace flexibility, recruitment and promotion of all employees through a nationally-recognized, well-established, evidence-based, external evaluation process on a regular basis."

If more companies do that, by the time little Malia hits the job market sometime in the 2020's, there should be many more companies where she can expect the enlightened response her mother found so surprising 15 years ago. ##