Wednesday's opening of Royal New Zealand Ballet (RNZB) at The Joyce marked the final stop on a U.S. tour that has covered a lot of ground -- both literally and figuratively.
Making its first appearance on U.S. soil in more than two decades, the 61 year-old company made its way from Wellington, NZ to New York by way of Los Angeles, Santa Barbara and Minneapolis.
But that's not the only type of ground the company is covering. The triple bill included works by three international choreographers that showed the troupe to be uncommonly versatile -- and also in good hands with artistic director Ethan Stiefel.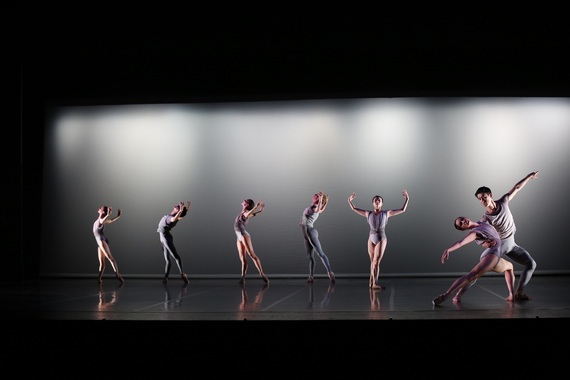 RNZB dancers in Andrew Simmons' "Of Days," photo credit Evan Li
In 2011, Mr. Stiefel exchanged his rockstar status as a principal with American Ballet Theatre (ABT), and previously New York City Ballet, for the helm of RNZB. An avowed classicist, he has been focused on chiseling the dancers' ballet technique, but according to managing director Amanda Skoog, as quoted in the New York Times, he was brought on for his "incredible energy... new contacts, and fresh ideas." Although I never saw the company before Mr. Stiefel's arrival, it appears he has been successful on both fronts.
The program opened with Benjamin Millepied's "28 Variations on a Theme by Paganini," named after a piano composition by Brahms consisting of a series of études. The studious nature of the music is reflected in the choreography: Mr. Millepied originally set the piece on students of the School of American Ballet, and for better or for worse, this shows.
On the plus side, the crisply neoclassical work showcases the dancers' technical brilliance, as well as the choreographer's talent for creating steps, structures and moods that mirror the complex music. It also provides the opportunity to glimpse the softer side of ABT's supreme Gillian Murphy -- now also a principal guest artist in her fiancé Mr. Stiefel's company -- with the elegant and sensitive partnering of Qi Huan.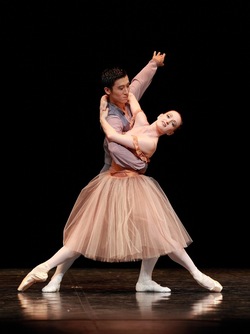 Gillian Murphy and Qi Huan in "28 Variations on a Theme," photo credit Evan Li
Overall, however, the opportunities for artistic expression in this academic piece were too few and too compartmentalized. A technical showcase with contrived moments of romantic suggestion may work on a group of students, but on a mature company, it looked dated and a bit stifling. The colorful, classical tutus and sparkling chandelier -- evocative of a 1960s Balanchine ballroom -- also didn't help.
But as the program progressed, it seemed the purpose of this first piece was to say, "Sure, we can still do the classics, but look what else we can do!" And indeed, the company's range is impressive.
"Of Days," a 2013 work by Kiwi choreographer Andrew Simmons, gave the dancers much more freedom to reveal themselves as artists. Set to minimalist music by various contemporary composers, the choreography has a meditative, lyrical quality in the same vein as Christopher Wheeldon.
The work opens on a dark stage, with soft, amber light gradually illuminating female dancers in simple leotards, standing in a straight line perpendicular to the audience. One by one, they advance with deliberate, yet ominous steps, almost like sleepwalkers. Throughout, the dancers melt into pools of flowing, introspective movement -- some solo, some partnered. But their inevitable return to sleepwalker strides hints at the mysterious transience of those moments and encounters: were they dreams, or punctuations of wakefulness in an otherwise somnolent state?
What makes "Of Days" exemplary as a work of contemporary ballet is that virtually all the steps are classical, but the way they are linked together gives the familiar vocabulary a nuanced ring. While dance for dance's sake is not new in ballet, neoclassical works, such as Millepied's, typically make the body an instrument of the music.
In contrast to this, the Simmons work uses the music as a rough path that the choreography enters and exits with fluidity. The point is not for the movement to illustrate the music, but for both dancer and audience to find their own meanings in the space that exists between them.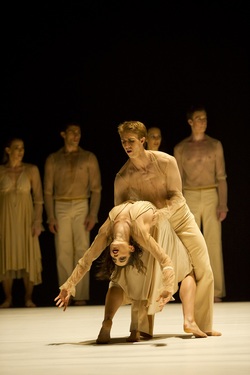 Abigail Boyle and Paul Matthews in "Banderillero," photo credit Bill Cooper
If the music in "Of Days" gives the dancers the space to enter and exit at will, the frenzied percussion and Chinese opera of "Banderillero," by Venezuelan choreographer Javier de Frutos, compels them to charge forth. Taking its name from the type of bullfighter who provokes and teases the bull before the matador goes in for the kill, this barefooted work is one of primal and reckless abandon.
Gauzy white costumes and a white-box "arena" on the floor create a ritualistic feel as dancers alternately take the center, thrashing and leaping as if they are fighting for their lives. They are divided in two groups, creating a sense of confrontation, but the line is blurred between hunter and hunted.
On several occasions -- perhaps too many -- the groups combine and the music builds toward what sounds like final resolution. "Banderillero" easily could have been 10 minutes shorter and still made its point, but its sheer energy made it impossible to be bored. Making it all the more exhilarating, many of the same dancers who were courtly and restrained in the Millepied piece, proved capable of shining just as brightly in contemporary works.
Overall, RNZB delivered an impressive program that seemed to please the crowd -- which, for a downtown theater, had a decidedly uptown feel on opening night. Here's hoping that Mr. Stiefel continues doing what he's doing with the Kiwi company, but that he doesn't wait too long before bringing it back to his former home.