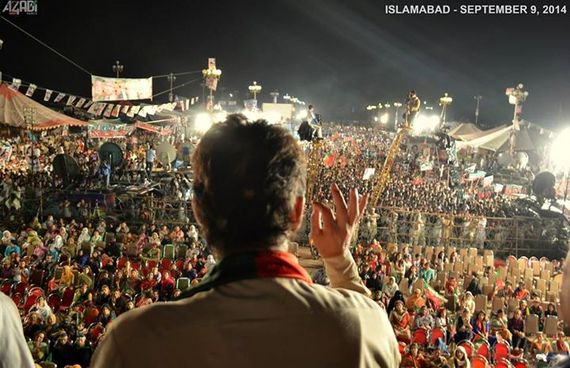 Photo Credit: Muhammad Hussain - PTI Social Media Team
Co-authored by Farhan Bhaba
After facing tear gas, bullets, mass arrests and heavy rains, tens of thousands of protesters remain camped in Islamabad more than a month later for their on going sit-in. Through a demonstration unprecedented in Pakistan's history, they are calling for resignation of the country's prime minister based on allegations of rigging the May 2013 election.
The two sets of protests, led by cricketer turned philanthropist turned politician Imran Khan and the anti-Taliban Sufi scholar Dr. Tahir-ul-Qadri, have triggered national and international debate. Anti-protest critics contend that in a country which has been under military dictatorships for more than half its history, for people to demand a civilian prime minister to resign could lead toward de-democratization and regional instability.
But these critics wrongly correlate resignation of a prime minister with a disputed mandate to derailment of a democracy that, thus far, has only worked for two families over the past few decades. After independence in 1947, Pakistan inherited a strong bureaucracy and army from the British Raj but no institution building reforms were implemented as power recurrently shifted amongst governments controlled by the Bhutto family, the Sharif family led by the current prime minister, and the army. This prevented genuine democratic evolution and maintained the status quo.
Despite the perceived uncertainty tied to street protests that have also spread beyond the capital, the public's call for fundamental reformation of the country's institutional framework is detrimental to democratization. And both protesting leaders argue that reforms cannot take place under a government that is a beneficiary of the current system.
In the backdrop of current resentment against Nawaz Sharif lies a deep history of corrupt regimes and Pakistan's dysfunctional and politicized state institutions. According to Transparency International's Corruption Perceptions Index 2013, corruption permeates Pakistan's major sectors including judiciary, education, healthcare and taxation, with police and law enforcement topping the list. Maintenance of law and order continues to decline with thousands of deaths being reported to have been linked with street crime, extra judicial and sectarian killings. To make matters worse, the Sharif government has failed to address its campaign promises of fixing the staggering economy and the energy crisis.
Chronic issues of corruption, government's arrogant attitude toward serious rigging allegations, and brutal use of force against Dr. Qadri's protesters last July provided fuel to the growing public anger. After last year's election, Mr. Khan's Pakistan Tehreek-e-Insaf (PTI) party, brought forward a lengthy white paper with their side of evidence of mass rigging and repeatedly demanded thorough investigations. The judiciary and election tribunals failed to hear their cases for 14 months. Last month, the former Additional Secretary of Election Commission also revealed that rigging at historic levels took place during the election. The rally's strength has also been augmented by thousands of Qadri's Pakistan Awami Tehrik (PAT) supporters camped adjacent to those of PTI.
The magnitude and commitment of protesters in Islamabad has made the Sharif government extremely nervous and untenable. These protests drove Mr. Sharif to request 'facilitation' by the army last month for a rapprochement with his two rivals which the army chief refused. The government then resorted to use of force against protesters -- a move that turned futile. During public addresses in his recent trips to the flood affected areas, Mr. Sharif has also been censured with chants of "Go Nawaz Go!" which sprang during Islamabad protests.
Imran Khan's charter of demands is widely recognized to be constitutional and promises a series of corrective measures in order to achieve democratic aspirations. Mr. Khan continues to call for formation of an impartial Election Commission and an independent Judicial Commission to investigate electoral irregularities via thumb-print verification of voter lists, and consequent midterm elections. Such mining of electoral misconduct is certain to uncover and amend election procedural anomalies in future. A transparent and fair election would lay foundations of a government that is truly representative of the people.
The Islamabad demonstrations have developed a public realization that Pakistan's current state of affairs indicates a system devoid of practices following spirit of true democracy. The rigging saga and the government's approach to solving issues of great significance have exposed an appalling government influence on state pillars including the judiciary and law enforcement agencies. What transpires out of the prolonged sit-ins remains to be seen, but what has become widely popular among the masses is a belief that only institutional and structural reforms can be a catalyst for true democratization in Pakistan that would also ensure regional stability.
Pakistanis converging from across all social, economic, religious and ethnic backgrounds have demonstrated their desire to end the status quo style of politics. Whether Mr. Sharif's resignation happens or not, the immense level of awareness that has been induced into the public in general makes one thing clear: Harbingers of the status quo may just end up in the minority for the long term.