Dream more than others think practical. Expect more than others think possible. Care more than others think wise. -Howard Schultz, founder of Starbucks
Thus opens Yes To founders Ido Leffler and Lance Kalish's new book Get Big Fast and Do More Good. If you're looking for an inspirational guide to the millennial fly-by-the-seat-of-your-pants, take-huge-risks-and-reap-huge-rewards style of entrepreneurship, you have found it. The title pretty well sums it up: This is a book about how to make your company big while doing good for the world, and build it all really fast.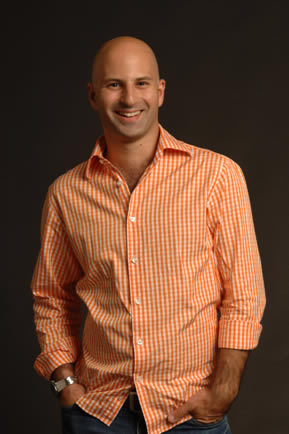 Ido Leffler
I first met Ido Leffler on a boat. It was the second day of the Summit at Sea conference for young entrepreneurs and changemakers in 2011, a cruise out of Miami. Ido overheard me discussing my experience on a 10-day Vipassana silent meditation retreat and jumped in, "Oh, I've done one of those before. It was amazing!"
I knew from that exclamation alone that I'd like him. But the more we got to talking about Ido and his company, Yes To, the more I realized I had found a kindred spirit. His philosophy -- say YES to love, fun, health, natural products, eco-consciousness, social responsibility, and life in general -- is totally in sync with The Life Out Loud. And he embodies these values with a big-hearted, generous warmth and sense of humor that is positively contagious.
As a Joy Champion myself, I had to give Ido a huge hug when I asked him what's most important to him in terms of life and business success. He replied, "I love making people smile. That's the key: giving people joy."
If you haven't heard of Yes To -- which is unlikely given that they are the second-largest and fastest-growing natural beauty brand in the US -- just check your local Target, Walmart or Walgreens. I'm a big fan of Yes to Carrots body butter and Yes to Cucumbers facial cleansing wipes. But I'm an even bigger fan of their corporate philosophy: create all-natural products that look sleek and stylish (think: Apple computers and Virgin Airways) rather than hippie and homegrown (think: Birkenstocks and tie-dye). I also love that they're based in my long-time hometown of San Francisco, and that they keep the company small with only about 30 employees (incredible considering the amount of business they do).
In terms of doing good, Ido and Lance started the Yes To Seed Fund as soon as they opened their company's doors for business. The fund's vision is to help kids lead healthier lives by introducing them to organic fruits and veggies, and planting gardens. They do this through partner organizations working in the US and in Africa.
In the book, Lance and Ido explain further what "good" means to them. "It is, very simply, operating a business in an ethical, moral way with equal regard to our consumers, our partners, the environment and the well-being of everyone involved in the production of our products. We each have children, and we want those kids to grow up in a healthy, positive world."
I won't share all of Lance and Ido's secrets -- like how to be the most successful cold-call salesperson ever, when to hug a potential buyer or what "The Kalish Rule of Three" is. Nor do I want to spoil the sheer pleasure you will get from reading this fun, informative book. But here's a quote that perfectly sums up how, if you're interested in starting a company, Get Big Fast and Do More Good offers a refreshingly well balanced and heartfelt perspective:
We are serious about our business and our families, and light-hearted about everything else. So long as we are enjoying our time on earth and our kids have a roof over their heads, nothing else really matters... All the success in the world means nothing if your family is unhappy, or if your spouse feels neglected. Success is easy come, easy go. So is money. But you have only one family. And when things fall apart, you will need that strong, supportive and united group to help you rebuild.
Yes to that!
Photo credit: Miri Davidovitz