 Like everyone else in the nation and much of the rest of the world, I have spent the past few days grieving the tragedy of the Sandy Hook Elementary School shooting. We have cried and we have prayed. We have screamed out at the universe, "Why kill 20 small children? Where is the sense in that?" We have signed petitions demanding better gun control and access to mental health care in America. We have reached out to our family and friends to say, "I love you."
I listened to President Obama's speech from the Newtown, Conn. memorial service. His heartfelt message touched me deeply:
This job of keeping our children safe and teaching them well is something we can only do together ... We bear responsibility for every child ... This is our first task: caring for our children. It's our first job. If we don't get that right, we don't get anything right. That's how, as a society, we will be judged.
Obviously, most parents do everything they can for their own children. But what can we do for other people's children? And not just the ones here in the U.S., but around the world? How can we help provide for their safety and education? How can we make their lives better? How can we help their dreams come true?
Without a doubt, there are millions of ways -- probably one for every child on this planet. We can and should fight for gun control laws. We can and should lobby for better health care for the mentally ill. We can also volunteer in soup kitchens, become Big Brothers/Big Sisters, tutor in after-school programs, or teach Sunday School at church.
One way I've helped care for the children of the world since 2004 is by sponsoring a young girl in Kolkata, India through The HOPE Foundation. During these past eight years, I have watched Rama grow from a frightened 9-year-old, abandoned by her parents and about to be sold into sex slavery by her grandmother, into a mature young woman on her way to professional school.
Adopting Rama during a trip to India was a gift to myself. Wandering through the streets of Kolkata, seeing toddlers scrambling next to heavily-trafficked streets, watching families attempt to make a home out of a tattered piece of cardboard under the railway tracks, knowing that millions of children didn't have enough food to eat... I had to do something.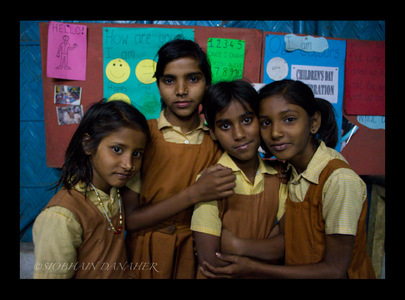 Luckily, I ran into Aine Carter, a volunteer at the HOPE Foundation. She invited me to visit the HOPE Girl's Home, which I did the following day. I was blown away by how the home's director, Geeta, kept the orphanage clean and orderly, the school running, and the girls fed, clothed, educated, and happy. There was such joy on those children's faces. They danced to Bollywood music and giggled when I tried to do the same.
Every Christmas when I renew my support of Rama, I think about how grateful I am to have stumbled upon The HOPE Foundation years ago. It is so easy for me to give a few hundred dollars each year to pay for her food, clothing, education, and health care... Basically, all I have to do is give up a few trips to Starbucks each week! Such a small sacrifice to make in return for knowing that one little girl's life has been saved.
My family has vowed to practice "experiential Christmases" for the past decade. We try to avoid giving each other material gifts, but instead focus on being together. This year, I am giving my two nieces, ages 6 and 3, the gift of the sponsorship of a HOPE child. I am eager to model the values of compassion, generosity, and humility. I want them to know how blessed they are to be living in a warm house in America with a loving family, plenty of food to eat, and wonderful schools to attend. I wish for them to feel true gratitude for their blessings, as I do for mine.
Spending about $350/ year to sponsor a child may be out of your budget. In that case, The HOPE Foundation has five categories of "Gifts of Hope" that you can sponsor, ranging from school shoes ($7/pair), uniforms ($13), and boxes of books ($20), to vaccinations ($60) and HIV medication ($160). You can also sponsor gifts for entire families, offering them lambs, pigs, chickens, and goats ($13-$60 each) or a hand pump for water ($125) -- all of which will make their lives far easier, helping their children to flourish.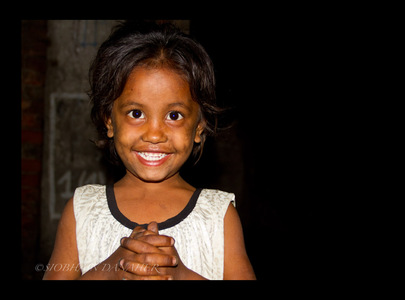 The holidays are a wonderful time to be thankful for all that we have. This Christmas, in particular, as we think of the suffering families in Newtown, Conn., and of street kids in India, let us recall President Obama's words. Let us care for all the children, not just our own. Perhaps we can find a way to make a difference: in their lives, and in our hearts. Perhaps we can help restore hope in this troubled world.
Photo credit: Siobhain Danaher