I woke up at 4:00 a.m. EST this morning to watch the livestream of the 2015 Louis Vuitton Spring Collection for women. The show Habitually a beautiful presentation that simultaneously displays art and clothing trends at the same time.
While I didn't feel like I was watching performance art like previous shows, the new creative director Nicolas Ghesquière made it clear that the future of Louis Vuitton Will commence under his direction. Following the excitement from my Twitter and Instagram accounts The newly-opened Louis Vuitton foundation at the Bois de Boulogne was a definite attention-grabber, and a real treat for guests viewing the collection Both within the venue and via livestream.
The show kicks-off in the dark, with a short video showcasing the emotionless faces of the models projected on the screens. This part freaked me out, because similarly to the audience, I too was watching the show in an unlit room while the faces seemingly appeared out of mid-air blinking silently. I felt like I was being "big brothered" but with ultra-beautiful androgynous models. After a few moments passed, they monotonically started to recite a type of mission statement in unison. "The beginning is a very delicate time," was the first sentence Instantly pulling me to the intended ambiance and introducing the new perspective of Louis Vuitton.
From the first look, we are presented with a classic '70s style white eyelet mini-dress, accessorized with a leather belt around the neck and mid-level black boots. No huge stage spectacle like last year's funeral themed runway show (insert link), just a sleek walkway for the return of the catwalk. And basically, that's what all the models did.
As one of the last shows of Paris Fashion Week, Louis Vuitton's ode to their past heavily hinted at the direction that the brand is currently working towards. Ghesquiere's team seemingly focused on an abundance of mini dresses with differing sleeve lengths and fabrics. Both the red and black leather dresses were thrown up against feminine and pleated sheer dresses. They looked sexy, yet so modest, paired with a clunky leather heeled boots and moon-shaped earrings. There were also a lot of styles which embraced the use of bright, funkadelic colors, bellbottoms, lace, and leather, In addition to asymmetrical-type of sequined shirt dresses which were also paired with clunky knee boots.
The collection's accessories were equally refreshing and surprisingly much smaller versions of the traditional Louis Vuitton trunk. I really love the black and red LV monogrammed trunk purses that were definitely flashbacks to previous collections. The geometrical color-blocked satchels were also quite detailed and yet so reminiscent of LV circa the 1974.
It's also interesting to note that only two models of color participated in the show, newcomer Malaika Firth and Veteran model Liya Kebede. While I don't have much information regarding the casting direction, Ms. Kate Moss was also not in attendance either. However, I enjoyed the clothing so much that I really didn't pay attention to the models this time around. However it was nice to see some popular faces in one of the last shows of Paris Fashion Week.
The collection was persuasively confident, as most new creative directors in their debut season try not to shake things up too much. Reinvention and resurfacing of the history of Louis Vuitton was clearly presented with as much modernity as possible. I must confess, I was expecting to see more of an artistic show such as the ones which Marc Jacobs has been delivering for over fifteen years, I will never forget some of his shows which literally made me weep from the drama!
In all, I think there was lots to welcome with the open of the new Foundation, guests were genuinely floored by its Frank Ghery's structural designs. Add a new creative director, and a few superstars to the front row (Hi, Michelle Williams) and you're game to get a winning show. Despite the fact that there were less than fifty looks on this year's runway, it's safe to assume that Ghesquière is bringing back a colorful, brighter future to the House of Louis Vuitton.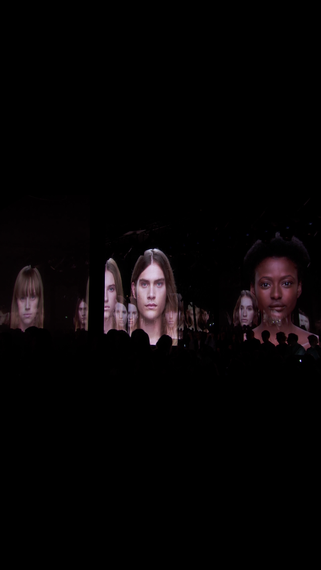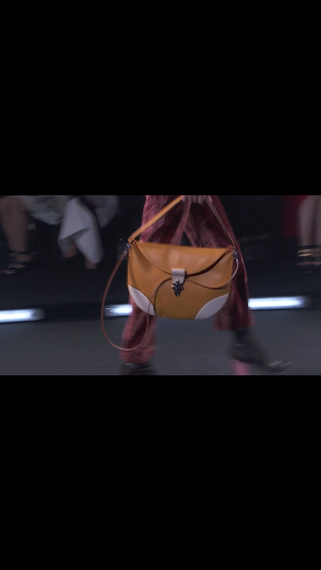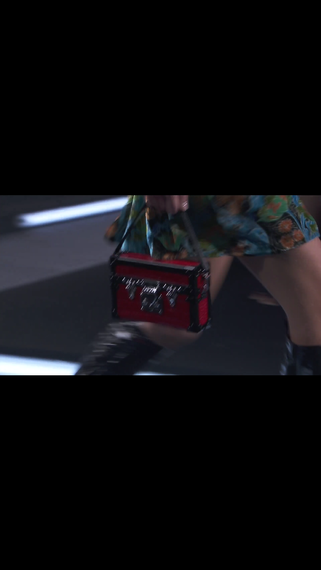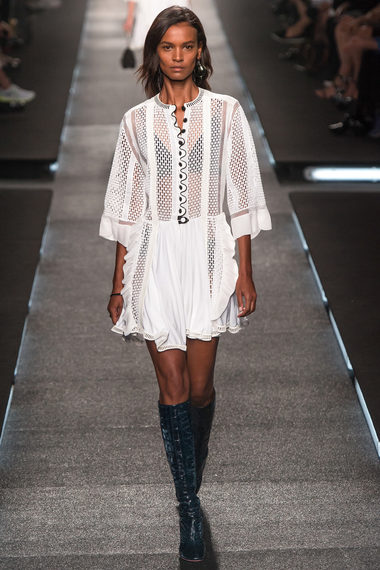 via Style.com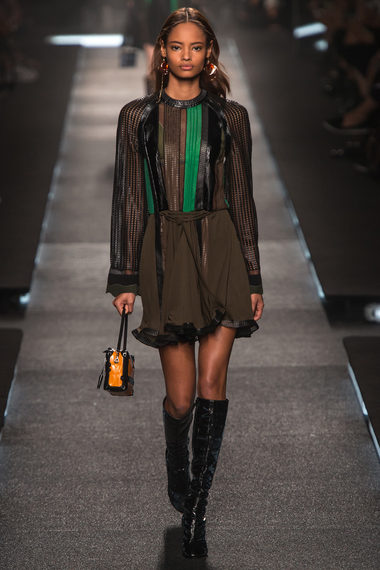 via Style.com