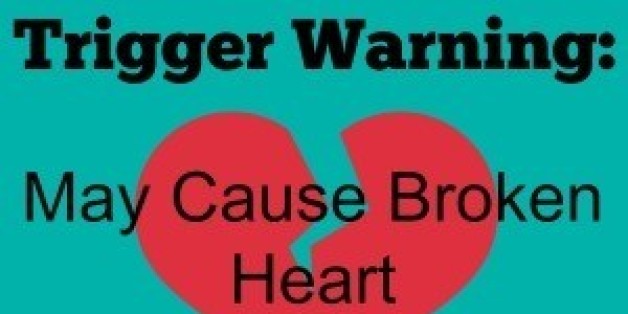 About a year ago, I read an article about high school and college students wanting trigger warnings for material on the syllabus. I was irritated and thought it was unreasonable. I understood that if someone had PTSD or had been raped, that certain material may trigger some awful memories and emotions. At the same time, I assumed that these students participate in the real world to some degree, if they are able to sit in a classroom and do homework. If that's the case, these students are probably watching TV and skimming Facebook timelines, where they will see movie trailers, commercials, headlines and video clips that may cause similar distress. My conclusion was that if schools agreed to label the reading list with trigger warnings, it would become a never-ending list. The best literature is often packed with the hardest things in life. Reading some of the things might be hard, but working through the book may be good therapy. Or not. Student's choice at that point.
This past week, as each Facebook friend's Year in Review popped up, I felt a little kick to my gut every time I read the words "It's been a great year. Thanks for being a part of it!" In fact, the first time it popped up, I felt a little hurt. How could someone close to me say that it had been a great year? My son died on July 7 after a nightmarish 13-day battle with E. coli. It was sudden and shocking. We watched our child suffer in ways no person ever should and we witnessed things that replay in our minds every day, like nightmares on a movie screen as we try to live without him.
So, when I read a Huffington Post article yesterday, saying that Facebook had apologized to a dad who lost his daughter this year, I was torn. I feel for the guy. I know how jarring it was to see the automated prompt, with my boy's smiling face in the middle and confetti all around. I knew what the last six months of my year have looked like and I didn't want a replay. But, I did not have to look! I think the app was a great idea -- it's fun for most people. It wasn't fun for me. It wasn't fun to see everyone's happy year end while mine sucks. But, that is my life right now. I don't expect a trigger warning on Facebook, or on the radio before an ad for Whole Foods, where we bought the ground beef that made Joshy sick. I don't expect companies like Folger's to change their emotional commercials so that they don't highlight, for me, the fact that I will never wake up at my adult son's home and tell his children stories of his childhood. I can't expect to avoid seeing adorable, blonde boys playing with sisters and friends, searching for bugs, walking their dogs. I shouldn't expect to avoid the feelings that follow the most traumatic events and the biggest loss of my life.
Sometimes, life is hard. Sometimes it sucks and is unfair. Sometimes awful, unthinkable things happen. We can not expect the world to think of every terrible possibility and walk on eggshells to avoid triggering our nightmares. We must do the best we can to work through and live on, hopefully remembering the happy times more often than the worst.