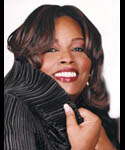 The best way I can describe Dianne Reeves to those who haven't yet seen her is to cast her in the role of a shaman -- with her noble bearing, it's as if she might have been sent here to heal us. In layman's terms her tone is supple, dark with light overtones and a roundness that allows one entry, as she eases us in. Dianne, whom I consider (as do the Grammy voters) today's finest vocalist is an antidote to so many of the over-the-top, instant flavors of the day. And she is still young!
Reeves is appearing February 11th and 12th at the Rose Theater at "Jazz at Lincoln Center." She will be bringing her show, featuring the tunes of singer-song writers such as Joan Armatrading, Mary Chapin Carpenter, Tracy Chapman, Eartha Kitt and Joni Mitchell.

Mel: I hope it is okay if we dispense with the "personal history" and get down to the thing that draws me to you -- your music.
Dianne: (Laughing) That is good! That other stuff could be the beginning of the end for me!
M: One of the first things I heard in your singing was the way your voice was blended from top to bottom without any breaks in the register and that your middle voice is very powerful, but "sweet." It is unusual that someone with so lush an instrument can be rangy and "all of one piece." Did this come naturally or did you have to work it out consciously?
D: I found a woman, Joan Lader, and she stressed how important is to keep the speaking voice supported, as jazz is as way of "speaking."

At that time I told her how singing in Yiddish for me actually made me feel jazzier than singing in English and she said, as folk music, it made sense. Coincidently she found much resonance in her singing by working with the Los Angeles-based Cantor Nathan Lam.

D: Ultimately, though, it is on me to find my own way. I am also the kind of person who cannot tolerate poor conditions around the voice. I must have my sleep and not be around smokers. I can't be around crazy energy or chaos and be able to stay focused. I must stay peaceful and surround myself by good musicians. I break bread with my musicians; it is that type of atmosphere.
M: Well, that shatters the old stereotypes of the world of the jazz life.
D: I started out just wailing out high C's here and there and finally if I got hoarse, I made the adjustments to my style.
M: So you don't let any band member drive you crazy with shenanigans. Did you ever have trouble with any of your musicians?
D: No, not one that stayed...
M: Today so many singers are band-centric to the point of letting themselves be obscured. Do you considerer yourself the "Leader?"
D: Yes, although of course there is collaboration always taking place.

I have always been interested in two very different pieces of music that Dianne has recorded -- Ellington's "I've Got it Bad" and Stephen Sondheim's " I Remember."

M: The thing that struck me most about your version of "I've Got it Bad" was the way it changed gear mid-way in form, to improv and scatting without any jolt aurally. That piece is usually a pretty straight ballad, but you did not distort it -- it opened it up, making the sometimes static piece have more punch. Was that a written-out arrangement?
D: No, it was a particular mood that was just struck up in the studio. We did not actually see each other, but they picked up on cues from my voice and we started to come together -- it did not take more than 3 takes. I don't do it any more though; the words are just all that "treats me sweet and gentle" nonsense...
M: Moving to "I Remember," I have to believe that you have received an extra amount of fan attention for recording that tune -- am I right? It is just too haunting and beautiful not to stick out even amongst all the other great tunes.
D: Yes, people ask me about it all the time - I was handed the lyric when I was in LA, missing Denver (where the skies are so big and blue) and read "I Remember Sky"...

I remember sky
It was blue as ink
Or at least I think
I remember sky
I remember snow
Soft as feathers
Sharp as thumb tacks
Coming down like lint
And it made you squint
When the wind would blow...

M: Once you were sold on the lyric how did the music hit you? As opposed to the Ellington piece you took the Sondheim rather straight.
D: Billy Childs actually did paint many pictures with it though; the colors and imagery were pretty well represented, like an expressionist piece.
M: I did read that some jazz musicians were influenced by classical impressionists, such as Debussy ... Did you know that the girl who sings "I Remember" in Evening Primrose (music and lyrics by Stephen Sondheim) spends her whole life in a department store, never seeing the outside?
D: Ah really. It seemed maybe she was blind...
M: Nope, that is what I thought too. It is actually like a Twilight Zone episode set to music. It has just been released after years on the shelf.
D: Oh really. I would be interested in seeing that.
M: To change the subject, what is wrong with much of the vocal jazz performing these days? Why don't they respect musical theater and the pops as they did in the past to get their grooves going? Do you see what I am getting at? Even jazz needs to sound like music!!
D: Yes, there is much that is stagnant out there... actually Country Music and the singer-songwriter music is carrying on...

Diane explained how important the lyric and the "head" of the piece (the chorus) used to be understood and improvised around by most jazz musicians -- something that is not always followed today. She explained when she listened to Billie Holiday that the she could actually see the colors in her mind of what the words where saying, for example the sepia colors in "Don't Explain."

M: Yes, Billie did not work abstractly. Her music was pure emotion. God, I am sounding like an anti-intellectual here, even while analyzing things (I laughed).
As we wound down, Dianne Reeves thanked me for talking about the music rather than just repeating the "stats." Her straightforward approach and clarity gave me much to think of as a singer, student, and fan. It was as though I received a master class of my very own.
For those interested in my take on Stephen Sondheim's Evening Primrose, http://www.huffingtonpost.com/melody-breyergrell/evening-primrose-times-tw_b_773883.html