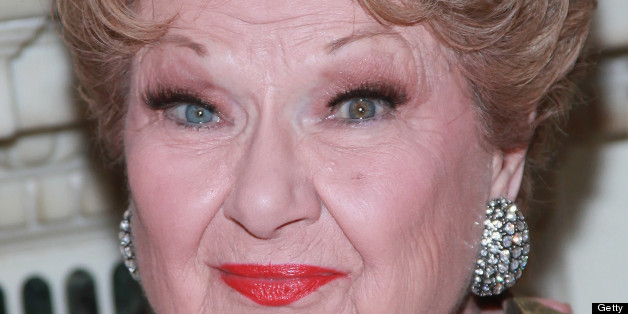 When I decided to take in the late set of Marilyn Maye's recent New York City appearance, I assumed that I could slip in and out quickly and call it a night. Boy, was I surprised upon arrival to see the swelling crowd on Broadway, milling around the door of the Iridium Jazz Club, home of the late guitar legend, Les Paul.
Although Ms. Maye has made regular appearances here over the past few years, I had only heard her do a song or two, most memorably one of the best portrayals of Steven Sondheim's classic "I'm Still Here." That tune takes on a very special meaning when sung by this very special lady.
I won't quote her age but I will say she was on The Tonight Show with Johnny Carson (almost eighty times) when I was a tot, and I ain't that young. When Johnny had a singer on that often (think of his awe for Joe Williams) that says it all.
She took to the stage with an unstinting up-tempo "It's a Most Unusual Day," and quickly lived up to her promise. Her voice was warm and flexible with a powerful, secure belt and she continued on with a snappy medley of "Get Happy/I Want to be Happy," partnering with a single bass line (courtesy of Tom Hubbard) played midway through the medley.
Following up with a snazzy concoction of several tunes from My Fair Lady, it became apparent that this was no ordinary "second set." Her perfectly enunciated, slowly swung, honky-tonk version of "Makin' Whoopee" spelled out how racy the lyric really is to that old chestnut.
Carson's favorite tune, "Here's That Rainy Day," was spun out in a poignant, sensitive contrast to her rip-roaring openings.
One again Marilyn shifted gears, offering a mini-tribute to Ray Charles, proving that she was clearly the hippest person in the room. She "growled" and "grooved," earning her a special place in the Soul Train legacy.

The thing about Ms. Maye is this: even though she can sing in any style, nothing she does is random. It all fits into the grand scheme of things, and by the time she cozied into "Lush Life," I really thought I'd heard it all.
But wait -- there was more! A juicy, sexy "Honey Suckle Rose," followed by a tender medley of all songs rainbow. Think Muppets, Garland, a wee bit of Finian, and more magic was made.
She had her way with her top-flight musicians ("Strike up the Band"), led by the prolific Ted Firth, and climaxing with a thrilling, vocalized "Take Five." She OWNED us and we were all the happier for it. Thanks Marilyn, for giving us your best.
Ms. Maye is currently making appearances around the country. I advise you track her down for a once-in-a-life-time experience.