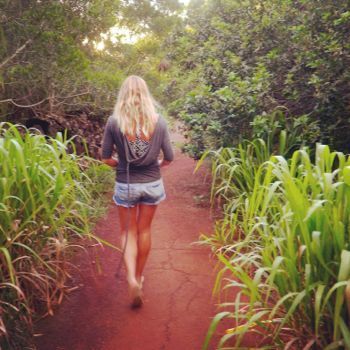 I hope this time of the year is finding you well. For most of us, the approaching new year is a time of reflection, a time when we pause to assess the past year and look toward the future.
We take time to evaluate our projects and dreams, enjoy the dreams fulfilled and pave a path for those we did not achieve. We put into place our intentions for the coming year and plan how to proceed with them. We consider whether we need to switch gears. We wonder if we need to let go of the dreams we've outgrown, so that we can move into new ones. We question whether we need to take more action, or if we should stop and focus on resting. We ask ourselves what changes we need to allow into our lives, and how we can best grow in the coming year.
New Year's is a great time to be honest with ourselves.
In my case, 2014 was a year that most people would consider a horrible year.
In March 2014, I had a serious accident while surfing big waves on the Oregon coast. My board hit me hard on my head, resulting in a concussion with symptoms that lasted a good nine months. The symptoms are still there, but thank God, they are gradually decreasing in severity.
For three months, I couldn't get out of bed. I'd lost all my strength and was suffering from intense fatigue, headaches and a sensation of heaviness in my head. Every day, 24 hours a day, I felt as though a truck was parked on my brain. Simple tasks, such as making myself lunch, felt as tough as climbing Mt. Everest. Walking my dog (a 72-pound big girl) was impossible until five months after the accident. I had to stop working for the first half of the year to rest my brain and recover.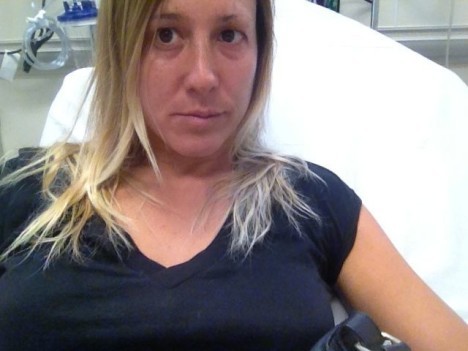 At one of the many visits to the ER throughout this year
When I finally started to feel a little better and was ready to get back to my life -- BOOM! Everything collapsed. By the end of July, I was moving out of my home of eight years.
My husband and I had decided that we couldn't hold our relationship together any longer, and we eventually parted. To be honest, getting divorced wasn't part of my 2014 plan, let alone of my "ever after" life plan. I'm not going to lie -- the split broke my heart.
For the entire year, I felt like I was fighting an uphill battle. As soon as I was able to raise my head from the mud to take a breath, I would sink again as more change entered my life. If I were to lay the events of 2014 out on an ordinary balance sheet showing positive and negative events, this year would have certainly qualified as one of the worst years of my entire life.
Yet, the other day, as I was writing in my journal, I discovered a treasure that I haven't been able to see until I considered my life in balance. I took the time to lay the events of 2014 out on paper. On the left side of the paper, I wrote each of the key episodes of the year. In the right of the column, I wrote the lesson I learned from each event.
It went something like this:
-- CONCUSSION: I learned to stop pushing myself, instead of always trying to make things happen. I learned to put myself, my needs and my health first. I learned to be gentle and patient with myself, as a mother would be with her sick child.
I learned to treat myself with love, care and understanding. I gave myself the rest and nurture I needed. I allowed myself to stop working and watch movies, lay on the beach for hours, and basically do nothing without feeling guilty. I learned a new level of self-care that took me to a completely new depth of self-love.
-- DIVORCE: I learned to let go of what was not serving me or others anymore. I learned to trust and leap into the unknown. I renewed my focus on my spiritual life and learned to allow change when change was needed. I learned to follow the flow of events instead of resisting them.
I learned to ask for help and call a loved one when my emotions got the best of me. I allowed myself to cry as much as I needed. Finally, I learned that I am never alone if I am connected to the Loving Power within me.
-- LEAVING MY DREAM HOME: For eight years, I put all my love, energy and lots of my money into making this house the best home I could for me and my (now ex) husband. As a surfer, I couldn't have asked for more. I was living beachfront at one of the best surf spots on earth. I could watch the waves all day, every day from the comfort of my living room. I enjoyed my home, and every-single-day I thanked God for allowing me to live there.
What I needed to learn was let go of my attachment to that home. And I did. I let it go in gratitude and in loving, hoping that whoever gets to live there in the future will enjoy it as much as I did all these years.
I let go of what I thought was the best place I could ever live in, only to realize that the best place I could ever live in is within me. I now live in a small, cozy studio and I love it and enjoy it. I am grateful for it every single day. I learned that home is within me.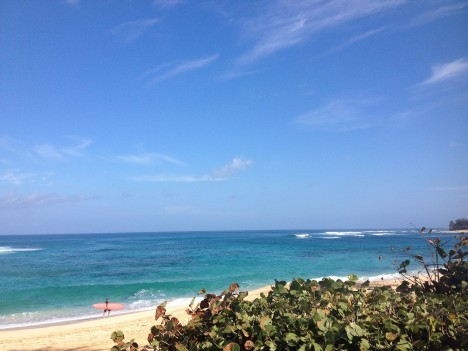 The view I've gotten to enjoy for eight years
-- ELLA: When I moved out of the house, I really wanted to be able to keep my beloved dog Ella with me (at least on weekdays so my ex could enjoy her during the weekends). In Hawaii, it is very hard (some would say impossible) to find a decent place to rent where you can bring your dog with you, let alone, a big, loud, barky dog like Ella. For more than a month I looked everywhere and nothing opened up for me to move in and keep Ella.
I finally sent a prayer out to the Universe and shared my dream of wanting to have Ella with me. I told God that I was open to letting her go if that was the best thing for her. I truly gave her away to the Loving force of Spirit. I knew that if she was meant to stay with me, she would.
Ella is laying next to me as I type in bed today. Her back legs are shaking and she is making some quirky sounds. It seems as though she is having dreams of her own here on my bed. I learned to give away in the Loving everything that you love and to allow what is meant to stay with you, to be given back to you.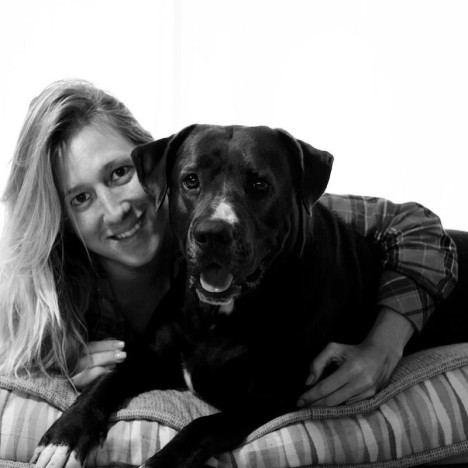 My love, Ella
-- WORKING LESS: As I navigated my post-concussion symptoms and later dealt with moving out, finding a place, and all the emotional turmoil of letting go of a relationship of almost nine years, I was barely able work this year.
As an entrepreneur, I get results when I place my time, love and energy into my work. But, this year I couldn't do much of that. Daily, my mind began harassing me, telling me I was going to go broke, my business was going to collapse and people would forget about my work. Over and over again, I had to redirect my mind and focus on acknowledging that I am always living in Abundance.
Even though I worked fewer hours in 2014 than I had in previous years, I lacked nothing. Abundance came to me from different sources (both from my work and outside of my work). I accepted that, for this year, everything was going to be put on hold, and I trusted that everything would be okay. And it was, and it still is. I learned to not feed the fears in my mind and instead to focus on the Abundance. You get what you focus on.
Overall 2014 lessons learned: What is true Abundance? For me, true Abundance means that no matter what happens on the outside and no matter how bad things seem to be, you can choose how to navigate your life. By choosing how I will walk through this process, I create my abundant life.
For me, true Abundance is not about everything being perfect. It is not about having the career success, the money, the great loving relationship, the banging body and the perfect health. If all that comes with the flow of Abundance, great -- welcome!
But for me, living an epic, abundant, life is about loving myself during my "Hell Nos!" as well as my "Hell Yeahs!"
Living an epic life is about being open and vulnerable, so that whatever is for my highest and best good can manifest itself. It is about knowing that I am always loved and supported by a higher force, no matter what the scenario is.
Living in true Abundance is not about having it all be butterflies and ponies on the outside. It is about what I do with what goes on inside of me. It is about choosing to love, accept, and forgive myself in my darkest hours, as well as in my brightest ones.
So for me, 2014 was a year of self-care, self-love, allowing change, expanding into greater Abundance and learning many lessons along the way.
Do I dare say it was one of the worst years of my life? Actually, 2014 was one of the richer years of my life. Despite the pain, hardship and sorrow that I went through this year, I also found joy, freedom, completion and fulfillment. And I learned lessons that I wouldn't change for anything in the world.
So, when you do your balance sheet for this year, instead of looking at your achievements or failures, would you like to try this new approach? If you do, this time, look at the spiritual lessons you have learned throughout the year.
If you take the time to reflect on your year, I'm sure you'll be surprised by the growth that you too have experienced.
Much loving (love-in action), joy and Abundance to you,
Mercedes
If you want my help to make 2015 the year that you experience Abundance from the inside out, I've created a new online course and I'm offering a special, limited-time discount!
Mercedes Maidana is a Motivational Speaker and Business and Abundance Life Coach who guides women to launch and improve their businesses, go for their dreams, and take action steps to live life to their highest potential. Continue the conversation with Mercedes and learn more about her work on Facebook and Instagram.