Annabel Tollman, stylist to stars like actresses Scarlett Johansson and Michelle Trachtenberg, loves her some eBay. So it makes perfect sense that the former Interview magazine fashion director would team up with the online marketplace.
Lauren Sherman, a regular contributor to The Inside Source, eBay's online style magazine, talked to Tollman, who serves as an eBay Fashion Voice, about what influences her fashion design work, as well as some of her favorite fall trends. Oh, and Tollman also offered up some of her top-secret eBay search words so that you, too can look fabulous, sans personal stylist. The following is an excerpt of that story. To read the full article and more interviews with fashion insiders, visit The Inside Source
The Inside Source: How much of your wardrobe/styling choices are influenced by the street?
Annabel Tollman: I think all fashion nowadays is influenced by the street. Since the 1960s, "youthquake" street style and subculture have permeated high-fashion, rather than the other way around. There are certain looks that I love and I borrow pieces of to give a little rough edge. Modern style is about mixing luxe with tough, masculine with feminine, and dressy with scruffy. I love to borrow a biker jacket from the Rockers, a parka from the Mods, leather and studs from the Punks and some camp drama from the hair metal bands of the '80s.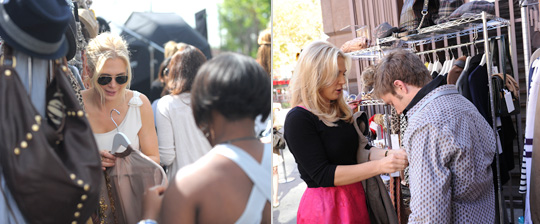 Tollman at the eBay LookBook photo shoot in NYC
The Inside Source: What are some of your other favorite fashion trends for fall?
Annabel Tollman: My other favorite fashion trends for fall are the return of minimalism--a focus on good quality pieces rather than quantity. A classic camel coat would be a great investment right now and bang on-trend. The sophisticated '70s are also a trend that will endure right through to Summer 2011. Blouses and high-waisted pants are great for layering under sweaters and coats now and will still look great come spring. The ladylike elegance of the 1950s is one trend that really appeals to me because it's such a flattering silhouette for most women to wear and also it's so happy and exuberant. The catwalks may show a shift away from this silhouette for Spring 2011, but for me, at least, this trend will never die because it is a key part of my style.

The Inside Source: We know you're an eBay addict--in the best possible sense. Are there eBay auction items in particular you're currently collecting other than clothes and accessories?
Annabel Tollman: Ooooh yes indeed. I am about to move into a new studio, so I am looking at chandeliers and desks and furniture generally. There are amazing deals to be found. For my home, I'm always on the hunt for silver boxes or jars, mercury glass, antique monogrammed linen sheets, mismatched pretty teacups. I'm a simple girl-- anything shiny gives me great pleasure.

The Inside Source: In New York City, you're currently on Taxi TV talking about fall fashion trends on behalf of eBay. You mention the top-handle bag. Could you elaborate, for those of us who won't be in a New York cab anytime soon, on why that is such a crucial fashion accessory for fall, and why it's so easy to find them on eBay?
Annabel Tollman: Think of the difference between a slouchy hobo and a bitchy clutch and you'll agree that a handbag defines the attitude of a look; it changes your posture and your demeanor. For fall, several designers re-visited the romance of the 1950s, when ladies were Ladies. In my opinion, nothing defines this better than the top-handled granny bag. It's been out of fashion for so long now that it's truly ripe for vintage pickings, and there are a plethora of amazing ones to be picked up for an amazing deal on eBay! [Check out this video of Annabel Tollman discussing the top-handle bag and other must-have fashion accessories for the season.]
To access Annabel's full list of eBay search terms (among them: "wiggle dress," "antique paste" and "fascinators", click here.