This article was written by Bee-Shyuan Chang for The Inside Source, eBay's digital style magazine. Click here to read the article in it's original form and be sure to follow us on Facebook and Twitter.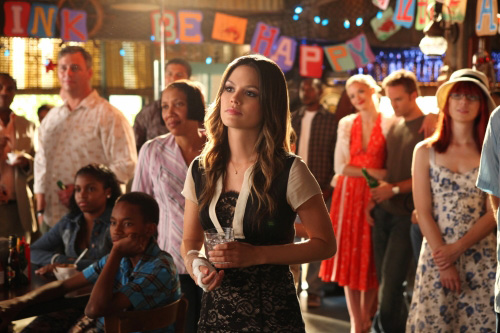 Rachel Bilson stars in the new "Hart of Dixie" on the CW
When it comes to celebrity style, Rachel Bilson (aside from being interminably cute) is one of our favorites. She has a knack for putting together pieces in a fresh way and is savvy with proportions; and she can pull off a maxi dress plus blazer without overwhelming her petite frame. Now after a few stints on the silver screen, the former "The O.C." star is back this fall on a TV series.
The actress has teamed with the "O.C." cast mates as well as "Gossip Girl" alums, including producer of both shows Josh Schwartz. But this venture around she's focusing not on the right or left coast, but rather down South. In the new CW series, "Hart of Dixie," Bilson plays a NYC doctor ("Zoe Hart") who is shell-shocked after moving to Bluebell, Alabama. Not only does she experience some serious city-meets-country snafus, but she's also got some saucy drama with the resident "Blue Belles" (led by "Lemon," played by the actress Jaime King).
With Bilson and former model King in the mix, just four episodes in, we're already taking notes on the stylish wardrobe. We snagged the behind-the-scenes info from the series' costume designer Meredith Markworth-Pollack, who was Eric Daman's assistant on "Gossip Girl," on how the wardrobes came together.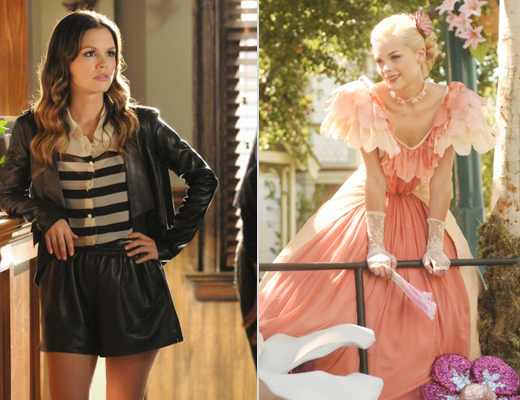 Rachel Bilson and Jaime King on "Hart of Dixie"

The Inside Source: Being that Rachel Bilson's character is from NYC, how did you go about building a city wardrobe?
Meredith Markworth-Pollack: It was scripted [that] she was into fashion right from the start. What's great about her character and being from New York is that you don't have to be "in fashion" to be fashionable there. She is savvy and chic and she doesn't really change her style for this small town. The premise is that she eventually starts to order her clothes online.
The Inside Source: What are some signatures of NYC style? I notice Bilson's character "Zoe" wears a lot of neutrals.
Meredith Markworth-Pollack: I lived in NYC for six years before I came back out to L.A. In the winter and fall, you definitely see a lot of blacks and neutral colors in the city. Also, we wanted to juxtapose it with the Southern town's "Blue Belles" and to keep Rachel in a minimalist palette that would have a severe contrast.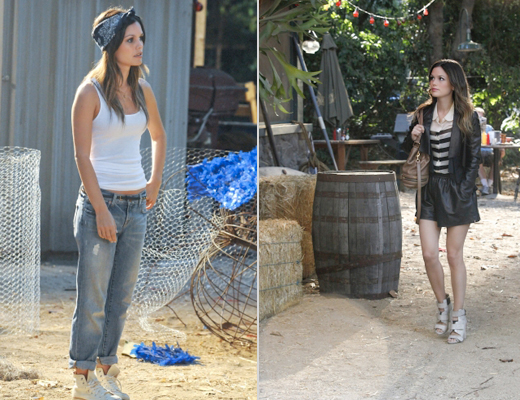 The Inside Source: Any key pieces that you built the character's closet around?
Meredith Markworth-Pollack: We wanted great fitted blazers, pencil skirts and silk blouses. Also, Dr. Lisa Airan was my inspiration for me for Rachel's character because she was the epitome of what I was thinking. She's a doctor in New York but she has these fabulous outfits and encompasses someone who is professional but is also chic.
The Inside Source: What were some lines you used for that professional chic look?
Meredith Markworth-Pollack: We looked into Alexander Wang, Helmut Lang, Chloe, L'Agence (this has been a big hit for Rachel), Timo Weiland and Reformation. It's important to keep it current, and I love on TV to use up-and-coming designers that are eager and excited to work on the series with us. Rachel also wore the classic fashion houses like Chanel and Missoni.
The Inside Source: How about Jaime King's character?
Meredith Markworth-Pollack: Jaime is a former fashion model, which made it incredibly easy to make her look gorgeous. She has such a beautiful vintage Grace Kelly look, so it was an obvious choice to incorporate that into her wardrobe. She has a vintage '50s and '60s feel to her wardrobe and we stuck to long hemlines, lots of pastels and lots of high waistbands. Some of the lines we used were Marc Jacobs and Heidi Merrick. And Suno has been really great for her.
The Inside Source: Being that Zoe and Lemon face off in the series, do you think the distinct wardrobes have played a part in that?
Meredith Markworth-Pollack: The wardrobes definitely help build out these two characters. It's more than just the clothes; there's this ideology that's set up. Lemon is this classic timeless Southern woman with Southern standards and a classic state of mind. Zoe is this strong modern woman in leather shorts and Alexander Wang stilettos. Lemon is immediately threatened by this. No one in Bluebell wears black.
Photos courtesy of The CW.