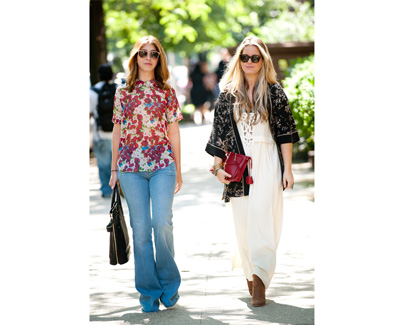 Stephanie Mark and Erin Kleinberg, the bloggers behind The Coveteur
On The Coveteur, their perfectly turned out ode to closets, BFF's Erin Kleinberg and Stephanie Mark giddily document the impeccable taste and sartorial acquisitions of stylesetters everywhere. The Toronto-based twenty-somethings met at summer camp as teens, and in the interim racked up stints with boldface names and places, like W and Elle magazines and designer Phillip Lim.
These days, while Mark still works as a stylist and Kleinberg designs a fashion collection under her own name, the two have generated serious buzz (not to mention high profile collaborations with Elle and Teen Vogue) by exploring style from a new angle. Their site offers an e-look at cherished pieces of tastemakers' wardrobes and other personal spaces through luscious photos and pithy quotes.
Photographer Jake Rosenberg, who's also from Toronto and only 23-years-old, shoots the images. They are at once intimate portraits of inanimate objects with real personality, and creatively styled still lives. Each is accompanied by a personal anecdote from its owner -- a tidbit about the items' significance or provenance. Kleinberg and Mark write the chatty introductions and by keeping them short, let the loot speak for itself. A list of digital inspiration next to each post lets readers delve deeper into the subject's style psyche.
Marni Elyse Katz, a regular contributor to The Inside Source, eBay's digital style magazine, chatted with Erin and Stephanie, who prove to be irrepressibly bubbly and devoted to what is clearly their true calling. See more below, and click here to read the full story.
The Inside Source: How did The Coveteur blog come to be?
The Coveteur: We are so obsessed with street style that we thought, "Why not take it into the home, right into the closet, where all of the getups are curated from?" We started the blog after seeing The Social Network. That movie was super inspiring for us.
The Inside Source: What are your backgrounds?
The Coveteur: Erin is the designer behind the womenswear line Erin Kleinberg. Prior to starting the label she interned for W magazine's Fashion Director, Alex White, and for Susie Sheffman [at Canada's] Fashion magazine. She also did a stint at [department store] Holt Renfrew in the personal shopping department.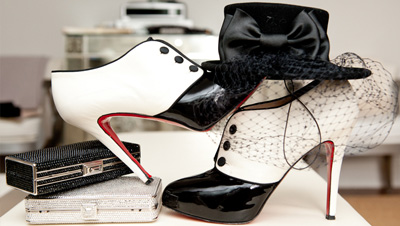 An image from stylist Annabel Tollman's closet.
While attending Parsons in New York City, Steph apprenticed under Elle's Style Director, Kate Lanphear. She then went to on to work with celebrity stylists Annabel Tollman and Leslie Fremar, whose clients included Jennifer Connelly, Michelle Williams, Charlize Theron, and Julianne Moore. She also has a marketing background, [and has worked with] fashion companies Intermix and 3.1 Phillip Lim.
The Inside Source: What blogs do you follow?
The Coveteur: The usual suspects: The Glamourai, Into the Gloss, Man Repeller, WhoWhatWear, Style.com, Fashionista.
The Inside Source: Whose closets have been your favorites so far?
The Coveteur: We died when we shot Patricia Field's. Nicole Richie's stylist, Simone Harouche, has the sickest vintage dress collection. Model Brad Koenig's son Hudson, who is only two-and-a-half-years-old, has an entire wardrobe of custom Fendi and Chanel. It was really something! Jen Kao's pieces were out of control.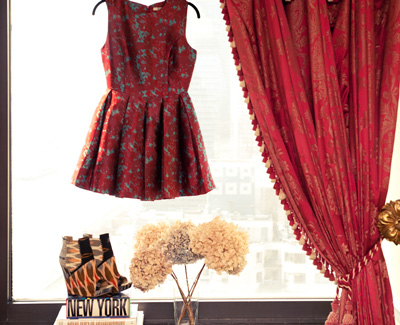 An image from The Man Repeller's Leandra Mendine's closet.
The Inside Source: Have you ever seen something in someone's closet, and then bought something similar for yourselves?

The Coveteur: 10 million percent! Mostly this happened at [partner at Starworks Media] Sharon Ainsberg's house. She is dope dope dope! After seeing her closet, we both ransacked Isabel Marant for platform kicks and scarves. Also, [celebrity stylist] Estee Stanley turned us into Fendi and Manolo Blahnik fiends.
The Inside Source: Describe your personal styles.

The Coveteur: This is such a hard question. I feel like we dress thematically; there are so many different thoughts going on in our brains. Steph's style is just cool. Minimal on the jewels; focuses on the clothing. EK is more about the vintage, the jewels, the lace. But collectively, we drop dead for anything Proenza, '90s Prada and Miu Miu, Isabel Marant shoes, Celine sunnies.

The Inside Source: What do you stockpile?

The Coveteur: Equipment blouses.

The Inside Source: What do you splurge on?

The Coveteur: Anything Marant.

The Inside Source: How do you scrimp?
The Coveteur: We hit some sick sales in Vegas this year; we got like three Proenza dresses for the price of one. Yay!
The Inside Source: What are you coveting?

The Coveteur: Anything Lowe, Aurelie Bidermann jewels, Givenchy leopard, Anita Ko panther knockers, and Jen Meyer key necklaces.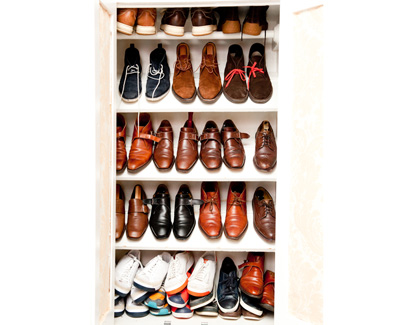 An image from Jonathan Adler's closet.
The Inside Source: Whose closet would you most like to gain access to?
The Coveteur: Both of us agree that it would be Hugh Hefner for sure. Steph would also say Fran Drescher, and Erin would probably say Pharrell.
The Inside Source: What would your dream closet be like?
The Coveteur: Khloe Kardashian's [photographed by The Coveteur in collaboration with Elle magazine]! That sucker is huge and beyond organized.
The Inside Source: What have you hunted for on eBay?
The Coveteur: We were obsessed with the vintage cut glass candlesticks that had endless amounts of wax melting onto the sticks and table at [Current Elliott founder] Merritt Eliott's house, so we hunted them down on eBay and re-created the look. The best home furnishings that we fall in love with in people's homes were often acquired on eBay.
Click here to read the full story and to see Erin and Stephanie's eBay product picks. Photos courtesy of The Coveteur. Article written by Marni Elyse Katz for The Inside Source.
This story was written in its original form by Marni Katz. Images provided by The Coveteur.Click here to read the full story and see Mark and Kleinberg's eBay picks. For more interviews with our favorite fashion and design industry insiders, visit The Inside Source - and be sure to follow us on Twitter and Facebook.