This article was written by Dana Linett-Silber and originally appeared on The Inside Source. To read the full interview, click here and be sure to visit us on Facebook and Twitter.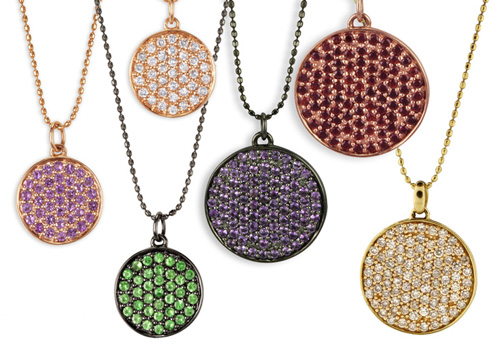 Sydney Evan "The Discs" Necklaces ($620-$4,910)
A browse through Rosanne Karmes' Sydney Evan jewelry line leaves us wondering how one designer can achieve so many contradictory traits at the same time. Her pieces are so trendy, yet undeniably classic. Serious, but also downright whimsical. And best of all, so rich, but yet relatively affordable in comparison to the competition.
Maybe that's why since its inception 10 years ago, Sydney Evan has become such a wildly successful fine jewelry line--one that has adorned A-list celebrities like Demi Moore, Gwen Stefani, Rihanna, Brooklyn Decker, Bar Refaeli and Diane Kruger, and sells like hotcakes at Bergdorf Goodman, Fred Segal and Harrods in London. We sat down with Karmes to talk about the trends, the trade, and her tremendous success.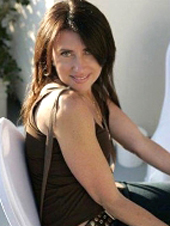 Sydney Evan designer Rosanne Karmes

The Inside Source: When did you first start designing?
Rosanne Karmes: That goes back all the way to the '70s when I was in junior high school! My parents weren't big on allowance, so how was I going to buy candy? I would get mother of pearl, puka shells, silver beads, and string necklaces. I'd sell them to friends for $5. Then I'd blow my profits on Hershey bars!
The Inside Source: What about your first real job?
Rosanne Karmes: I sold chains and charms at my friend's family jewelry store. Later on I worked for a big jewelry manufacturer, and I got into every aspect of the business: designing things for customers, picking diamonds, everything!
After that I opened my first showroom, Le Trend, and represented many different designers. Often I would come up with ideas for pieces that would do really well for the clients I was representing. Then it occurred to me--hey I'm designing things for other people, so I might as well do it for myself! I was working with all kinds of fashion accessories, but my heart was always in fine jewelry.

The Inside Source: Did your parents influence your work?
Rosanne Karmes: Yes, definitely. I grew up with a lot of superstition. My mother would always sew our camp clothes with red thread to ward off the evil eye! So when I started my line, I focused on creating pieces that had to do with luck. In fact, right before 9/11, I started doing my first line with lucky charms and peace signs and I did a lot with red strings, evil eyes, hamsas... So I was always into that stuff before it became widely fashionable. No one got it when I first started making those pieces, and now, of course it's so big and everyone loves wearing lucky jewelry. I first designed the red bracelets when the manager for Demi Moore and Ashton Kutcher wanted gifts for their kids. I knew they were into Kabala and I wanted to design something special for them. I still see the red bracelet on Rumer!
The Inside Source: What are you most proud of?
Rosanne Karmes: That I set trends; that I was the first to do all those lucky charms and the first to do the beaded bracelets. Also for not every having any financial help ever! I started and grew my line all by myself. I'm also proud of the fact that my jewelry is priced with women in mind, so that they can go out and buy themselves fine jewelry without having to wait for a man to buy it for them!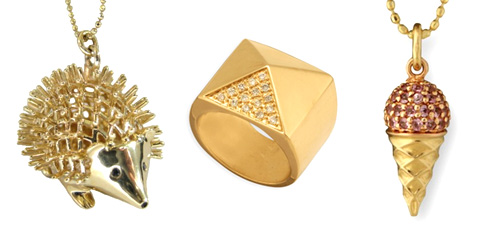 Yellow-Gold Hedgehog Necklace ($3,960); Yellow-Gold & Diamond Pyramid Ring ($5,590); Yellow-Gold & Pink Sapphire Ice Cream Necklace ($1,145)

The Inside Source: What's one of your favorite designs?
Rosanne Karmes: I love my Love line! I just wrote out the word love in script one day and it felt so good to me. And I've gotten such a positive reaction to those pieces. My favorite things are so simple, really.
The Inside Source: What tips can you give us about how to wear jewelry?

Rosanne Karmes: In general, anything goes! Go ahead and wear minimalist pieces with big statements. Mix it up. My favorite thing is the layering of short and long. Also, don't be afraid to change your jewelry every day, depending on your mood.
My advice for right now is to go out and get a stack of bracelets on your wrist. No less than three, and five is ideal! Mix it up with different textures: beads, chains, metals, leather and fabric.
And always remember: If you're ever in need of money quick, there's nothing else that would be worth more than gold and diamonds. It's a great investment, so buy what you like!

The Inside Source: What new designs are you working on?
Rosanne Karmes: I love color. I'm very into monotone color blocking on beads and am also very excited about double and triple wrap bracelets. I'm coming up with new versatile ways to wear beads in layers. And expect to see more leather pieces. I'm also working on a gold collection that's very special, priced from $200-$500. The name of the line is Shy by Sydney Evan, I'm really excited about it.
The Inside Source: How do you use eBay?
Rosanne Karmes: I use eBay to get yelled at by my husband! No, just kidding! I love to shop on eBay for vintage watches and vintage handbags.

The Inside Source: What are some of your favorite search terms?
Rosanne Karmes: Hermes belt, Chanel bag, Hermes Medor watch, Hermes bag, Fendi belt, Alberta Ferretti...
Photos courtesy of Rosanne Karmes.