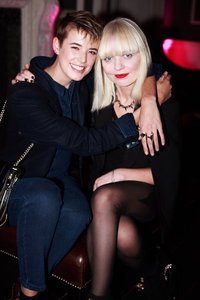 Fiona Byrne, Editor-in-Chief of Naag, wants you to visit her digital fashion and lifestyle magazine and feel as if you're among friends (even if those friends just happen to include famous actors, models and musicians). Of the vision behind her popular site, a fashion industry must-read, Byrne told Chris Frey, a regular contributor to The Inside Source, eBay's digital style magazine: "We don't want to make anyone feel alienated or clueless. In fact we want it to be very inclusive. I think we're succeeding in that sense."

Naag is the creative brainchild of Byrne, a journalist, and her longtime friend, fashion model Agyness Deyn (NAAG is a combination of the "NA" of Fiona and "AG" of Agyness). "Neither of us eats, sleeps and breathes one thing," said Byrne, "so it's really important that the site is about lifestyle. Aggy and I are into music, restaurants, stores, cupcake shops... all those things."
A perusal of the site reveals topics as varied as "Top Five Rosary Necklaces" ; magazine-quality fashion slideshows; or a feature on a vinotherapy spa, for which the sub header reads, "Drink great wine and have a massage? Sure.". Whether its writers are musing about Prada or pizza, it's the mix of glamour and a refreshingly matter-of-fact attitude, along with the stunning photography, that we love about Naag. Check out Frey's interview with Byrne below, and visit The Inside Source for more interviews with fashion industry insiders.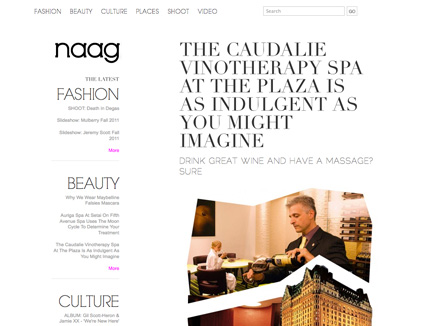 The Inside Source: Why did you and Agyness decide to start Naag?

Fiona Byrne: It was Aggy's idea. We were backstage at the All Points West Festival and having a drink -- sheltering from the rain -- and she said, "Let's start our own website!" So we did!

The Inside Source: Did you study fashion formally?

Fiona Byrne: Not at all. I just read magazines growing up. The usual teen mags like Just 17 and so on. My first foray into the glossies was with UK Elle during the supermodel era. I remember every issue. They would have Kate Moss or Helena Christensen or whoever on the cover and I was obsessed. I liked how Elle was, and still is, inspirational but accessible fashion. I was also really into Sky magazine, which was everything from fashion to entertainment. I loved their covers. Naag talks about fashion in a very real way. In fact, we talk about everything in a very accessible way. That's the kind of vibe we like to read, so that's how we approach our style.

The Inside Source: Who are your favorite designers?
Fiona Byrne: I loved Mandy Coon's collection this Fashion Week. My favorite brand ever is LNA. They have the best t-shirts and basics and that is what I wear mostly. I also have a leather biker jacket from LNA that I refuse to check anywhere because if I lost it, I would be inconsolable! It's the softest lamb leather I have ever felt. I love love love Burberry coats -- they are perennially chic and fit so well. I love Mulberry and Rebecca Minkoff bags. I think J Brand is the best denim and Resin has some lovely denim shorts I like that fit really well. I love Jeffrey Campbell for shoes because they are a great price point and the Pixie wedges are so comfortable you can wear them all day, every day, even walking for miles around the city. My current favorite sunglasses are by Barton Perreira, a new brand based in LA. They have so many styles and every single pair is beautiful. Also I shop at Gap a lot. I love Gap!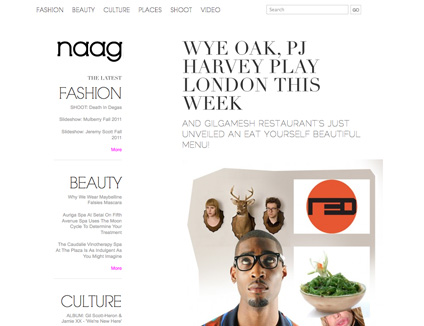 The Inside Source: How about jewelry?

Fiona Byrne: I have favorite jewelry designers. [Among] the pieces I wear most often [is] a pearl rosary from Joomi Lim for Opening Ceremony. My Joomi Lim pearl and spike choker is one of my staples. I just love that it's a pearl and a spike together. My good friend Meredith [Kahn] gave me a lovely Christmas gift from her line Made Her Think, a Swarovski rhinestone pavé smashed talon necklace that looks great with the rosary.
I also wear Made Her think spiked studs in rose gold. I'm really into Giles & Brother pieces (a companion line to designer Philip Crangi's main collection.) They are tough but cute, like tiny screw head earrings or a safety pin pendant. And they're affordable, which is the best part!
The Inside Source: Where would we find you on a typical Saturday night?
Fiona Byrne: I usually stay in on Saturday nights because as everyone in New York knows, the weekend is not very enjoyable here! Especially in my neighborhood, the Lower East Side. Everywhere is packed and noisy. My friends and I, if we go out, usually go out midweek. We're not the kind of people to go out and sit in a bar for the sake of it. We like to go out when there's something fun happening like a movie screening or a birthday or a friend is in town. We really love to go to dinner and just talk. I'm not a huge fan of big groups and love when it's just a few friends and we can really catch up. But yes, on Saturday nights you will generally find me on my sofa, with friends over, eating Ben & Jerry's Peanut Brittle and Lil' Frankie's pizza and drinking Cava.

The Inside Source: Do you shop eBay?
Fiona Byrne: I always use eBay. Right now I use it for home wares since I'm decorating my apartment and I just bought an amazing vintage desk lamp. I find it better than many of the flea markets, which in New York are difficult because there are so many people and such a small inventory. Thrifting and antiquing anywhere outside New York is great, but here, it's overpriced. That's why eBay is awesome. I was at dinner the other night with the eBay app on my phone bidding on the lamp and when I won it, we all high fived and had a toast to my new lamp!
For more interviews with today's top stylemakers, visit The Inside Source -- and check us out on Twitter and Facebook.