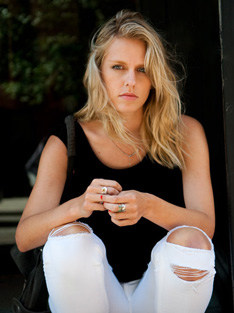 This article was written in its original form by Bee-Shyuan Chang, a regular contributor to The Inside Source, eBay's digital style magazine.
A year-round staple, the perfect little leather jacket is as chic on a chilly Hamptons evening as a crisp New York afternoon. On the quest to find the right fit at a relatively reasonable price point, Lyndsey Butler, who put in her time with Yael Aflalo at Ya-Ya, decided to try designing one of her own. That was the spirit, anyway, when she launched her line, Veda, for Spring 2008.
Since then, the Texas native turned New York resident has shown a knack for cropped fits and sleek leather in variations from jackets, vests to skirts, in prices ranging from $150 to $780. Along with a celebrity following that includes Cameron Diaz, Jessica Alba and Naomi Watts, the collection is carried at hip stores such as Opening Ceremony, Barney's New York and Shopbop.com, where Butler introduced a capsule collection of handbags this spring. She also opened a proprietary boutique in Manhattan's Lower East Side in 2009.
Bee-Shyuan Chang recently caught up with Butler to find out about designing, her personal style and her love for vintage. Check out the full interview on The Inside Source.
The Inside Source: The leather jackets have really been a hit. How did the design for them come about?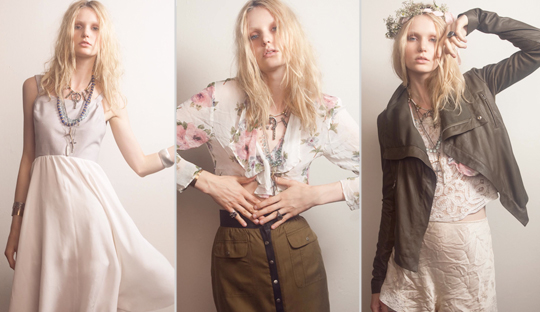 Lyndsey Butler: In the beginning, we spent a lot of time focused on getting the fits just right. The design process always feels very chaotic, so each season, I am pleasantly surprised how it all sort of seems to "magically" come together in the end.
The Inside Source: Is the line based on your own personal style?
Lyndsey Butler: Definitely, but it's also based on the style of all the other women in my life. I think the collection can fit into a lot of different categories of style, which is something I'm proud of. My mom wears Veda and so do my friends, the girls in my office, and a good amount of adorable downtown girls who stumble across our Ludlow street store.
The Inside Source: What's your favorite piece from the Spring/Summer 2011 collection
Lyndsey Butler: It's a tough choice between the Spirit jacket in the wide stripe and Max classic in blush pink [both pictured below]. But ultimately, I think the wide stripe wins. It's just so fun and surprisingly easy to wear!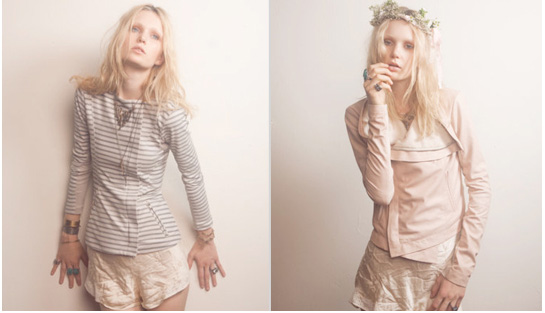 The Inside Source: Fashion these days is so much about the mix and match. What are some other fashion designers or labels we might find in your wardrobe?
Lyndsey Butler: I would say 90 percent of my wardrobe is vintage at this point. A lot of it is reworked pieces from my favorite store, The Reformation. Some of my other closet staples include Proenza Schouler, Holy Tees, vintage Levi's, Opening Ceremony shoes and Elle Macpherson intimates.
The Inside Source: Have you shopped eBay before, perhaps for vintage pieces?
Lyndsey Butler: Absolutely! I shop there for pretty much everything: vintage, leather pieces of course, hats, designer items that I am still lusting after several seasons after they have left the stores, jewelry, furniture and books.
The Inside Source: What will you be looking to add to your closet for the Spring/Summer season ahead?
Lyndsey Butler: Lots of white linen and cotton pieces, a couple of new bikinis and a pair of Celine sandals.
Visit The Inside Source and follow us on Twitter and Facebook for more interviews with our favorite fashion and design industry insiders.

(images courtesy of Veda)