While countless style makers we've interviewed on over the years include vintage copies of Vogue on their eBay wish lists, most of us at The Inside Source, eBay's digital style magazine, would prefer to score Sassy, the '80s/'90s-era teen magazine known for an edgy but inclusive attitude, a frank voice and a tone so conversational that readers felt like the editors were their way-cooler-but-still-nice-to-you older sisters.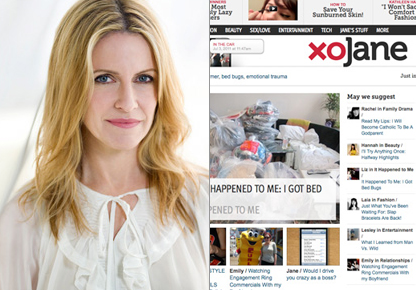 Sassy's founding editor was, of course, Jane Pratt, the pied piper of anything's-up-for-discussion editorial, who went on to found Jane magazine and host TV and radio shows. When we found out that after a few under-the-radar years, Pratt had just launched a new platform, we shut our doors (you never know what she might be talking about and you might not want your boyfriend reading over your shoulder) and headed to cyberspace, where Pratt had joined her readers.
xoJane, Pratt's brand new site, has the same, well, sassy attitude as her previous publications, though the subject matter, like the readership, is a little more grown up. Admittedly, we sometimes approach its content with the following behavior: read article, blush, make sure said boyfriend isn't reading over our shoulder, read more. But we nevertheless appreciate the refreshingly no-holds-barred attitude that lets us feel like we're at a totally uncensored slumber party with our girlfriends.
And because it is web-based, the editorial staff of xoJane feels even more accessible than in Pratt's previous publications. In a section called "Jane's Phone," Pratt herself gives readers a peek into her daily life, uncomfortable moments included, by posting everything from personal video clip to missed calls from her mom to email conversations with her staff.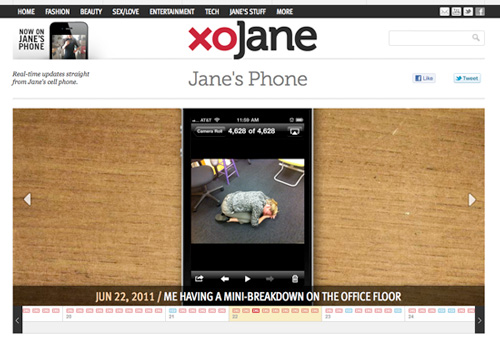 In fact, when trying to reach Pratt to see if she would agree to an interview, Lexi Green, who authored this article in its original form, simply looked at her iPhone updates and found her personal email address. Pratt is probably cool with this kind of voyeuristic sleuthing. She did, after all, agree to the story.
If the fact that we stalked Pratt has got you hooked, you can read part of Lexi Green's convo with her below, and click here to see the whole thing.
The Inside Source: What does a typical day at the xoJane office look like?
Jane Pratt: I wake up around five-ish because I can't help it, and start answering emails. Our managing editor, Emily McCombs, is online shortly thereafter and we start communicating about stories. Everyone is in the office around 10ish, and let's just say it's a very crowded office. We're still a start-up, so we work in one smallish room, along with four interns. There are stretches of quiet when we're all focused on our work, and then outbursts of conversation and brainstorming.

The Inside Source: What has been your proudest moment running xoJane site so far?
Jane Pratt: Hanging out in the office with the team, cracking each other up over nothing because we're so tired and giddy and excited, all at the same time. Re-reading posts on xoJane in the middle of the night and laughing and crying. Also, when I found out that people are spending on average more than six minutes on the site, that made me proud that people are engaged and actually reading the content, and that's a wonderful feeling.


The Inside Source: If we were to walk into the xoJane office right now, would there be any décor or fashion trends that would pop out at us?
Jane Pratt: Um, the décor trend is "messy." Not even "messy chic," just "messy messy." Like I said, we're a start-up... but we're moving around very soon. The office walls are very yellow, because it's my favorite color and I find it uplifting. I might have taken that a bit too far, though. Fashion-wise, everyone has their own distinctive style. I never wear make-up unless it's for TV or something. I wear a mix of vintage and designer (often hand-me-downs from friends who were paparazzi'ed in the clothes and can't wear them again). I still love Marni, Phillip Lim, Prada, and I like discovering new designers, too. I do that old mix of high and low all the time.
The Inside Source: Are you an eBay shopper? If so, how do you use eBay?
Jane Pratt: Yes! I am a fan of Derek Lam's line for eBay, and I'm looking forward to more awesome collaborations. Andrea Linett, who is the Creative Director at eBay Fashion, was one of my first hires at Sassy. I really, really love the direction in which she is taking eBay Fashion. I'm sad to admit that I'm not the best bidder; I tend to err on the lazy side and purchase "Buy It Now" items. My best find was a vintage lighter for an old boyfriend who didn't deserve it (in retrospect, of course).


The Inside Source: And finally, what is one thing you secretly wish you had shared on your iPhone update section, but decided not to?

Jane Pratt: I want to get to the point where people can go into my phone and search it just as if it their iPhone, and listen to my voicemails, etc. At the moment, the things I haven't put up are a result of my attempting to protect the kids of celebrities.
Follow The Inside Source on Twitter and Facebook.
This article was written by Lexi Green. Photos courtesy of xoJane.