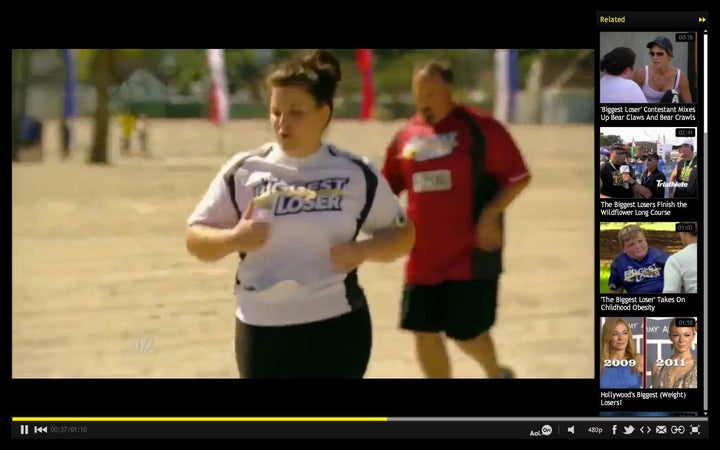 Spoiler Alert: Do not read if you haven't yet watched NBC's The Biggest Loser Season 14 Episode 4.
Alison started this week off by giving everyone a fright, suggesting that three people would be leaving campus this episode. But thankfully, she was just being dramatic: The three people were the trainers who, following on last week's home visit from Dr. Joanna Dolgoff, decided to drop in on this season's three teenage contestants, Sunny, Biingo and Lindsay.
All three kids are doing well -- as are their families. Biingo, despite a recent move to a relative's basement, is losing weight (and his mom is too!). Lindsay's household is also making weight loss a family affair, with her mom and sister working out alongside her. Sunny is struggling a bit more: She eats due to stress caused by her advanced placement classes and feels immense pressure from her family to excel academically and become a doctor, even though she isn't sure that's the path she wants. After a heart-to-heart with Jillian and her mother, it seems as though some of the tension is diffused. With Jillian still hanging around, Sunny learns to row.
Meanwhile, back on the ranch, the contestants are left to their own devices to train. They learn that they must compete in a 5K race -- a major step forward for people who have been struggling to walk on a treadmill just a few weeks before. The 5K will raise $7,500 for The Boys and Girls Club of America, though winning teams will additionally get cash prizes to split. Since all participants will get at least some money as a prize, the underlying subtext is that those who run by default win. (We agree!) Still, Dannii had a major personal (and White Team) victory, coming in first, with Jeff and Pam (also White Team!) just behind her.
The trainers returned for the last chance workout and Jillian and Bob's teams combined, as Jillian's white team has only two people. Unused to Jillian's manner, Jeff argues with her, causing a rift. Bob agreed that Jillian was unnecessarily aggressive after she sent Jeff back to Bob.
During the weigh in, the White Team was further dismantled to a single contestant when Pam lost only three pounds -- not the seven that would have been required to make her safe from elimination. But fear not: the New Yorker has thus far lost 55 pounds and even got a makeover, courtesy of the show.
What did you think of this week's episode? Tell us in the comments! And tune in with us next week as we continue our live tweeting!
Here's what everyone was saying last night: