This review is part of our series on the most popular fitness tracker devices. Read the full story here.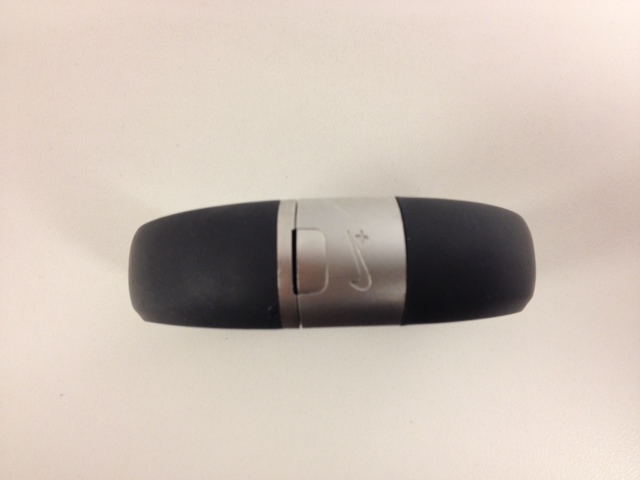 Within a day of wearing the FuelBand, I was so accustomed to it that I often forgot it was there until, suddenly, I began to feel an urge to quantify my day. What's nice about the FuelBand -- and different from most other devices -- is that it has a screen to keep you posted on your numbers. Most devices instead require a plug in to an iPhone, laptop or wireless network.
When I remembered that I was wearing it at all, I would check my "Fuel points" -- Nike's native metric system, a somewhat mysterious algorithm, using two accelerometers on either side of the bracelet. I set my goal for 3,000 daily fuel points -- above the sedentary-seeming "office worker" setting of 2,000 but not quite the gym rat-like 5,000 points. Efforts to meet my goal caused me to change my behavior in small ways -- I took the stairs more and was happy to walk a few extra blocks to the subway -- but it was not a strong enough influence to actually change my major fitness behaviors. I kept to my typical running and workout routine. (Okay, on one particularly dark occasion, I found myself doing burpee ladders before bed in an effort to up my number).
Ultimately, I'm not able to buy into the FuelBand's logic completely. I have some reservations about the way it measures movement (if my arms aren't swinging, am I registering at all?), but anything that gets me to add a bit of movement to my daily activities is a boon in my book. Would I continue using it? I'm not sure. But I'll put it this way: as of this writing -- nearly a week after the test period ended -- I still haven't taken the thing off.
Nike tries to tap into the competitive spirit of many athletes with a whole network that lets you compete against others -- I didn't really get involved in that, as competition (especially with Internet strangers) doesn't really motivate or inspire me.
Wearability
The black band is easy and comfortable to wear -- it's a touch big for a small-wristed gal like myself and often got caught on my coat sleeve as a result, but on balance, I often forgot I was wearing it. What's more, it's waterproof, so I was able to keep it on during showers. And its remarkably long battery life meant that I didn't have to recharge the device at any point during the test period.
Usability
After an initial snafu setting up a Nike+ account (our office network security didn't care for the Nike+ software), I was able to get started with minimal effort. My only real decision was how many fuel points I wanted to have as my goal. I'm sure I could have waded deeper into the social networking aspect of the device, but it simply didn't interest me -- and I don't think that personal trackers should really necessitate a social media buy-in.
Use
Because Nike emphasizes their native Fuel points system, it's a little unclear what I'm actually measuring my day against. That said, 3,000 points seemed to stand in for "moderate activity" -- frankly, an achievement in today's office culture, where many mornings and afternoons are spent firmly planted at one's desk. There is also a step counter and a calorie counter, though I found the latter of these to be a bit useless: without measuring how many calories I ingested, what good is knowing my calorie output? In order to sync up calorie info, I'd have to use another app -- a real nuisance, especially if I'd spent the $150 to buy the band.
Effectiveness
Despite my reservations with how the device works, I actually found myself responding to the challenge of collecting 3,000 daily Fuel points. I took the stairs more often and was more likely to add additional walking to my commute. It wasn't revolutionary: I didn't become a marathoner overnight. But it was enough of a shift that I could imagine the small choices soon composing a picture of better health.
Price
At $150, it's a lot of money for a fancy pedometer -- but it's a bargain if it could jumpstart a long-term improved fitness program and overall better health.