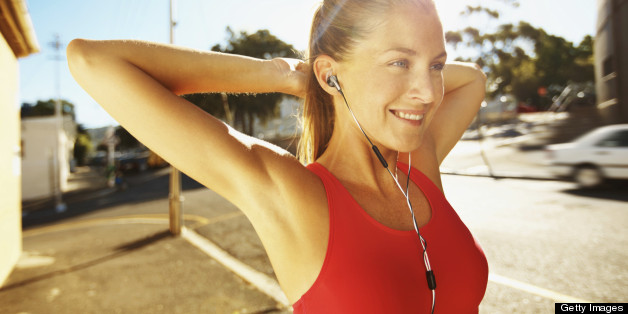 In a couple of weeks, I'm going to climb Machu Picchu, which means I've spent the past month trying to take my sea-level running routine to the next level. And that means pushing up my VO2 Max (maximal aerobic capacity, that is) with a bit of high intensity interval training. Between the hours of 9 and 10 a.m. or 7 and 8 p.m., you can find me aerobically overloaded somewhere along the Westside Highway.
If ever there were a soundscape for how I feel during my training runs, it's this. I start sunny and full of wonder, just like the guitar on the latest Phoenix single. By song three, I'm feeling as fragile as Bleached frontwoman Jennifer Clavin's wobbly, thin and yet totally alluring vocals. Once we get into the funky drum machines of Parallel Dance Ensemble and Wild Belle, I'm fuchsia-faced, dripping in sweat and ready to call it a day. Thankfully, as I finish and cool down, Vampire Weekend pairs nicely with my euphoria.
Entertainment -- Phoenix
Break My Heart -- La Sera
Dead Boy -- Bleached
Don't Stay Away -- Phyllis Dillon
High Road -- Tennis
Synthetica -- Metric
I Love It -- Icona Pop
Bad Girls -- MIA
Keep On Running -- Andy Bull
Touch It/Technologic -- Daft Punk
Juices -- Parallel Dance Ensemble
Shine -- Wild Belle
Purple Yellow Red And Blue -- Portugal. The Man
Diane Young -- Vampire Weekend
For more by HuffPost Workouts, click here.