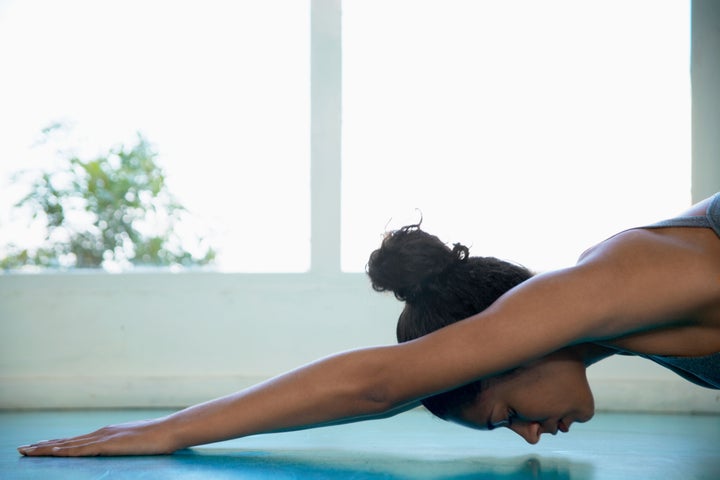 When our good friend, Yoga Journal, put out the call for its 21-day yoga challenge, we knew we wanted to be a part of it. If you do, too, join us by signing up on Team HuffPost's Social Workout page. If you prefer to just watch, you can track our progress through my daily updates on Health and Fitness.
I couldn't have been more excited when Healthy Living's Editor in Chief, Alana asked me to spearhead the 21-day yoga challenge. I've loved and practiced yoga for more than five years now, but it's been an inconsistent engagement. Some days, weeks or even months, a regular 90-minute class is just not realistic with my schedule. And, as William J. Broad pointed out in this week's New York Times Magazine, the extreme yoga that many of us practice may not even be good for us. I've done yoga challenges before -- mostly 30-day yogathons at hot yoga studios with intensive Vinyasa flows for 90 or even 180 minutes per day.
Yoga Journal's challenge? Do 15 minutes of asanas (yoga poses), guided by videos you can find each day on Health and Fitness as well as on YJ's site. Want more? Spend an additional 15 minutes meditating and eat at least one vegetarian meal per day. It sounded pleasant, light. But would 15 minutes do anything for me?
This morning, I spread out my mat on my living room floor, set up my computer on the coffee table at eye level and pressed play on the streaming video for Day 1. The first virtual teacher, Kate Holcombe emphasized breathing and comfort. She kept reminding me to focus on my breath as we went through the simple poses, which emphasized sun salutations and lower back stretches.
Almost immediately, I felt myself get into the rhythm of my breath. Everything fell away: the clutter of my living room, the faint sound of construction down the street -- even my slight anxiety about not attending to my email during work hours. We only did seven asanas, but by the end of the series, I felt as if I'd had a complete practice. My lower back was loose, my breathing was slower. I had what a friend of mine calls "the yoga glow" -- some mysterious amalgam of better blood circulation and the expression of calm that comes from focusing on one simple task for a dedicated amount of time. This morning, I focused entirely on my breath for 15 minutes and it's made a major difference in how I have felt for the past four hours.