Tucked away in central Italy are the regions of Umbria, Lazia and Tuscany -- broad expanses of green farmland, rolling hills and fortressed hill-top villages dating back to the ancient Etruscan civilization. Rich with wine, food and culture, this was the part of Italy I found myself in for a photography workshop hosted by Catherine Karnow, a photographer extraordinaire whose work has appeared in National Geographic magazine, National Geographic Traveler, Smithsonian, French and German GEO and many other highly-esteemed publications.
Though I have always loved photography, it had never crossed my mind to become a photographer -- even if only an amateur. But when the opportunity arose for me to take a photo workshop in Italy with Catherine, I jumped at it. I left San Francisco on a Wednesday morning and by Thursday afternoon I was at our charming farmhouse-converted "agriturismo" La Locanda Della Quercia Calante just outside Orvieto in Umbria.
By late afternoon everyone had arrived and we gathered under the shade of a large tree to introduce ourselves. Set against the bucolic landscape of La Locanda, and equipped with a glass of locally produced wine, I met the 12 women with whom I would spend the next eight days.
In addition to Catherine guiding us was also Renee Restivo, our workshop producer and Italian speaker, who lives in Sicily half the year and leads culinary tours; and Tricia Cronin, who had come all the way from San Francisco, to share technical insights, and help with software questions in the classroom.
Mara Funghi, Sorano, Italy, photo by Mia Benenate

Our first real day of shooting was on Friday, and after an introductory seminar on improving our photos in many different ways, as well as a crash course on camera settings, we left La Locanda for the tiny village of Sorano. We spent several hours exploring the steep and winding streets as Catherine guided us on what camera settings to use, how to frame a shot, and how to convince a perfect stranger to let us photograph him. We also met Mara Funghi, a ceramic artist, who specialized in embedding unusual elements in her pottery, such as horsehair and porcupine quills. Our conversation with Mara was enlightening; having grown up in Sorano her whole life, she revealed some insights into the village. She told us that so many inhabitants have left, that there are almost no people left. Now I understood why the village was so quiet, and why we saw so few people.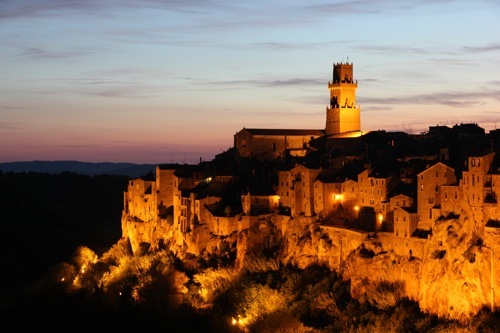 Pitigliano, Italy, photo by Mia Benenate
After a delicious sampling of locally produced prosciutto and cheeses as well as gelato, we left Sorano for Pitigliano. We were all both excited and nervous to attempt our first dusk shot. I must admit that I was intimidated, as I still didn't fully understand the mechanics of my camera. But Catherine's encouragement and instruction on settings and composition helped enormously, and I began to feel more relaxed.
As the sun began to sink below the horizon, Pitigliano opened up to me in a completely different way. The sky gradually turned from a fiery orange to a vibrant royal blue, and the ancient walled town started to glow as the lights came on. We heard and saw people getting ready for dinner. Catherine was encouraging us to change our positions and explore: to go beyond her instruction and find our own inspiration. I did, wandering away from the group to take a wonderful shot of restaurant staff in a moment of reflection while setting up for the evening meal, and it was my first "Ah ha!" moment of the trip. As I noticed how good my images were looking on the back of the camera, my heart opened to photography. At that moment photography took on new meaning; it became something of value to me because of the connection I was forming with the medium rather than simply a fleeting holiday pastime.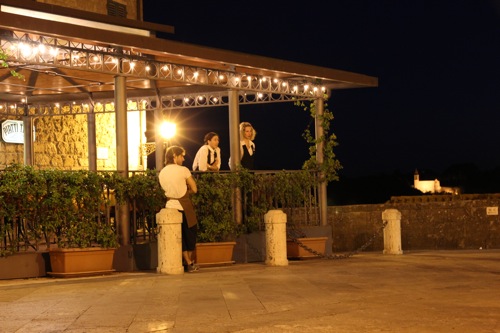 Pitigliano, Italy, photo by Mia Benenate
Each day there was another photo adventure. Everywhere we went, we were treated not as tourists, but as welcome additions to the local culture. The masterful -- and perhaps most incredible -- thing about the trip was that it was arranged in such a way that assured our becoming part of the communities we visited.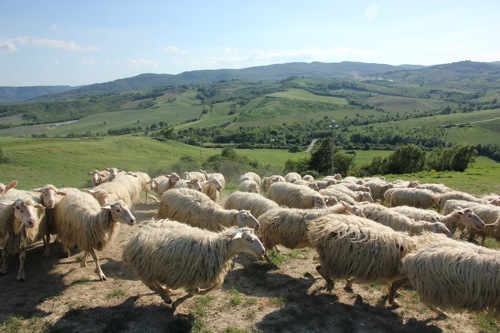 Shepherd farm near Orvieto, Italy, photo by Mia Benenate
In less-visited Umbria, we were usually the only Americans around. We paraded through the cobblestone streets of Viterbo in tiny Fiats owned by the local Cinquecento Club, (standing up to shoot through the sunroofs). We took part in Marta's centuries-old Festa della Madonna del Monte, a passionate religious-pagan celebration of floats piled high with offerings of large fish, fruits, vegetables, and even a float piled high with over 100 loaves of fresh bread. We dined with aristocrats in their 500 year old villa, once inhabited by cardinals and bishops of the Roman Catholic Church. We even woke up at 3 o'clock in the morning to go fishing with local fishermen on Lake Bolsena. Each time, we were not only observing, but we were actually engaged and participating with the people we met and photographed. We got to know many of these people and formed relationships with them. Catherine had planned it this way. People welcomed us and were extraordinarily good-natured. This was no common tour of several of Italy's most underrated regions, but rather an adventure in cultural immersion that far surpassed my greatest expectations.
Cinquecento Club, Viterbo, Italy, photo by Mia Benenate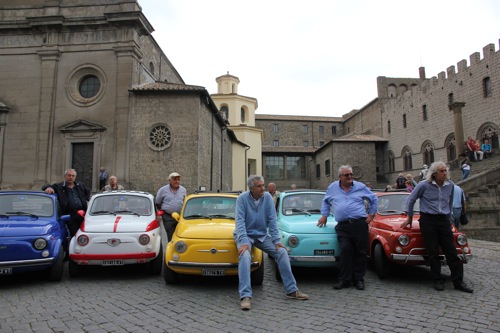 Cinquecento Club, Viterbo, Italy, photo by Mia Benenate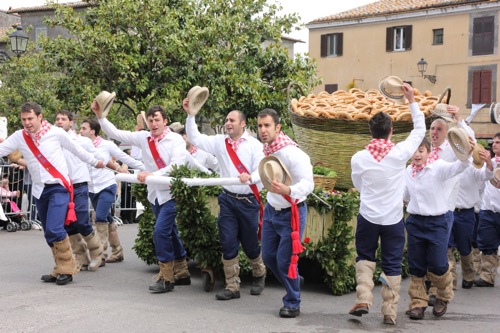 Festa della Madonna del Monte, Marta, Italy, photo by Mia Benenate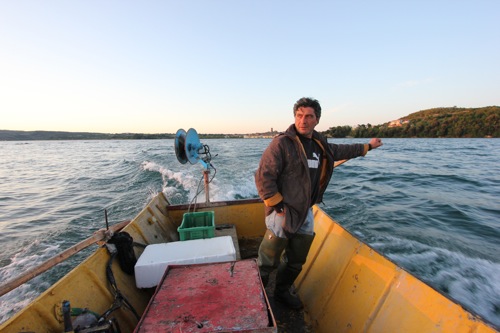 Andrea Garofoli, Lake Bolsena, Italy, photo by Mia Benenate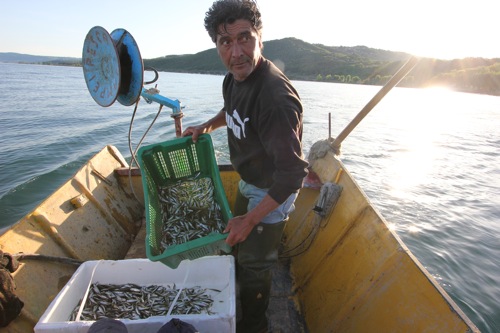 Andrea Garofoli, Lake Bolsena, Italy, photo by Mia Benenate
Going into the workshop, the improvement of my photographic skill was the least important aspect to me. Yet I found that I was so inspired by these excursions: cultural, personal, familial, culinary and art inspired, that I wanted to master my camera so that I could do justice to everything I was seeing, experiencing and feeling. I wanted to be able to capture what I saw accurately, so that I could return the respect, enthusiasm, and gratitude shown to me by all those I was lucky enough to meet, not the least of whom was Catherine Karnow herself.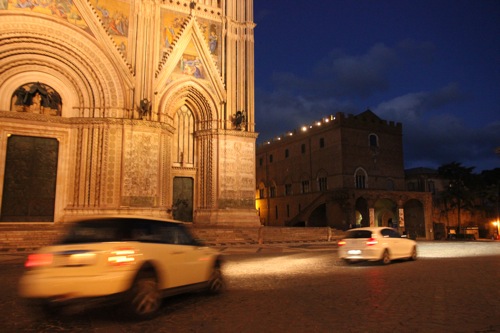 Cathedral of Orvieto, Orvieto, Italy, photo by Mia Benenate
For more information on Catherine Karnow and upcoming workshops and events, please click here.