Once upon a time, in a galaxy far, far away, our daughter was terribly sick from a flu and was relegated to basically lying on the couch in front of the television. We had watched nearly every kids' movie imaginable already. It was my birthday, and I had just gotten the entire Star Wars series on blu-ray. I wondered... is New Hope too "grown-up" for a robot-loving kid? I asked her if she was interested in a movie about robots and outer space. She said yes...
And that was where her love of C-3PO began.
Funnily enough, C-3PO was my favorite as a kid, too. (I once painted our Munny family portraits well before she ever saw him, and I painted myself as C-3PO.) Yes, R2 was funny and silly and snarky, but you wouldn't really know what his beeps and whistles meant without the other half of the conversation. 3PO was silly and personable and charming. And our daughter developed a "crush" of sorts on him. All you'd need to do is say "Oh deah!" in that dainty little accent, and she'd giggle tremendously, as if she had just been spoken to by a movie star. This meant that she would often ask ME to pretend to be C-3PO, which I didn't usually mind doing (even in the grocery store).
When she asked for a doll, I decided to scour the Internet for one I might make, and came across the idea to make one from a wooden artist's figure model. Once painted and presented, he brought lots of kid-smiles.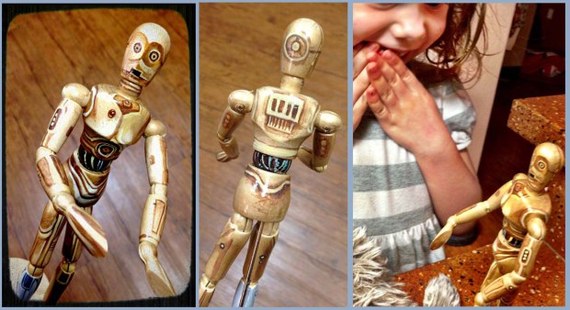 I drew on her shirt with sharpies.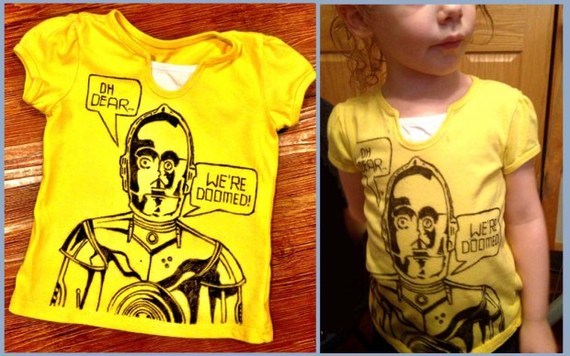 We made (at her request) what turned out to be one of the (unintentionally) creepiest dolls I've made. (C-3PO doesn't work well as a soft doll, we found out. But she liked him anyway.)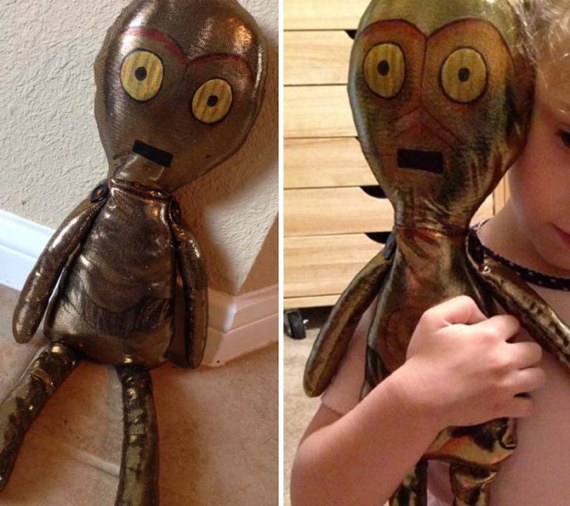 I appliquéd a shirt.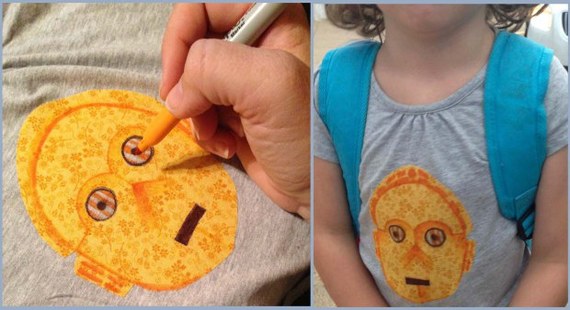 When her pants got holes in them, we patched them with the droid BFFs...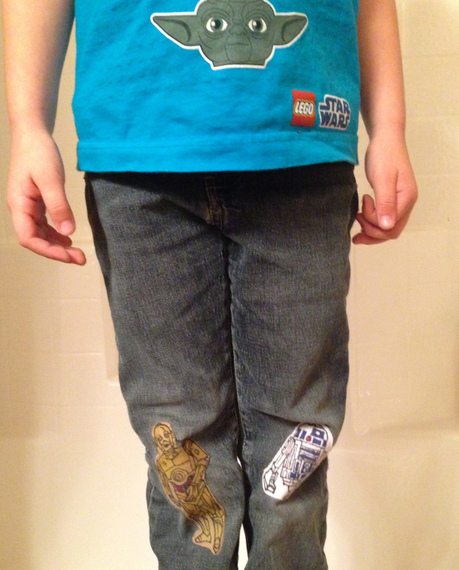 And she even made her own C-3PO shrinky dinks and drawings.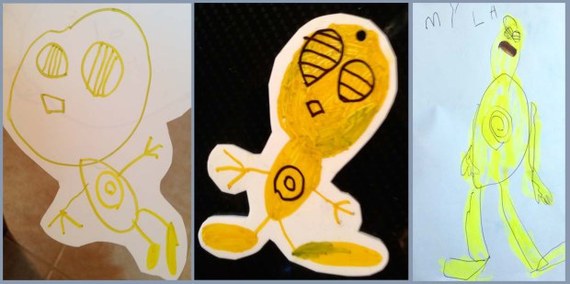 Since we love to draw and illustrate together, she asked me to draw C-3PO's head. She added the body, and I came back later and painted more detail in him...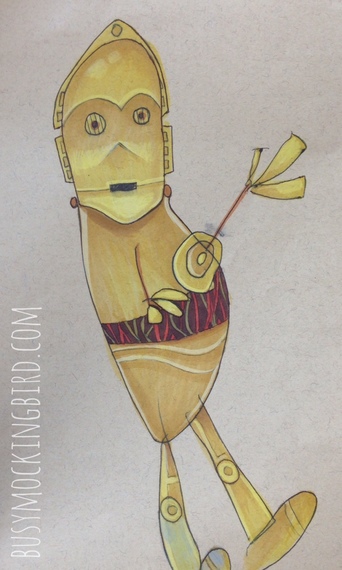 So last year, when it came to Halloween costume choices, she had one request from the get-go: she wanted to be C-3PO. Now if you've seen the pre-made costumes online, they look pretty goofy. So I decided to get abstract with this, and see if we could pull it off cosplay-style.
Since I didn't want her face to be covered completely, I cut up a gold plastic craft store mask. I had seen all these awesome online tutorials about how to build your own cardboard armor, so I built up a chestplate and back with cardboard, masking tape and paperclay (which is super fun stuff). When it dried, I sanded it and painted it gold. I got a black bodysuit, and used fabric glue to tack on little pieces of gold "plating" to the arms.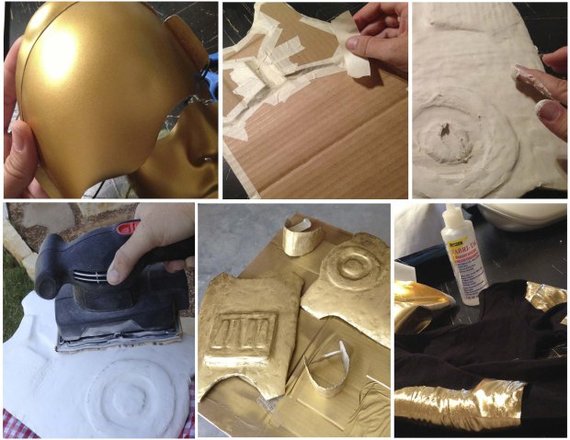 I got a super cheapo set of kids' elbow-, wrist- and kneepads and painted them gold. Got a pair of gold dance leggings for kids, about which, after putting them on for the first time, our daughter exclaimed, "Oooh! These feel soft to my legs!"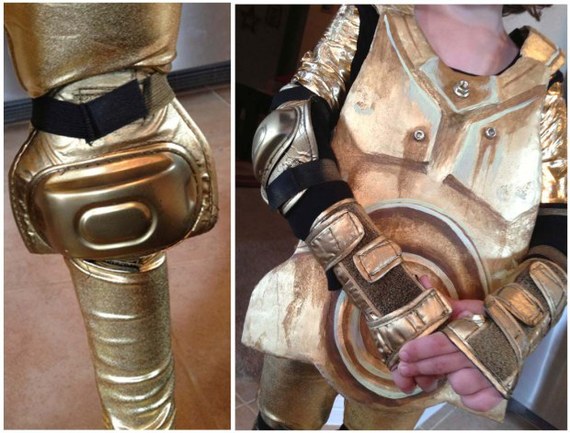 A pair of costume glasses spray-painted gold (with stripes on the eyes -- she was VERY insistent that it have stripey eyes), and BOOM! We have a funky C-3PO costume.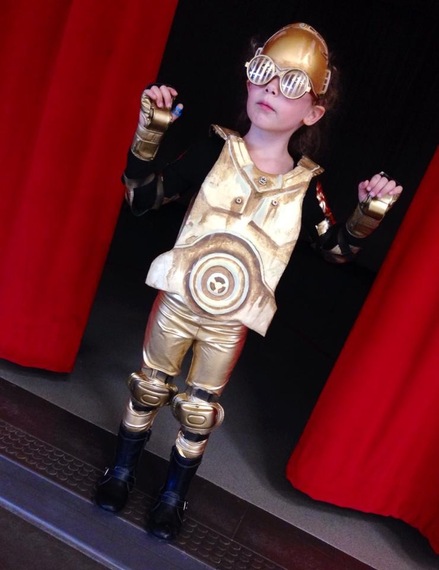 So there you have it! Yes, it's strange. Yes, it's unusual. But you know, it was fun to make and she ABSOLUTELY LOVED it. She walked around with her arms stiff, saying "Oh DEAH!" I was a little worried that I'd have to bring out my inner Mama Vader if anyone dared to make fun of her... I mean, there's an intimidating part of being a geeky parent that balances between WANTING them to be proud of what they like, but also worrying you'll be leaving your kid open to being made FUN of for what they like. Either way, I was standing strong beside her.
But thankfully, it was a HIT! When she walked into her school party, kids stared at her like she was a rock star. Even if they didn't "get" what she was at first, they thought the costume was cool, especially since we made it ourselves. Grown-ups even came up to look at her. It felt good. We also met a jawa, a Vader or two, and a Yoda. And every one of them dropped their jaws and said, "WHOA!"
... And really, isn't that always the reaction a crafty, droid-loving kid wants?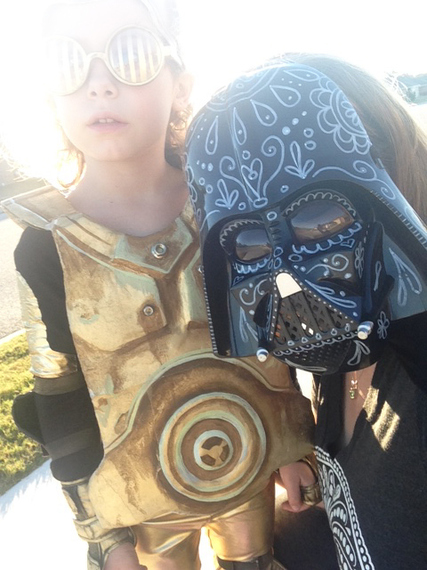 Find out more about Mica Hendricks' artistic collaboration with her daughter on her Kickstarter page.
Like Us On Facebook |

Follow Us On Twitter |

Contact HuffPost Parents