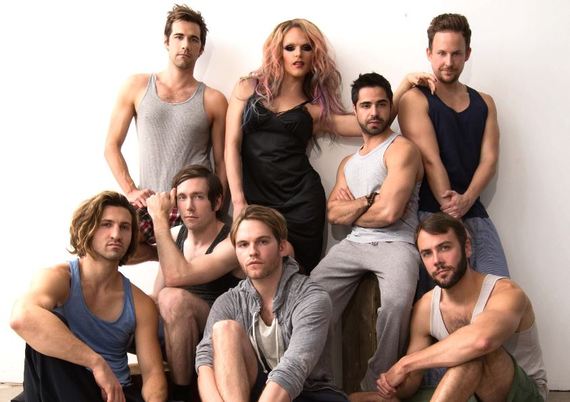 Professionally, I've known Kit Williamson, award winning creator of acclaimed dark comedy series EastSiders for a few years, and I've always been a fan. From his Broadway debut in Talk Radio alongside Liev Shreiber and Stephanie March, to his current stint on Mad Men as copywriter Ed Gifford, Kit is always a pleasure to watch.
That's why I was super excited when he told me that his show EastSiders was going to be returning for a second season this year, with Williamson starring alongside cast members Van Hansis (3-time Emmy Nominee for his role as Luke Snyder in As the World Turns -- a role for which he made television history in 2007 as one half of the first ever kiss between a gay male couple on daytime TV), Sean Maher (Firefly, Arrow), Brea Grant (Dexter, Heroes), Matthew McKelligon (Interior. Leather Bar.), Traci Lords (She's Traci Lords...she's a legend), and new additions Willam Belli (RuPaul's Drag Race, Nip/Tuck) and Satya Bhabha (New Girl, Scott Pilgrim vs. the World).
The past few years have been a remarkable time to be gay in America, and there have been an exciting number of new television shows and web series geared toward the LGBT community. But EastSiders is really something different. The show debuted in December 2012 on YouTube, and it was immediately met with such a positive reaction that the rest of the season was funded on Kickstarter in just four days, eventually leading to a pickup by LogoTV. The series follows Silverlake couple Cal (Williamson) and Thom (Hansis) as they try to work through the aftermath of Thom's infidelity. In other words, this is a story that could have very easily veered off into the realm of cheesy soapiness, had it not been for the skill of its creator and stars. Williamson is an award-winning playwright with a knack for witty dialogue, and the cast comes from diverse backgrounds in a number of pop culture hits.
The bottom line is this show is something special, and I'm really excited to see what more it becomes. The second season is currently being produced independently.
EastSiders Season One is available internationally on www.WolfeOnDemand.com and on www.LogoTV.com in the United States. Follow the show on Twitter and Instagram at @EastSidersTV.