Is it not cruel to let our city die by degrees, stripped of all her proud monuments, until there will be nothing left of all her history and beauty to inspire our children? If they are not inspired by the past of our city, where will they find the strength to fight for her future? Americans care about their past, but for short term gain they ignore it and tear down everything that matters. Maybe... this is the time to take a stand, to reverse the tide, so that we won't all end up in a uniform world of steel and glass boxes.
--Jacqueline Kennedy Onassis on the preservation of the Grand Central Terminal
There is not an endeavor, ambition or activity in the built world that cannot be enhanced by a warm, embracing ambience.
Indeed, in my view, architectural design should know no higher purpose. Whether as a setting for domestic life; commerce; education; cultural enrichment; entertainment; physical, emotional, and spiritual well-being; and even transportation, it is architecture that shapes the character of the human condition.
There are abundant examples in every category of modern life, but observe just one (itself, perhaps, the least obvious) - transportation. Is there anyone among us who prefers Penn Station to Grand Central Terminal? Such is the power of warmth.
How then to define warmth as an architectural principle? In the example of Penn Station vs. Grand Central, New York City's two primary train stations separated by roughly 16 city blocks and 6 decades, the answer is as simple as it is elusive.
Designed by Charles Luckman in 1968, the current Penn Station famously arose from the wreckage of the greatest train shed in America and, arguably, the world. As conceived by Stanford White in 1910, the original Penn Station was equal parts Parthenon, Baths of Caracalla, and Crystal Pavillion - a 2,300 year-wide confluence of precedents combining ancient Greece, Classical Rome, and Industrial Revolution England; all significant cultural influences on American civilization.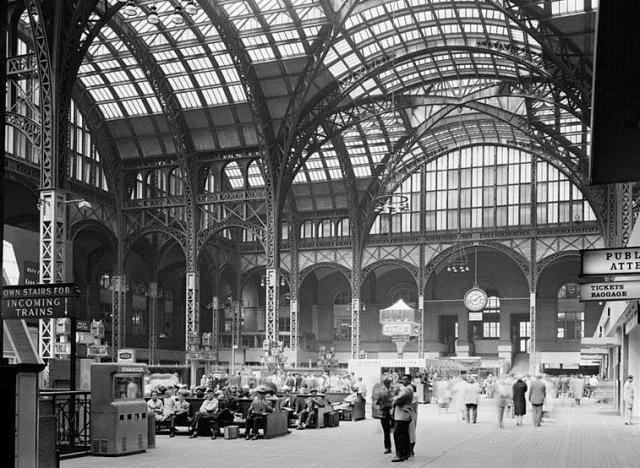 Penn Station, Image In Public Domain
Early in the 20th century, the railroad provided the principle means of overland travel, the terrestrial complement to the golden age of ocean liners. Ironically, both Pennsylvania Station and Henry Ford's Highland Park Model-T factory were completed within a year of one another - one, the world's single greatest expression of the pre-eminance of train travel and the other the author of its demise.
And, just as commercial airline travel would supplant ocean liners by mid-century, so too would the airways combine with automobiles and buses to render the railroad an antiquated means of long-distance transportation.
By the 1960s, Penn Station had become a cathedral to a dead religion, its soaring, cavernous space an empty expanse of un-capitalized real estate. And so, the wrecking crews were summoned and one of America 's most iconic building gave way to the benumbing banality of Penn Plaza and a relocated Madison Square Garden. The basic functions of the station remained, of course, but had been relegated to a basement, as far removed from daylight and the romance of travel as is possible to imagine - a low-ceilinged, fluorescence-muted rat race of fast food vendors, plastic tourist memorabilia and anonymous travelers.
No longer the pink marble-columned gateway between the great Metropolis and the scale-less continent beyond, overseen by giant eagles of Vinalhaven granite sparkling in sunshine - Penn Station now moves only people, not their hearts and minds.
What then can we learn from its surviving neighbor and contemporary just across town, now entering its centennial year and itself the survivor of 2 considerable demolition threats in the 1950's and 60's?
Completed between 1903 and 1913 in a collaboration between Warren and Wetmore and the lesser-known Reed and Stern, Grand Central may lack some of the spatial complexity of the early Penn Station, but celebrates in elegant Beaux Arts formality the transformative possibilities of journey by rail.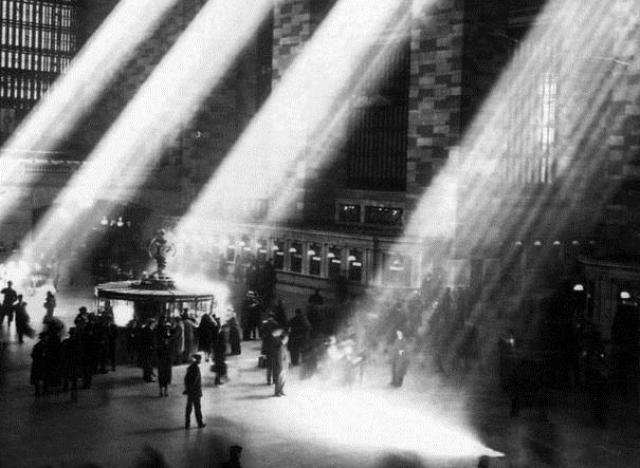 Grand Central Terminal, Image In Public Domain
Clearly, it is sacred space - a full quarter-acre of midtown Manhattan some 12 stories tall, sheathed in polished stone and over-arched by a sea-green barrel-vaulted ceiling constellated with golden stars once described by Cornelius Vanderbilt as "God's view of the sky."
And yet, for all its monumental vastness, its finery and craftsmanship and sheer luxuriant gorgeousness - all of it welcome and beguiling - a single element above all gives the totality of Grand Central its legible grace.
At the very center of this elegiac spaciousness is an information kiosk that would fit within even the most modest studio apartment; a simple, graceful little rotunda of marble and glass supporting a four-faced brass and opal clock. The sheer contrast between the enormity of the main concourse and this humble little structure lends a human scale to the million cubic feet of space and light and, in so doing, renders the room intimate, personal.
It is a familiar face in a surging crowd, an eye-level exchange beneath a heavenly vault, and its presence asserts, so very gently, that the travelers who throng through this hall in their millions are really just so many individuals passing through time and space.
It may be there for us all, but it belongs alone to you.
PHOTO GALLERY
Penn Station & Grand Central Terminal
Have something to say? Check out HuffPost Home on Twitter, Facebook, Pinterest, Tumblr and Instagram.
**
Do you have a home story idea or tip? Email us at homesubmissions@huffingtonpost.com. (PR pitches sent to this address will be ignored.)