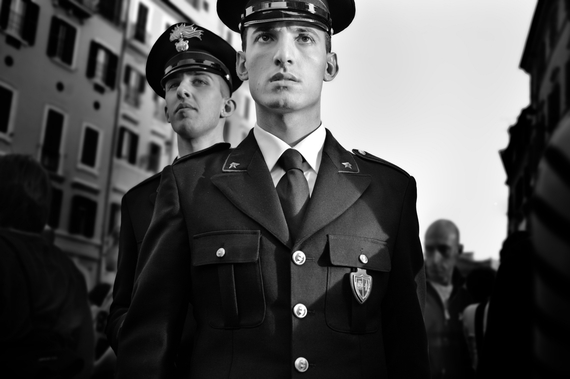 All Photographs (c) Christophe Debon
Few photographers (dead or alive) make me jealous. Christophe Debon is an exception. I am terribly jealous of his work, it's damn good. As a street photographer there is lots of competition, but not much that worries me. This work worries me as it gives a whole new meaning to the idea of street photography. Christophe Debon's work is a game changer. If there is any street photography that belongs in a gallery or on the wall at MoMA, this is it baby! I think Debon is flying way too far below the street photography radar, so to try and help out I decided to interview him here for the blog. I am so proud to present this work and this interview. Christophe is one of the very best street photographers at work in the world today.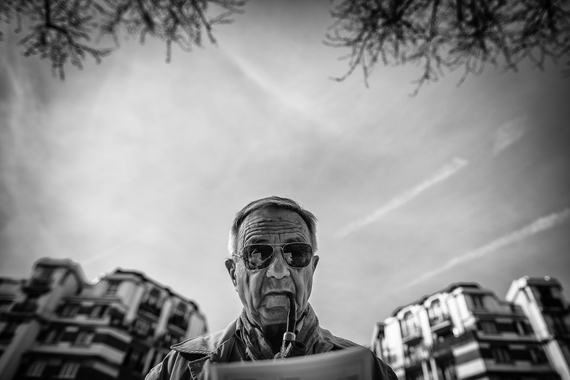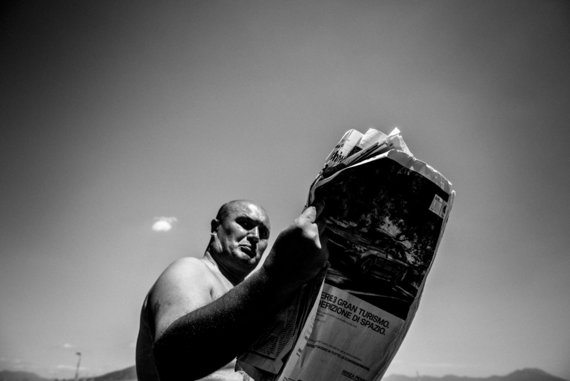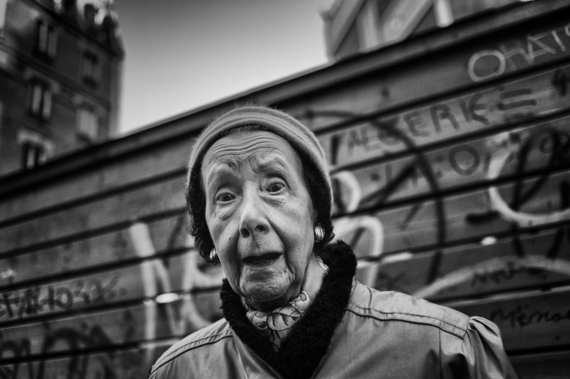 Michael Ernest Sweet: Christophe, tell us a little about how you came to be involved with street photography?
Christophe Debon: My father gave me a "vintage" Canon T90 in 2004 and I decided to use it. A friend of mine taught me the basics and I bought a book about photography.
Michael: Your work is, in my opinion, perfect examples of the "street portrait". Do you ever interact with your subjects to pose a photograph or are they all candid? I mean some of these characters are even in costume!
Christophe: All candid. I don't have any interest in asking people to pose! Costume? Yes, two cops in Italy, a girl in a medieval festival and a couple others during "Paris Manga".
Michael: All candid, wow. Well, you would make HCB himself jealous with your keen sense of the decisive moment. Despite the fact that your images are usually more of less straight forward street portraits, you have developed a distinct signature style. I always know your work by sight, which is what many, many photographers aspire to but never achieve. How did you develop this style?
Christophe: I have tried to photograph what I wanted to see in photography. I like to discover in the street the weirdness of situation or people, so when I see a "subject", weird or strange enough for my appetite, I look around to browse the right background that will make a good frame for him/her. So my position during the shooting is determined by the background in order to have a composition I like. Photos are snapped first of all in the unconscious. An image, a retinal memory, the impression of being in a scene from a Fellini or Bertrand Blier film.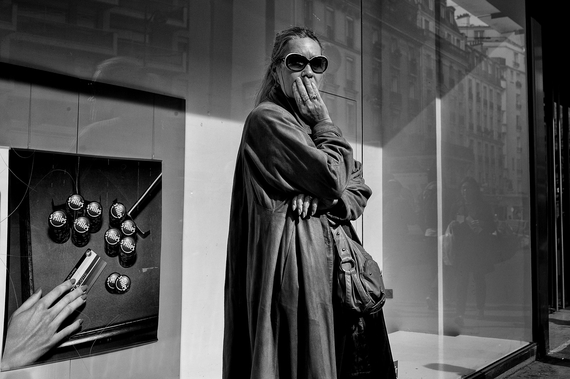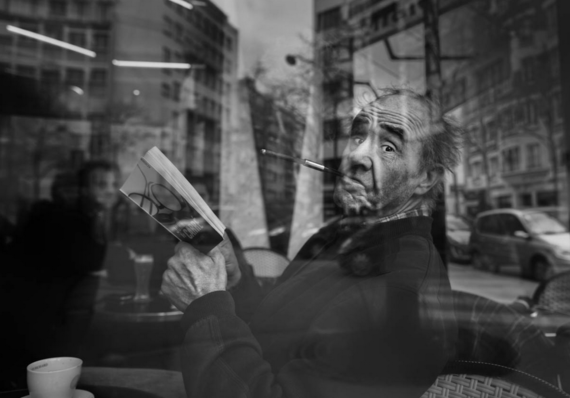 Michael: Indeed, your photographs do have a cinematic feel to them. I often imagine them as stills from a movie set. How do you achieve this feeling, or capture this "decisive moment" when everything seems just right?
Christophe: When someone or something captures my attention, I take the shot, without even thinking about it. It's pure instinct. I like to see the improbable emerge from the humdrum of daily life and grab hold of me. Just like I might grab an unsuspecting crab, and look it in the eyes and wonder what it's thinking. "What a bizarre creature," is what the crab is thinking... It's all about point of view. Of course, I am not a wizard and good photography is also about careful selection. I am a very harsh critic about my work and I show only the work I feel good about. If it is "very" good to me, it will remain in my computer. The rest go. Better to show one good photograph a year than six that are "so-so".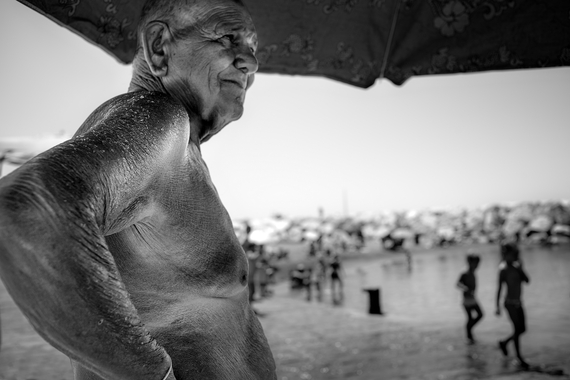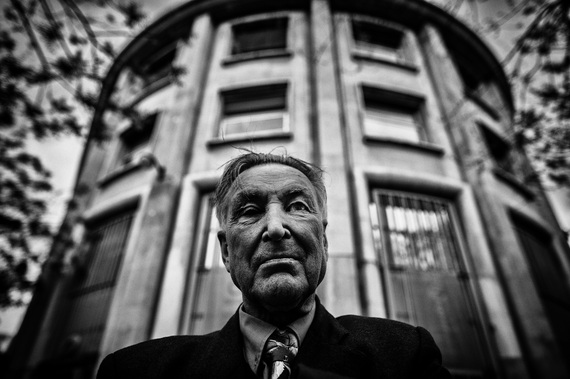 Michael: Yes, editing is a large part of the battle. Far too many photographers show far too much mediocre work. I like your strategy of having a very small output, but keeping the quality very, very high. Tell us about the gear you use and the method you employ while on the street.
Christophe: I'm hunting haphazardly. Ah, in front of me, or I look far away. My camera is ready. Hammer cocked. Safety off. I spot my target 150 feet ahead. I'm careful not to look at her. Fifty feet. I set my camera for the conditions: aperture, shutter speed, ISO. Three feet. I raise my eyes, and at 20 inches I shoot. Now I can look my "victim" in the eye, and slip her a smile and a word of comfort. She didn't suffer.
I use a Canon 5D III in silent mode along with a 24mm f1.4.
Michael: I love the analogy. There is always a sense of calm and ease in your photographs. Do you ever encounter conflict in the street when shooting?
Christophe: I am looking for a sort of short circuit reaction, so i can't be shy! I am getting very close, so I need to smile immediately after shooting to calm down things and bring comfort. One time I received a shopping bag with a nice batch of leaks right in the face!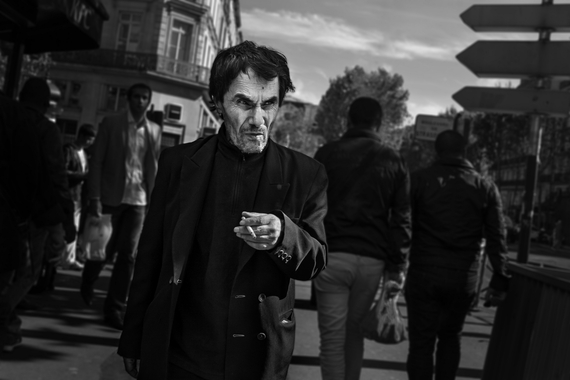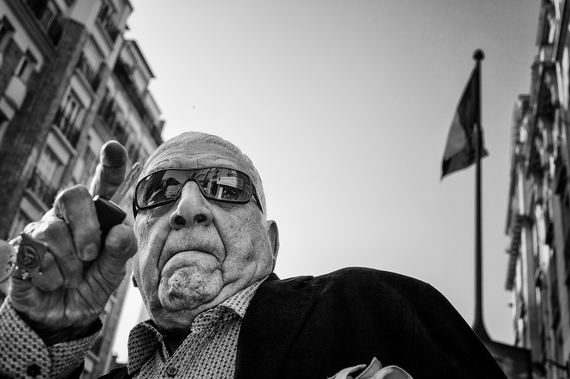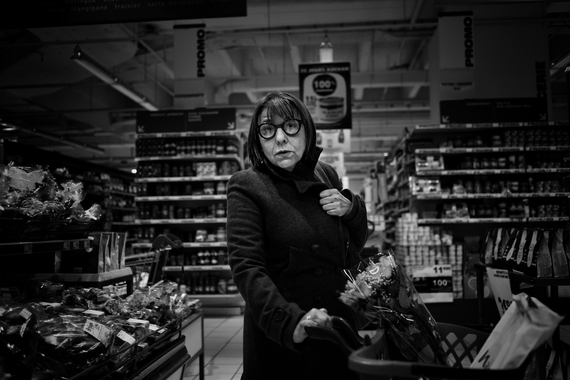 Michael: Better than coconuts! Tell us, what photographers at work today inspire you in your own creative pursuits?
Christophe: Josef Koudelka, James Nachtwey. I am very proud to have a signed copy of Koudelka "Portugal 1976" on my wall. A perfect source of inspiration!
Michael: Christophe, thank you so much for sharing this great work with us.
Christophe: Thank you, Michael. It was a pleasure.
Christophe Debon was born in Paris, France, in 1970 and still lives and works there today. Follow his work through his Flickr page or at 500px.
Michael Ernest Sweet is a Canadian photographer and writer. Michael is the author of two street photography books, several volumes of poetry, and countless articles, interviews, and reviews. Michael lives in New York City and can be followed or contacted through his website or on Facebook.