BRUCE SPRINGSTEEN AND THE E STREET BAND IN CONCERT *** out of ****
It's about to happen again. In a few hours time, Bruce Springsteen and the E Street Band will take to the stage, this time in Ottowa, Ontario on their Wrecking Ball tour. They took a short break after a three-night stand in the swamps of New Jersey, where I saw them on September 21.
And no wonder they paused to catch their breath. This tour may have set records for the longest concerts in the band's history (and it's a band known for long concerts) as well as a record for the latest end to a concert (the final night in Jersey was delayed by rain for hours). But if there's one clear message I took away from that typically entertaining, two and a half hour show in Jersey, it's that none of us are getting any younger.
I enjoyed my seat in the stands stage right though I wished I was down front in the general admission area where people stood for probably five or more hours to get their ideal vantage point. Bruce had the whole crowd on its feet at certain parts of the show, from the folks in the pit all the way up to the top row of the upper deck of the MetLife Stadium football arena. Only U2 comes close to keeping a crowd that large entertained and in control.
Bruce worked the crowd endlessly but I can't quite say tirelessly. He jogged from side to side, but there was a self-mocking exhaustion sometimes as he trudged backfrom one corner of the stage to the other, down a staircase through the crowd and then up another staircase, exhorting fans all the way. (Hey, the guy is 63 years old.) He climbed to the top of the piano and I was a little worried. The young Bruce would dive off of it with abandon. The older, wiser Bruce was smart enough to have discrete boxes and steps so he could "jump" down just a foot or so and then do it again and again, getting back to the ground without the indignity of crawling down but without the foolishness of injuring himself. If Derek Jeter can get an injury, so can the Boss. When he was sweating, Springsteen poured water over himself, drenching his hair and face and shirt. He's done it for decades. But as the night grew long and the fall air had a bite to it, this is the first time I thought to myself, "Gee, I hope he doesn't give himself a chill."
Is this to suggest Springsteen didn't give his all while delivering a concert (and a workout) that most rock bands could never hope to match even in their hungry early days as 20-year-olds with nothing but energy? Not at all. Springsteen may manage his energy, but he's delivering the goods, night after night.
Hardcore fans study the set lists and fantasize about which night they would have ideally attended (or pat themselves on the back for getting lucky). I snagged a good show for true believers looking for some rarities, but it might not have been the best night for a newbie and I had a guest with me who was an E Street virgin. By the way, save yourself some time and skip the question "Are you a fan of Bruce Springsteen?" and go right to "Have you ever seen him in concert?" Because if the answer to the first is "no," you're always going to ask the second and hear the same word: "No." Because if you see him in concert you become a true believer.
I'd prepped my friend Andy by recommending three albums to buy and listen to before the show. The new album Wrecking Ball (because it was sure to be the source of five or so songs), Born To Run (because it's the Bruceiest of Springsteen albums) and Nebraska (because it's his best album, a good balance to the other two and would perhaps appeal to Andy's Woody Guthrie-like social conscience). (By the way, if you love Nebraska like me, check out this UK tribute album by Clubhouse Records that's really very good. Who would have expected Brits to countrify up that album? Not me. You can watch every performance on YouTube.)
What three albums would you recommend to someone starting from scratch and about to see him in concert on this tour? I skipped Born In The USA because I figured he was already familiar with most of those songs and hey, this is triage and you have to deal with the most serious issues first.
We heard 28 songs in all, including a live debut called "Living On The Edge of The World," not one but TWO deep tracks from his debut including my favorite Springsteen song title of all time, "Does This Bus Stop At 82nd Street?", two songs from Gary US Bonds (who also chimed in during the encore), a fair amount of genial cursing and six songs from the new album (seven if you include bonus track "American Land"). Accepting the loss of Clarence Clemons by adding an entire horn section was a smart move, thus taking the weight off the shoulders of Jake Clemons as the new saxophonist. It also adds a Latin, "Ring Of Fire" flair to his music that works perfectly in the context of the vein of Americana Springsteen has been mining his career, not to mention a tip of the hat to strains of music introduced into America by immigrants that keep it and us vital. We'd heard about the touching video tribute to the Big Man, but seeing it happen was still a sweet and touching moment. Springsteen also turned "My City Of Ruins" from a 9/11 lament to an embrace of the ghosts of those who have died, an increasing number for the E Street Band and all of us, of course, as we get older. Like I said, we're not getting any younger. And Jake struck his own path; without either trying too hard to be different or slavishly imitating Clarence's solos, he readily assayed those classic chops with a voice on sax that was quietly but clearly his own. You could hear the echoes of Clarence -- genes will out -- but it's a loving bit of DNA rather than mechanical reproduction.
It was a good night, a solid show and anyone seeing him at any point on the tour would surely say the same. It may not have been the best set list to baptize my friend (he's not quite the rabid fan now he should be, though I think if we were down low by the stage he'd be speaking in tongues by now). But it was fun.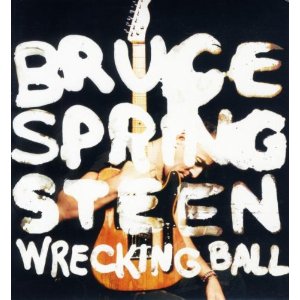 WRECKING BALL *** 1/2 out of ****
For me, the tour is also a chance to reflect anew on his current album Wrecking Ball. How does it hold up in concert? How many songs will enter the set list and stay there for a good long while? (We heard nothing from his last three albums of original material, Devils & Dust, Magic or Working On A Dream for example.) Critics have to rush to review an album the moment it comes out, but how does it play after seven months of listening and live performances? Well, as you can tell, I'm a big Springsteen fan. But I'm not a blind devotee. I haven't named one of his albums of original material among the best of the year since Tunnel Of Love back in 1987, some 25 years ago. So when I say that Wrecking Ball will be listed among my favorite albums of 2012, it's not a knee-jerk reaction of some Backstreet subscriber. It's the happy conclusion of a music lover who has listened to the album repeatedly and heard it grow stronger and stronger with each spin.
Note that I said it's the first studio album of original material to make my best of the year list. In fact, We Shall Overcome: The Seeger Sessions and its accompanying live album made my favorites of the year list as well. That album was mostly covers of classic folk tunes and didn't feature the E Street Band in toto. It crafted an entirely fresh, rootsy sound for those songs and sacrilege though it may be the accompanying tour provided my favorite Springsteen concert of all time at Madison Square Garden. Wrecking Ball finally builds on the promise of that record by taking the musical approach of that album and using it for a clutch of new songs to excellent effect. Oh, it's still Springsteen down to its bones, but this is as fresh and vital as he's sounded in years. Here's a track by track breakdown.
"WE TAKE CARE OF OUR OWN" Immediately, the touch of producer Ron Aniello is clear. My biggest problem with recent albums produced by Brendan O'Brien was the sound of Springsteen's vocals. However they may actually have been recorded, the vocals sounded sterile and flat, as if Bruce were isolated in a booth and listening to prerecorded tracks on headphones when singing his songs. Right away on the opening track, Bruce's voice is present and bristling.
His tunes have been co-opted by politicians over the years, usually quite cluelessly. Ronald Reagan famously played "Born In The USA" at rallies, not realizing it was a howl of despair from a Vietnam vet who had been abandoned and forgotten, not a jingoistic flag-waver. So I was a little surprised to see Barack Obama playing this song at the convention. It's not as some clueless critics averred, a defiant bark of pride, but a caustic commentary. "We take care of our own" is the claim we make but Springsteen points out out how this promise has remained unfulfilled so many times and in so many ways. "The road of good intentions has gone dry as bone," is not exactly a comforting image.
"From the shotgun shack to the Superdome/We yelled help but the cavalry stayed home" -- obviously, he's making the case that we should take care of our own, we've promised to take care of our own and it's time to keep that promise. But if there's any president who would be aware of and appreciate nuance, who would understand the demand the song is making, the call to justice and compassion it yearns for, I think it's Obama. His team knows the song can play on its surface as powerful and that the true message of the tune is right in line with what he's campaigning for. Still, I'd love to know if Obama would actually parse the song's message this way if asked what it meant to him.
As Springsteen learned from the Seeger tribute album, the most powerful and enduring political tunes are the ones that don't hammer home their message. (That's why he avoided so many of the more obvious but dated protest songs Seeger is known for.) This rousing opener establishes we're right back in Springsteen's musical wheelhouse with its chiming guitars and driving drums. But the percussive backdrop, nimble strings and modest fiddling with the sound of the vocals (which are processed early on) let's us know he's not stuck in the past. And its spiritual flourish at the end -- with Springsteen invoking the "spirit that'll reign, reign over me" -- sets the tone for the gospel flavor that has been a constant throughout his career and is more prominent here than ever before. It's easy to see how this album sprang out of an earlier project to record a full-on gospel album.
Live in concert, the song is even more determined and angry and thrilling than it is on the album. The mass of horns, the entire band kicking in, the whomp of the musicians and the voices of the singers make this a keeper in concert.
"EASY MONEY" Here's the first clear reference to the rowdy, "let's set up our band in a barn and have us a hoe-down" musical style of The Seeger Sessions. Springsteen positively growls out the lyrics about a guy and gal hitting the town... not to dance up a storm, but to get some easy money by brandishing a gun and knocking over some poor schlub who won't even see it coming. The electric guitar here is especially nasty and stinging because this couple is awfully fatalistic, insisting, "Got me a date on the far shore/It's sunny and bright." You do not want to be mugged by a couple that doesn't care if they live or die; this is Bonnie & Clyde without even the succor of enjoying their spoils before it's all over and Springsteen yelps out "whoo whoo!" towards the end as the finish line approaches for everyone involved: the man getting robbed, the couple and the song. The female background vocals are striking here, adding a party atmosphere and choir-like refrain; not a polite Mormon Tabernacle Choir but a sanctified, country church choir, right down to the tambourine that shakes itself out at the end. Here again you have the hints of despair this couple feels in an economy where the only way they feel they can get ahead is by stealing. The song is tremendous fun, but there's a dark lining to the proceedings.
"SHACKED AND DRAWN" The third song on the album and Springsteen is three for three. This rouser is about the working man, people who get up every day and do their job ("a shovel in the dirt keeps the devil gone," he notes). He's ready and willing to do the hard work ("freedom is a dirty shirt," he says without rancor) but he can't help feeling the deck is stacked against him, that with his poor wages and shrinking benefits he's more of a slave than an employee, which is why he feels like he woke up "shackled and drawn." After all, "Gambling man rolls the dice, working man pays the bill/ It's still fat and easy up on banker's hill." Again, the female chorus chimes in right away. Springsteen counts down the intro to the song while an acoustic guitar strums along and then the guitars and drums join in and he delivers another vivid, biting vocal joined soon by accordions and much more.
The E Street Band is always a potent force, but the sense of music as a collective effort is stronger here than in many years. Before The Seeger Sessions, you'd have to go back to The Wild, The Innocent & The E Street Shuffle for a similar feel of people coming together to share their troubles and joys, to laugh and sing a song. And that sense of community really ended with the guys in the band; this time the community extends to include everyone. The song ends with singer Cindy Mizelle taking us to church, exhorting the crowd with a classic tent revival refrain, "I want everybody to stand up/ I want everyone to stand up and be counted tonight." She adds, "You know we got to pray together," but it's not hard to hear the righteous call to witnesss this embodies for the here and now. It's not just a spiritual escape by hoping for a better existence in the afterlife. Springsteen has always trafficked in religious imagery and the power of faith; but it's often been a refuge to the people in his songs or a shaky lifeline they cling to in desperation. Here he taps into the African American tradition of the church as a birthplace of social justice.
"JACK OF ALL TRADES" Here's the first song I hesitated on from the album. I hate what sounds like a drum track that kicks it off and the falling piano line seemed a little too dirge-like the first time around. But like most every song on the album, it's grown on me. I like the way it slides into anger, from the guy who says we've survived a hurricane and maybe now we can care for each other the way Jesus said we might to the guy who looks at the devastation of towns and cities and factories after the economic collapse and says, "If I had me a gun, I'd find the bastards and shoot 'em on sight." Funnily enough, the majestic horns and Tom Morello's guitar solo soften the blow of this anger, but it's as close to a diatribe as Bruce has ever gotten. That bluntness makes it the least effective song on the album. Still, the melody improves on multiple plays and the exhausted plea "We'll be alright" is ultimately the sound of a man trying to convince himself as much as anyone else.
"DEATH TO MY HOMETOWN" Here's another angry tune, but its melody is infectious and its rage is universal, thanks to the Irish air of the instrumentation that makes it feel like a blast from the past and lyrics that refer to robber barons. "No bombs fell from the sky... But just as sure as the hand of God, they brought death to my hometown." The massed singers in the background and the old-timey vigor in Springsteen's lead vocals all conspire to make this feel more like a call to action than a call for revenge like "Jack Of All Trades." The clapping hands, the feisty drumming, the damning of "Greedy thieves who came around/ And ate the flesh of everything they found/Whose crimes have gone unpunished now/ And walk the streets as free men now" -- well frankly it should sound like a Matt Taibi article in Rolling Stone but instead it sounds like a hell of a party. The only surprise is that it's an original and not some Irish tune from turn of the century New York City.
The genius here in this song is manifold. Springsteeen captures the devastating impact of the Great Recession that destroyed many lives and a lifetime of work for many more. He aptly compares it to the ravages of war. No, airplanes didn't fly overhead and bomb our cities, he says, but the damage is just as brutal. That's why the music feels like a rousing patriotic tune to rally the people against a common foe, though in this case the foe is the invisible hand of capitalism and the not so invisible hand of the criminals who plundered the financial system for hundreds of millions of dollars to enrich themselves while tottering the economy as if it were their own personal Jenga game. And yet the ancient martial air provides the cold comfort that an upheaval in the economic system isn't some new phenomenon but a familiar occurrence that rightly or wrongly reappears with numbing regularity. (It's nigh on impossible to discuss this album and NOT place it in the context of the economic despair that gripped the country in 2007-2008. Even on Nebraska, I wouldn't get as political in my analysis as this album demands.)
"THIS DEPRESSION" Here's another tune that I initially resisted. Hearing it in concert makes me appreciate it far more. A little laid-back on the album (the cushiony background vocals don't help), it doubles as a love song and a cry for help in an economic downturn. "Baby I've been down but never this down/ I've been lost but never this lost/ This is my confession/ I need your heart/ In this depression/ I need your heart." Clearly this works on two levels, the romantic and the social, with a hero deeply in love or overwhelmed by his misfortune. Musically it's a little flat, but a fuller arrangement and the forcefulness of a live performance transformed it very well. It's a pity we can't take the live version and plop it down into the middle of the album.
"WRECKING BALL" Here's a remarkable transformation almost as great as the change of "My City Of Ruins" from a song about the plight of Asbury Park to a prayer, a balm after 9/11. "Wrecking Ball" was originally written to celebrate the end of Giants Stadium, which would be torn down and replaced by MetLife Stadium. With only a few minor tweaks and the charging horns that are so vital on this new album, it becomes an anthem of defiance for the country as a whole, especially the working people who provide the backbone. You can see the clear references to football and the moment for which the song was originally composed. But its power is immense now as "Wrecking Ball" echoes Joni Mitchell and Woody Guthrie, more Hank Williams Sr. than Hank Williams Jr. as people dust themselves off and claw their way back to financial stability.
"When the game has been decided/ And we're burnin' down the clock/ And all our little victories and glories/ Have turned into parking lots/When your best hopes and desires/ Are scattered to the wind/ And hard times come and hard times go.../ Yeah just to come again/ Bring on your wrecking ball." That's as clear-eyed and unsentimental a statement of defiance as you're ever likely to hear. Somehow Springsteen makes it noble to recognize that your best hopes have been dashed but you need to stand up and get back to work again anyway. Suzie Tyrell's violin solo here is among her best because as always with her it's subtle and to the point, not flashy. Those horns, those voices, the band all kicking in to reveal what could seem foolish and delusional -- fighting back to earn your living despite being knocked on your ass, again -- as the proud, essential act it is. Anyone can rally to this tune (even Tea Partiers), so it's the anthem that "We Take Care Of Our Own" is not if you want to fire up the troops. That anthemic middle section where he repeats "Where hard times come and hard times go" over and over and over again is so strong and meaningful in concert -- from yet another echo of gospel to the cold truth about economic cycles of boom and bust -- that you can't help feeling lifted up off your feet. It's the title track for a very good reason and sure to be a concert highlight for years to come.
"YOU'VE GOT IT" Here's the purest lark on the album. It's a sexy love song, the likes of which we haven't heard since "Ain't Got You" on Tunnel Of Love. It's a welcome ray of sunshine on an album birthed in the midst of hard times. The pedal and steel guitar are nice warm touches for a tune that's just out to have some fun and succeeds.
"ROCKY GROUND" By far the most problematic song for me on the album when it came out. It shows Springsteen diving into samples and loops and even a spoken word section that is for all intents and purposes a rap -- yikes, is Bruce worried he's getting old and needs to keep up with the kids? Will his next album be produced by Skrillex? After the initial shock, I started to accept the song on its own terms. The samples only appear briefly at the beginning and end and frankly that spoken word section really is just that and not truly a rap. And thank God Bruce doesn't deliver it himself.
It's almost a duet with Michelle Moore, who sings the refrain, "We've been traveling over rocky ground," throughout. It's also a tune that improves immeasurably in concert, which banishes all doubt about the song. Slowly, as you listen to the album over and over you can see the pattern, how it acknowledges the pain and bitterness and anger of many in "Jack Of All Trades" and "This Depression," but then shakes itself off and stands up and slowly walks towards sunshine and possibility, whether it's the redemption of love or faith or simply via the act of standing up again and shaking off that torpor. After the emotional bleakness of those early songs where the desire to steal some success yourself or die in the trying, where revenge speaks louder than justice, where you're sunk into depression and can't see your way out, Springsteen holds out hope through community and passion and justice and God, not solely or even strictly through the promise of salvation after death but in the knowledge that good can triumph here and now. But sure, we've been traveling over rocky ground; he won't forget that because we can't.
"LAND OF HOPE AND DREAMS" "Rocky Ground" ends with Moore's voice and begins with the singing of Curtis Mayfield sampled from "People Get Ready." Surely that's never happened before on a Springsteen album, one song ending and another beginning with two different voices and neither of them Bruce? it's a stroke of confidence, one gospel-infused moment merging into another, a woman passing on the torch to a man, the present and the past bridging time and memory. This song has been around for many years and even appeared on singles and live albums. But it fits perfectly on Wrecking Ball, with its classic Springsteen repetition a la gospel, the imagery of a train carrying saints and sinners and the final flourish of a sax solo by the late Clarence Clemons (taken from one of its many prior performances) which is deeply moving and the perfect stepping stone to the final track. it's been a live staple for many years and understandably so but the backup singers and horns make it more powerful than ever here. Frankly, it's always sounded a little dutiful before in concert; this arrangement with a more urgent rhythm, warmer vocal support and those horns lifting it up made me truly love it for the first time.
"WE ARE ALIVE" The positive vibe of songs that come prior to the closing track might have obscured or banished the righteous rage that powers so much of the album. No chance of that after this powerhouse of a final song. My biggest regret about the concert I attended was that this wasn't the final encore of the night. I was dying to hear it performed live and reports from other shows make it sound a corker. It starts simply and you'd be forgiven for thinking it might be an outtake from The Seeger Sessions. Surely this is some classic but obscure folk tune you've simply never heard before? No, it's a bracing original that begins with the sound of a needle on a record, moves on to Cavalry Hill and a nod to the rebel jesus and quickly heads to the graveyard where Bruce insists you can put your ear to the gravestones and hear the dead singing.
And what are they singing? The same thing that Bruce sang about with the re-imagined "My City Of Ruins" -- the dead are among us and not forgotten. Let's build on what they accomplished, be it success or the first awkward stumble towards success or just the recognition that a greater good was worth fighting and dying for. "We are alive/ And though our bodies lie alone here in the dark/ Our spirits rise/ To carry the fire and light the spark," sings the chorus, with a banjo providing a warm accompaniment to a melody jaunty enough to make the dead dance. That's followed quickly by a guitar lick, percussion and horn section that sounds like it came straight out of an Ennio Morricone film score, a rousing surge of excitement. Then Springsteen spells out exactly the dead people he has in mind, the memories and spirits we should remember and embrace: the railroad workers who went on strike and died for their defiance in 1877, the four little girls at church in Birmingham Alabama in 1963 who were bombed by hate, and the immigrant who died trying to cross illegally into the US to find a better life for his family. "We are alive" he sings, ready to fight and ready to stand "shoulder to shoulder and heart to heart." It' a beautiful, stirring, slightly spooky but ultimately comforting song, acknowledging the high price that can be paid when fighting for what you believe in, but insisting those who have paid it would be the first to urge you further on.
At its best, the album refreshes Bruce's music at the well of Americana, drawing on folk and bluegrass and gospel in ways that can allow Bruce to age gracefully and still raise a ruckus with the best of them. Of the 11 tracks, two -- "Jack Of All Trades" and "This Depression" -- seemed too blunt or unsatisfying. But one has improved in concert and the other is a vent of rage that is answered by the songs that follow it. Five or six songs are absolute gems and the album overall is as cohesive and moving and potent as anything he's done in a long, long time. I was hoping he'd be inspired to do another album of traditional tunes with the Seeger Sessions band (and I still do). But after two albums that sidestepped that major work (one of the best of his career and make sure you get the deluxe version), it's exciting to see Springsteen finally incorporate the broader musical palette that The Seeger Sessions opened up for him, reinvigorate the band (that brass section is great on tour!) combine it with the sharp eye he's always had for the world around him and produce tunes that should be a source of material for protest singers and street buskers for years to come.
In case you're wondering about my Springsteen taste in general (or want some recommendations), here are my ratings for his studio albums. All based on a four star system.
Greetings From Asbury Park, N.J. ** 1/2
The Wild, The Innocent & The E Street Shuffle ****
Born To Run ****
Darkness On The Edge Of Town *** 1/2
The River *** 1/2
Nebraska ****
Born In The U.S.A. *** 1/2
Tunnel Of Love *** 1/2
Human Touch **
Lucky Town **
The Ghost Of Tom Joad **
The Rising ***
Devils & Dust **
We Shall Overcome: The Seeger Sessions ****
Magic ** 1/2
Working On A Dream ** 1/2
Wrecking Ball *** 1/2
P.S. Springsteen dashed off a modest song for an Obama rally, joking that after "Osama" and "drama" he couldn't think of any words that rhymed with Obama. Hey Bruce, how about Cinerama and comma and pajama and trauma and how could you miss "Yo Mama"? No need to thank me.
Thanks for reading. Michael Giltz is the cohost of Showbiz Sandbox, a weekly pop culture podcast that reveals the industry take on entertainment news of the day and features top journalists and opinion makers as guests. It's available for free on iTunes. Visit Michael Giltz at his website and his daily blog. Download his podcast of celebrity interviews and his radio show, also called Popsurfing and also available for free on iTunes. Link to him on Netflix and gain access to thousands of ratings and reviews.
Note: Michael Giltz is provided with free tickets to shows with the understanding that he will be writing a review.