Album sales may be slower than ever, but there's more great music out there than ever before -- and you can check it out more easily than ever. So every week, I'll share a favorite new album. Usually, it will be a new release or maybe it's just been out for a few weeks or months and just caught my ear. By the end of the year, you'll have sampled some of the best albums of the year. Normally, I won't talk about the new Eminem CD; if you care about that, you know about it already. These aren't reviews so much as recommendations. Think of it as a friend grabbing you and saying, "You've got to hear this!"
So if you have adventurous ears and like music from all sorts of genres, keep checking in. This week, I'll start with two albums: one is by a world-class act and the other is a new talent that's very promising. Enjoy.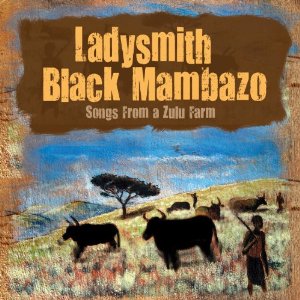 LADYSMITH BLACK MAMBAZO -- SONGS FROM A ZULU FARM.
We've probably been taking this legendary South African act for granted. Like most people, I was introduced to Ladysmith Black Mambazo by Paul Simon's landmark Graceland. That led me to the classic compilation The Indestructible Beat Of Soweto Volume One and a wealth of great African talent, foremost among them this brilliant vocal group. I thought I was a fan until I saw them in concert. On record, their voices are beautiful and charming; in concert, the precision, technical mastery and overwhelming beauty of what they do hits you with full force.
In the wake of Graceland, Ladysmith Black Mambazo signed with Warner Bros. for a while, heard their songs in movies and TV shows and commercials and became a popular touring act. Eventually, the spotlight faded a bit and they settled back onto smaller labels. Like some people, I probably felt I had 'enough" Ladysmith Black Mambazo albums at some point, as if you could have "enough" jazz or "enough" Rolling Stones. So every once in a while I'd check in when an album seemed especially notable, but not always with the same passion.
Songs From A Zulu Farm made me a fan all over again. It's a great introduction to new fans and a career capper for an act that has produced excellent music for decades. The songs are traditionals they learned growing up in the rural farms of South Africa. "Imithi Gobakahle" calls in the kids from the rain, promising them they can go back outside as soon as it stops. "Ntulube" is a song to sing when you want to swim in the river -- throw in a stone and if the ripples are clean, it's safe. If not, there might be a snake or other creature around and the song can chase them away. "Vuka" is a tune to wake up baby chicks in the morning so they can eat the food you're bringing. There's even a spin on "Old MacDonald." You can go to MySpace and listen to the music on Songs From A Zulu Farm right now. And here's a recent video of them in concert also doing one of the tunes. Not great audio but it's always good to glimpse them live.
Their performances are playful and warm -- Ladysmith has always had a flair for performance but rarely has there been such joy in their recorded work. Animal sounds, giggling children, a celebration of home life - it all suffuses the album with a sweetness that the band always embraced but that the darkness of life didn't always allow to shine through completely. If you've never heard them, start here. If you're a fan but haven't bought an album in a while, don't hesitate. Great stuff.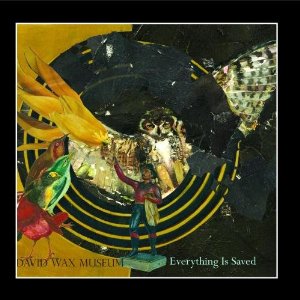 DAVID WAX MUSEUM -- EVERYTHING IS SAVED

So for this very first column, I wanted to pair a classic act with a new one that will hopefully be around for a long time to come. Did you see the Grammys? The highlight performance for me was the great combination of Mumford & Sons followed by The Avett Brothers and then both bands backing Bob Dylan on "Maggie's Farm."
Well, David Wax Museum -- inevitably referred to as an Americana band -- would have fit right in on that stage. And in their case, the "Americana" label is particularly apt since they drawn on Mexican as well as US folk tradition for an exuberant, timeless sound that is distinctive but instantly familiar. Like on their single, "Born With A Broken Heart."
It's a great opener and the album Everything Is Saved doesn't disappoint. "Yes, Maria, Yes" and "Chuchumbe" are similarly infectious, while "Si, Te Vas" and "Night Was A Car" have a woozy, faded glamour. You can go to their website to find out how David Wax from Missouri and Suz Slezak from Virginia fell in love with folk music (including styles south of the border) and joined forces to lead David Wax Museum. You can go to MySpace and check out all the music right now. Sure, any hip band worth its salt is going to pull out the accordion every once in a while. But how many also boast the quijada, the jarana and the requinto?
Sometimes it sounds like a front porch sing-along, other times you're in a packed bar downing beers and every once in a while, they just sound heartbroken enough to be singing alone (the closer "Wait For Me") and not even expecting anyone else to hear.
Want to get a better sense of my musical taste?
Thanks for reading. Michael Giltz is the cohost of Showbiz Sandbox, a weekly pop culture podcast that reveals the industry take on entertainment news of the day and features top journalists and opinion makers as guests. It's available free on iTunes. Visit Michael Giltz at his website and his daily blog. Download his podcast of celebrity interviews and his radio show, also called Popsurfing and also available for free on iTunes. Link to him on Netflix and gain access to thousands of ratings and reviews.
NOTE: Michael Giltz is provided with free copies of CDs or digital downloads by numerous labels to consider for review and feature coverage. He typically does not guarantee any coverage in exchange for these CDs and indeed receives far more albums than he ever comes close to covering in his various outlets.