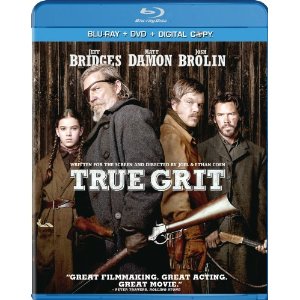 TRUE GRIT ($39.99 BluRay or $29.99 regular DVD; Paramount) -- The Coen Brothers movie is solid fun that's better than the original and more true to the terrific novel by Charles Portis. Hailee Steinfeld gives a funny but very particular performance that could be the sign of a singular talent or a one-off stunt. Josh Brolin is hissable as the villain. Jeff Bridges shamelessly chews the scenery in the hammy role made famous by John Wayne. But I want to talk about Matt Damon.
He gives the best performance of the film as the over-confident Texas Ranger LaBoeuf. The character is nominally comic relief, but Damon makes him the heart of the movie. The little girl is preternaturally calm and mature. Bounty hunter Cogburn is a caricature of the hard-drinking frontierman. Only LaBoeuf is a recognizable human being, a man who is a tad vain but at heart a decent person. Damon gets all the humor out of this easily offended young man but he also makes you care about LaBoeuf and consequently about the film as a whole. If anyone might die in this enterprise you fear it would be LaBoeuf, so all the suspense and drama centers on whether he'll make it home alive or at least redeem himself as a brave and valued companion. With his accustomed ease, Damon steals the show by playing a supporting role that other movie stars might not deign to accept.
It's just the latest achievement by one of the best actors working today. Damon's looks always promise the square-jawed decency of a 1950s leading man. But his talent often lies in subverting our expectations. He broke through as the math whiz in Good Will Hunting of course. Then came Saving Private Ryan, with Damon as every mother's son caught in the dangers of war. His career seemed set as a traditional hero. But Damon followed that immediately with one of his best and most underrated turns. He became almost invisible in The Talented Mr. Ripley, a mousy killer who subsumes the identity of the people he destroys. Look at the way Damon maintains the anonymous demeanor of a servant in the opening scenes and you'll see a movie star choosing to become an actor.
He showed he had charisma to burn in the Ocean's Eleven movies. But it's the Bourne trilogy that has truly vaulted Damon to the top. If comedies get little respect, even they receive more critical attention than the performances in action films. Damon's work in the Bourne movies constitutes one of the best action performances on film, equal to Harrison Ford's work in the early Indiana Jones movies and easily one of the most complex achievements in the genre. Damon delivers the confusion and apprehension of a man who finds a terrified release in the violence he is so clearly capable of achieving, a violence that both thrills and disturbs him. With a minimum of dialogue and often through his face and body movements alone, Damon creates a man audiences live vicariously through but also pity in his desperate desire to know exactly who he is. Best of all, Damon showed the rare restraint of walking away from the franchise before it became repetitive and dumb.
The smart choices continued: the CIA agent in The Good Shepherd, the gangster turned cop in The Departed (proving again how good Damon is at internal conflict) and the hilariously inept stool pigeon in The Informant!. That's a very funny movie but Damon's gifts as a comic haven't been fully exploited yet (despite his amusing work on 30 Rock), any more than his ability to be a romantic lead. Presumably that just doesn't interest him since he's barely assayed such a common, almost inevitable role. Politics interests him more, from the complex Syriana to The Green Zone to his work as the narrator of the best documentary of 2010, Inside Job.
Perhaps the most exciting aspect of Damon's talent is that he's only seemed to scratch the surface of what he's capable of doing. The older he gets, the more interesting and varied the roles he should be able to tackle. Damon's never been trapped by leading man status but growing more mature will only play into his natural instinct for the interesting and off-beat. Unquestionably, the best is yet to come.
ALSO OUT NOW:
BREAKING BAD: THIRD SEASON ($49.96 BluRay or $39.95 regular DVD; Sony) -- The best show on TV right now, bar none. Bryan Cranston and Aaron Paul are just the tip of the iceberg when it comes to this terrific ensemble. Three seasons in and they haven't even come close to skipping a beat yet. The new season starts July 17 and you have no excuses for not catching up.
AC/DC LET THERE BE ROCK ($44.98 BluRay or $34.98 regular DVD; Warner Bros.) -- Finally, after years of waiting, the most enduring hard rock band in the world gets their concert film released on DVD. Modest extras -- a nice tin case, some silly photo cards, videos of journalists and other musicians telling us that AC/DC totally rocks! and the like -- make this a deluxe edition. All you really want is the movie turned up loud.
ANOTHER YEAR ($36.98 BluRay; Sony Pcitures Classics) -- A heartbreaking look at a single woman entering middle age who realizes her friends -- heck, even her friends' children -- have lives and lovers while she is alone and apparently will be for the rest of her life. A gem from director Mike Leigh and one of the best movies of 2010.
A CLOCKWORK ORANGE ($34.99 BluRay; Warner Bros.) -- It's no revelation,but watching this disturbing drama again, I was struck by director Stanley Kubrick's remarkable eye and how he makes scene after scene come alive with fresh and unexpected visual approaches. Loads of substantial extras include career retrospectives of both Kubrick and his star Malcolm McDowell.
CARANCHO ($27.99; Strand) -- This political thriller from Argentina tells the story of an ambulance chasing attorney who falls hard for a young female doctor who works the emergency room. They find the courage to put themselves in harms way and challenge the corruption all around. An unappreciated corker that shows how dangerous true love can be -- it makes you ashamed of behaving poorly in your lover's eyes when compromise is so much safer and easier.
SPECTACLE -- ELVIS COSTELLO WITH... SEASON TWO ($39.95 BluRay or $29.95 regular DVD; MVD) -- Costello's very enjoyable music and chat series (where artists sit together on stage and swap stories and songs) had a very good season two with Bono, Ron Sexsmith, Bruce Springsteen, Sheryl Crow, Richard Thompson and the like. Loads of bonus material but none of it changes the fact that the highpoint was Jesse Winchester's instant classic performance of "Sham-A-Ling-Dong-Ding," one of the loveliest tunes you'll ever hear.
DUCK SOUP ($19.98; Universal) -- The Marx Brothers are one of movie's greatest pleasures and their string of "animal" pictures (Horse Feathers, Monkey Business, Animal Crackers, Duck Soup plus The Cocoanuts in this reissue) are considered their screen peak with Duck Soup the peakiest of the peaks. It's delirious fun, though the prints are nothing special and the extras non-existent. If you already own them, don't bother. If you don't already own them, bother.
THE KIDS IN THE HALL: COMPLETE SERIES ($99.95; A&E) -- Frankly, not that many groups even get a chance to do sketch comedy on TV, so i suppose they all have their adherents. Dave Foley had the best solo success (NewsRadio) but these five Canadians will be remembered for their work here, which always maintained a sweetness at its core that most other sketch comedy troupes lacked. You get all five original seasons plus the reunion Death Comes To Town, some 800 sketches on 22 DVDs and a raft of memorable characters. Ranks alongside SCTV as indispensable comedy.
Thanks for reading. Michael Giltz is the co-host of Showbiz Sandbox, a weekly pop culture podcast that reveals the industry take on entertainment news of the day and features top journalists and opinion makers as guests. It's available free on iTunes. Visit Michael Giltz at his website and his daily blog. Download his podcast of celebrity interviews and his radio show, also called Popsurfing and also available for free on iTunes. Link to him on Netflix and gain access to thousands of ratings and reviews.
NOTE: Michael Giltz is provided with free copies of DVDs to consider for review. He typically does not guarantee coverage and invariably receives far more screeners and DVDs than he can cover each week. Also, Michael Giltz freelances as a writer of DVD copy (the text that appears on the back of DVDs) for some titles released by IFC and other subsidiaries of MPI. It helps pay the rent, but does not obligate him in any way to speak positively about their titles.