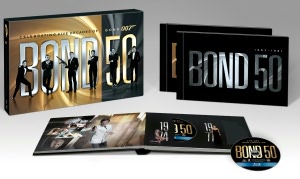 Happy James Bond Day! Personally, I celebrate James Bond Day on his birthday November 11. But October 5, 1962, marked the world premiere of Dr. No in London so the 50th anniversary of that debut serves as an excuse for books, CDs, boxed sets and more. Of course the next Bond film comes out on November 9 (so naturally I'll see it that Sunday; do the math). The most desirable release of all is the BluRay boxed set of every single official Bond film just out. But let's clear the decks of the other items first.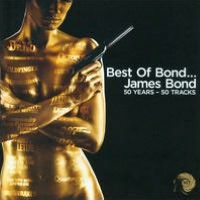 You can get a two-CD set of Bond theme songs and instrumentals ($29.99; Capitol). Some of the biggest names in music have delivered the Bond theme song in the past -- Paul McCartney and Madonna, to name two. But they've never snagged the biggest-selling act in the world right at their peak of fame... until now. Here's Adele's theme song for Skyfall. Shirley Bassey and "Goldfinger" will always be the No. 1 Bond song of all time. But after just a few listens, Adele's track is already in my Bond top five. ("Goldfinger," "Live and Let Die," "Nobody Does It Better," and "Diamonds Are Forever" if you're wondering.) I think Bond has just found its second chart-topping hit after almost 50 years of trying and the first to reach No. 1 in both the U.S. and U.K.
Now onto the books.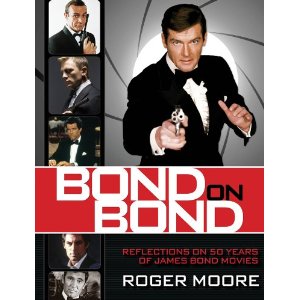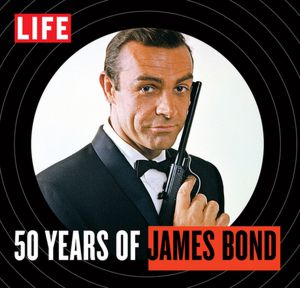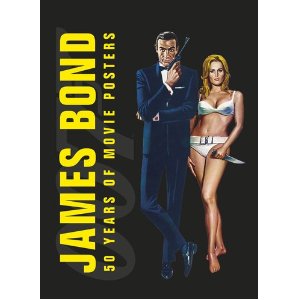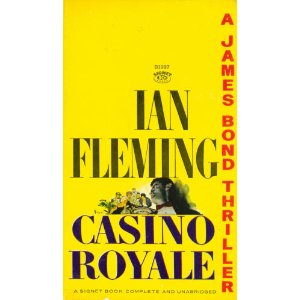 BOND ON BOND BY ROGER MOORE ($29.95; Lyons)
50 YEARS OF JAMES BOND BY THE EDITORS OF LIFE ($27.95; Time Life)
JAMES BOND: 50 YEARS OF MOVIE POSTERS ($50.00; DK)
BOND ON SET: FILMING SKYFALL BY GREG WILLIAMS ($40.00; DK)
CASINO ROYALE BY IAN FLEMING ($7 ebook; Thomas & Mercer) -- Here's just a smattering of the many Bond books available. Roger Moore holds forth on his time on the series and the film series in general; it's due out October 16. The Life book is a glorified special issue of the magazine put out in book form. But not surprisingly, it has some excellent photography from the archives and collectors will want it. Even casual fans might enjoy the coffee table book of movie posters, which includes film posters from multiple countries and even handy translations of the text on foreign versions. Photojournalist Greg Williams continues his series of books documenting the Bond film sets, which surely must be a lot more fun than covering wars as he's done in the past. But it all begins with the books, doesn't it? You can get any of the Bond novels in ebook format for about $7, which is a fair equivalent of a mass-market paperback price. However, I'm surprised there aren't more options like bundling all the books in one sale for a cheaper price or at least three at a time. Ditto a nice boxed set for some of the more recent trade paperback reissues. For me, some books demand to be read in paperback form, and Bond is one of them. That's why I pick up the classic editions in used bookstores or online with their terrific cover art. If you're not collecting and insisting on a first edition, you can find them very inexpensively indeed.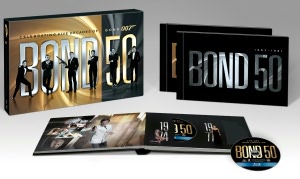 BOND 50: THE COMPLETE 22 FILM COLLECTION ON BLURAY ($299.99; MGM) -- But let's face. Even the books have been thoroughly overshadowed by the films. It's one of the most successful franchises in history and in another 50 years it will probably be THE most successful franchise in history. If for some reason you're a James Bond fan but have never purchased any of the movies before, this is a very reasonably priced set. You get 22 films on BluRay and a bonus disc at around $200 on sale most everywhere. That's less than $10 a BluRay disc. Nine of the films are making their BluRay debut, so if you've been a faithful fan and purchased all the DVDs, this isn't so bad a cost to upgrade. If you've purchased all the BluRays previously available, you're getting nine films. The chance to sell or give away all your old copies and a nice-looking set for about $20 a movie before the money you make back. That's still a darn good price. What matters are the movies and they look sensational here from top to bottom with loads of extras. Not every extra has been carried over, but only fanatics will care about that. Casual fans will undoubtedly be overwhelmed and pleased with what's on offer. So let's tackle three things: the boxed set they created, the boxed set they might have created and the series as a whole.
THE BOXED SET THEY CREATED -- I always prefer boxed sets that mimic the shape of the DVD/BluRay box (even if it's fatter because it contains a lot more discs). This makes storing the set on my shelf alongside all my other movies and TV shows a lot easier. Very few people want to keep a boxed set on their coffee table. This set is contained in a rectangle shape with a gorgeous slipcover. Inside are two hardbound books, one containing all the movies from 1962 to 1981 and the other with all the films from 1983 to 2012. (No, they don't include Skyfall, but rather smartly they do include a slot where you can insert the Skyfall BluRay when it comes out next year.) It's handsome with photo montages and a Bond girl next to each film's slot. To be fair, the shape of the box is less wide than 22 DVD boxes lined up on a shelf so though it might have been more compact, you can place it on a bookcase in your collection face out and know it's not taking up any more space.
On the downside, and it's a huge downside, they store each film in the series in a cardboard "slot" that is a pain in the neck to slide the BluRays in and out each time you want to watch a movie. This system is despised by every single DVD/BluRay collector in the world because you can sometimes accidentally scratch the disc when removing and putting it away. Scratches on BluRays (and even CDs) don't necessarily mean the disc won't play but it's certainly something you want to avoid. Doesn't anyone who designs these boxes ever actually USE them? You can go onto any retail website and every time these awkward, annoying, clumsy and potentially damaging to the disc slot systems are used, people immediately complain long and loud. Formats that use the round, smooth holder with a spindle in the middle that the disc slips over is far, far superior. It's crazy to ask people to spend hundreds of dollars on a boxed set and then provide a design that guarantees annoyance and frustration. I'm quite capable of removing the discs with care, but it's tiresome to deal with each and every time you watch a movie. Please, to all boxed set designers, never use this system again. Some people may not object as loudly but no one -- and I mean no one -- prefers this method.
Finally, the bonus disc is a joke. It contains video blogs from the making of Skyfall that were posted online and would likely have been part of that film's BluRay release as well but are fun to have. The three new options barely qualify as "new." They're all essentially montages of clips from the movies with no new insight or commentary. World Of Bond includes quickie montages including all the title sequences (the only one I'd call truly welcome), gadgets, villains, Bond girls, locations and "Bond in motion" (i.e., action scenes). They're all tossed off and uninspired. Ditto "Designing 007: 50 Years Of Bond Style" and "Being Bond." The last at least has interesting quotes from all the actors who have played Bond in the official series. But they're canned quotes taken from prior interviews and it's all over in less than five minutes. Imagine if they'd actually obtained the rights to more than snippets and actually pieced together an extensive documentary with the six actors discussing the role and each other. Or, god forbid, actually interviewed everyone anew, as I assumed this segment would be. None of the montages other than the title sequence compilation is more than five minutes. I made the mistake of checking out the bonus disc last which made it even more deflating. Even with low expectations, there's little to it other than the handiness of seeing all the terrific title sequences without having to put in each of the 22 discs.
Keep this in perspective: this boxed set doesn't contain any notable new extras but it does contain hours and hours of extras from previous editions for each and every movie, about 119 hours in all. The packaging includes an awkward, annoying way of storing the discs but it's handsome and takes up no more shelf space than if you bought each film individually. Most importantly of all, you get all 22 official Bond films on BluRay, including nine debuts and they all look and sound better than ever. I'm taking that a little on faith because my storage locker was burglarized a few months ago (I blame SPECTRE) and they stole most of the As and Bs and Rs and Ss in my library. Among the lost titles: all the Bond films. So I can't do a side-by-side comparison but trust me, they look terrific.
THE BOXED SET THEY MIGHT HAVE CREATED -- The people behind this set now apparently own the rights to the two main unofficial Bond films: the spoof Casino Royale and the thoroughly unofficial Sean Connery remake of Thunderball called Never Say Never Again. I can understand the focus on the canon, the movies created for the series. Neither film is very good (the best element of either is Burt Bacharach's terrific score for Casino). But if you're going to do an elaborate boxed set, why not include them as "extras," not part of the canon but as fun additions for completists? You can relegate them to the bonus discs where they belong. Also, if they'd done proper extras and created any genuinely new and exciting documentaries (and the 50th anniversary would have been a good occasion), surely they might have interviewed Woody Allen, Mike Meyers, Matt Damon and others who played Bond or Bond spin-offs as well. Some fans also mentioned James Bond Jr, an animated series from the early 1990s that frankly I'd never heard about. Doubtless it appeals to a very different audience (if at all, the toys did better than the series) but if you're going to put a stamp on the first 50 years of a franchise, then going all the way by including every darn thing remotely connected to the series is just the sort of bonus that keeps fans from grumbling when they're buying these films for the second or third time.
THE BOND SERIES -- Here comes the fun part: weighing in on the movies. Sean Connery put his stamp on Bond forever. So did Basil Rathbone when it came to Sherlock Holmes. But just as Rathbone was superseded by Jeremy Brett in the TV versions of that character, I'm not so sure that Connery won't be passed as the best Bond ever by Daniel Craig. He hasn't done it yet, but the series has a new seriousness that serves it well and all the elements are there for a genuinely great Bond film. One reason: only Goldfinger ranks as a truly great film from Connery, who quickly got bored by the role. Roger Moore's tenure was worse than I remember. Timothy Dalton deserves a lot more credit. Pierce Brosnan out-Moored Moore in many ways. And try as I might, I can't accept some hardcore fans who insist that George Lazenby and On Her Majesty's Secret Service is the best Bond film of all.
DR. NO. (1962) ** 1/2 out of ****
FROM RUSSIA WITH LOVE (1963) ***
GOLDFINGER (1964) *** 1/2
THUNDERBALL (1965) **
YOU ONLY LIVE TWICE (1967) ** -- Sean Connery will always be James Bond but Dr. No is almost a pre-Bond James Bond film. It has few of the elements we associate with the series and is a rather modest affair overall. From Russia With Love gets much closer to the formula but still hasn't quite found the rhythm and Lotte Lenya trying to kick Bond at the finale is quite silly and ends it on a whimper. Goldfinger is the one that clicked into place: great title sequence, the all-time best theme song, gadgets that were fun without being silly, amusing one-liners, a good villain, great evil sidekick, and a nifty scheme to rob Fort Knox. Everything we love about Bond is right here. And suddenly it stops. You can almost see Connery deciding enough is enough and that this lark of a series was becoming absurd. He stopped trying and the films did too.
ON HER MAJESTY'S SECRET SERVICE (1969) ** -- George Lazenby is easily the stiffest Bond of all time but this marks the first of many smart attempts to pull back from the spoofery and make a serious, adult Bond film. Diana Rigg is a huge asset as Mrs. Bond (eventually) but Telly Savalas is a weak villain with a very dull, very silly scheme involving hypnosis that goes on and on and just makes you giggle. It's improbable, even by Bond film standards. Personally, I don't think the action scenes are especially exciting either with two exceptions. So poor villain and a weak, cardboard Bond. I've given this film multiple tries over the years, coming back to it when enough time has passed and I was ready to watch it with an open mind again. God knows I have friends who defend it. No dice.
DIAMONDS ARE FOREVER (1971) ** -- Connery got dragooned back into the series and while he's still not fully on board at least he doesn't seem to be actively fighting against the fun. It's the Indiana Jones and the Last Crusade of early Bond films, more of a spoof than a new entry.
LIVE AND LET DIE (1973) **
THE MAN WITH THE GOLDEN GUN (1974) ***
THE SPY WHO LOVED ME (1977) ** 1/2
MOONRAKER (1979) * 1/2
FOR YOUR EYES ONLY (1981) ** 1/2
OCTOPUSSY (1983) **
A VIEW TO A KILL (1985) * -- Roger Moore was my first James Bond so I've always had an inordinate fondness for his era. Mind you, every time I return to them they get downgraded in my book and even I cocked an eyebrow when his underwater car just drove up onto a beach and realized this might be a Bond film but it wasn't my idea of a Bond film. Things quickly went downhill from there. They began with Live and Let Die, which benefits immeasurably in my imagination by boasting my second favorite Bond theme song. I saw Golden Gun again and again and again on HBO ("You ain't thinking a..." "I sho' am, boy!") so I know it inside and out. Besides, I think Christopher Lee is one of the best villains, mean but real. Spy worried me and with good reason. Moonraker was embarrassing and Moore already looked too old though he had three more films to go. For Your Eyes Only had another good theme song (boy, can those songs cover a lot of ills) and a relatively sane focus on action and adventure rather than jokes. Moore had always seemed in on the joke of playing a suave secret agent; there was always a twinkle in his eye. But on Octopussy he went from being in on the joke to simply being the joke. A View To A Kill was even worse, a painfully bad film from beginning to end. The series was desperately in danger of becoming irrelevant. If the Bourne films had come out starting in 1986, it might have been a death blow to the franchise.
THE LIVING DAYLIGHTS (1987) ** 1/2
LICENCE TO KILL (1989) *** -- It was time for another return to seriousness and Timothy Dalton did a far better job than Lazenby of creating a genuine killer on screen that closer to the Ian Fleming novels than anyone else until Daniel Craig. Dalton was excellent, the films were commercially successful but somehow the producers decided things weren't working out and ditched him after just two films. What a pity. All these movies lacked were compelling villains (and tighter editing) to make them top-notch but the second in particular (driven by Bond's thirst for revenge) was genuinely strong. Dalton deserves a lot more praise than he gets for his work.
GOLDENEYE (1995) ***
TOMORROW NEVER DIES (1997) *** 1/2
THE WORLD IS NOT ENOUGH (1999) * 1/2
DIE ANOTHER DAY (2002) ** 1/2 -- But the producers knew something (at least commercially) because Pierce Brosnan immediately took Bond to new box office heights after a six-year hiatus. Much bigger budgets helped but from the get-go Brosnon out-Moored Roger Moore with both a suave attitude and a more believable killer instinct. Brosnan was always pushing to go gritty but he was doomed from the start to replicate the Moore mold, thanks to the instant success he enjoyed. Goldeneye is very strong and the secret weapon here is Judi Dench as M, an excellent no-nonsense anchor for all the shenanigans. Tomorrow Never Dies is top-notch, with Michele Yeoh a sexy and lethal addition that boosts the movie immeasurably. I think it's another peak for the series. (It doesn't hurt that the film has a fine Sheryl Crow song and an even better kd lang tune "Surrender" during the closing credits. They blew the call on that one.) It immediately nose-dived with the asinine World, which out-Moored Moore in the wrong direction. Die Another Day stabilized things and Brosnan's desire to go gritty would finally be heeded... just not with Brosnan. Oh, what he might have done if he'd tackled the role in 1987, when NBC and Remington Steele screwed him out of his first chance.
CASINO ROYALE (2006) ***
QUANTUM OF SOLACE (2008) *** -- I think Casino was slightly over-praised by others and Quantum was slightly under-praised. Together, I think they're both very solid Bond films for adults that don't make you embarrassed to be watching the films even though you're not a 14-year-old boy anymore. They really missed an opportunity in the second film by relegating Gemma Arterton to the secondary role of Strawberry Fields. She had great screen presence and should have been the lead Bond girl. She certainly wouldn't have fallen flat on her face when called to emote like Olga Kurylenko. But the secret weapon in these movies is Dench, who has better chemistry with Bond than anyone else in the series, man or woman. If they told me the two had shagged at one point, I'd believe him... and consider Bond the lucky one. Every element is here for a genuinely great, even series-capping Bond film: an excellent actor, excellent supporting characters, a seriousness of purpose without ignoring the fun and a team dedicated to one-upping themselves in quality instead of quantity. Here's hoping Skyfall proves a winner.
SKYFALL (2012) -- Who knows, but I sure love the trailer.
Okay, tell me I'm foolish and list which Bond films and actors you know are really the best.
Thanks for reading. Michael Giltz is the cohost of Showbiz Sandbox, a weekly pop culture podcast that reveals the industry take on entertainment news of the day and features top journalists and opinion makers as guests. It's available for free on iTunes. Visit Michael Giltz at his website and his daily blog. Download his podcast of celebrity interviews and his radio show, also called Popsurfing and also available for free on iTunes. Link to him on Netflix and gain access to thousands of ratings and reviews.
Note: Michael Giltz is provided with free copies of DVDs and Blu-rays with the understanding that he would be considering them for review. Generally, he does not guarantee to review and he receives far more titles than he can cover.