Brenda Hampton, the creator of 7th Heaven and the new ABC Family hit show The Secret Life Of The American Teenager, is smiling. Sure, she's calling me from her car near Silverlake in Los Angeles so I can't really see her face. But I know she's smiling nonetheless.
The numbers have just come out for the latest episode of Secret Life and they're tremendous. Airing Mondays at 8 p.m. (the stomping ground for 7th Heaven, the longest running family drama in TV history), The Secret Life Of The American Teenager just kicked off the second half of its first season with a massive 4.4 million viewers. That's a huge number for the basic cable channel and almost 50% bigger than the much buzzed-about Gossip Girl on CW, its competitor. And the show hasn't peaked yet. During its debut with 11 episodes last year, Secret Life started strong and grew virtually every week. Now this new episode has opened even bigger, so the sky is the limit.
"I think by the time our little Amy (Shailene Woodley) has the baby we'll really get a lot of viewers," says Hampton. "In the next to last episode of the season, we see the day she got pregnant. We see her at band camp with Ricky [the bad boy and foster child who got her knocked up]."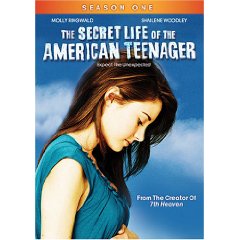 With all those fun, ratings-grabbing storylines ahead, Brenda Hampton is getting the last laugh.
"I shopped this around to all the networks including the CW so the success of the show is very sweet," says Hampton, one of the few women working in TV drama. "I do get quite excited. 'I won! I won! Yea!'"
Despite the landmark success of 7th Heaven, Hampton couldn't convince any network to pick up one of her many other ideas for a TV series. Not ABC or CBS or NBC or FOX or even the WB, the weblet she had given the biggest hit it would ever have. And Hampton's ideas were hardly esoteric. A teenager getting pregnant (Juno, anyone?) is certainly a provocative hook for a drama filled with beautiful teenagers caught up in the usual preoccupations of sex and popularity and homework.
Is it because 7th Heaven was burdened with the label of "family programming?"
Hampton didn't pitch Secret Life as such, but readily admits, "It is family programming. I still think people believe that family programming doesn't sell. And this is such a fun show."
Besides, we're talking about a show that deals with teen pregnancy, friends with benefits, oral sex and other button-pushing topics (not to mention John Schneider as an evangelical dad of a "good" girl and Molly Ringwald as the mom of our pregnant heroine). So if that's family programming, what would non-family programming look like? Frontal nudity?
"I don't know!" laughs Hampton.
But she does know a lot about being a single mother. In the second season of 7th Heaven, Hampton adopted a little girl herself
"Then I married her teacher," she laughs. "Then we adopted two more children just a couple of years ago. So I know what it's like to be a single mom because I did have her for a while on my own. Whether it's a 15 year old girl or a 45 year old woman I'd like to see more people supportive of that. Because it happens. Whatever the reason."
While some people angst over the possibility that simply showing a teenage mother will somehow make teen pregnancy seem glamorous, Hampton knows exactly what she's up to with Secret Life.
"I don't think that, in the end, if this show goes the way I want it to go over the years, that we will be glamorizing teen pregnancy," says Hampton. "It's going to slowly set in [how hard it is] and while we'll make it that the community is going to try to support her because that is what I hope all communities would do for all single mothers, it's still going to be incredibly difficult. When the kid's 12 I think [the heroine Amy is] going to go, 'Wow, how did I do that?'"
But how did Hampton do it? How after the irony of massive success and massive rejection did she finally get a new series on the air?
"I had shopped this around to the networks and CW," says Hampton. "I read in the LA Times a review of Greek and how ABC Family was growing up. And I called my agent and said, 'Get me a meeting with ABC Family. They're growing up. And I'd like to help them do that.'"
She laughs again (Hampton is in a very good mood, naturally). So is ABC Famly, which has now delivered three hit shows in a row, each one bigger than the last. (Greek was preceded by Kyle XY and all of them are still on the air, with Greek returning in March.) So did any of the top network heads who turned her down send Hampton a congratulatory telegram, wishing her the best and smartly trying to stay on the radar of a proven hit-maker?
"Um, not really; I don't think so. It's very competitive out there."
So how long will it take before some smart channel snaps up one of Hampton's many other projects, including her burning desire to turn Fannie Flagg's novel Standing In The Rainbow into a weekly series about life in a small town right after World War II?
"I've got a list of ideas," says Hampton. "You just get me the meeting."