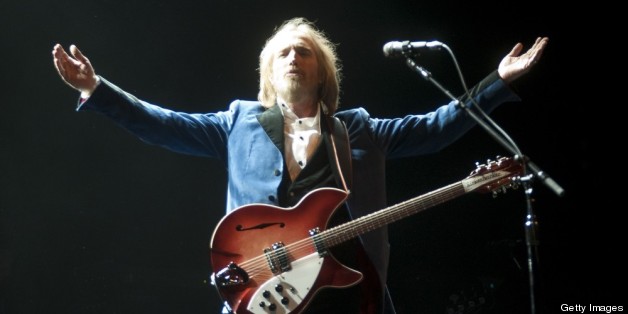 On April 24, 1989, Tom Petty released "Full Moon Fever," his first solo album. I had just turned 14, and I can still remember the complicated emotions the album summoned in me. Fourteen is a funny age -- you're not a kid anymore but your ticket to teenagerdom hasn't really been punched yet. At least mine hadn't been. I somehow felt that I understood the things Petty was singing about -- love, loss, the inability to live up to a young girl's expectations -- but I had no experiences of my own to draw upon, and no real prospects for gaining any anytime soon.
Maybe that's why I abandoned Petty as soon as I began to find my way socially. He became a slightly embarrassing thing I did "when I was younger" (don't you love when kids say that?), like playing with G.I. Joe figures or beating "The Legend of Zelda." I moved on to music my parents were less likely to understand or endorse: Public Enemy, The Smiths, Jane's Addiction, Fugazi.
It was my younger brother who reintroduced me to Petty about 12 years ago. I was hosting a party at my apartment in Astoria, and he put "American Girl" on the stereo. At the time, my brother lived in Greenpoint and belonged to the original generation of hipsters, so even the uncool stuff he liked became cool, simply because he liked it. I remember standing in my kitchen, listening to the joyful sonic assault beaming out of the living room speakers and thinking, "Is this possible? Is it OK to like Tom Petty again?"
I know, I know -- that's ridiculous. People shouldn't like or dislike music just because it is or isn't cool. But we do, don't we? Especially when we're young. And it helps explain why I'd never seen Tom Petty before last night, when he kicked off a series of five concerts with his longtime band, The Heartbreakers, at the Beacon Theater on Manhattan's Upper West Side. (They play again tonight, Thursday, Saturday and Sunday.) I mean, I'd watched Petty on the Super Bowl, like everyone else, but I'd never seen him in person. I wish I'd gotten the memo sooner.
Petty doesn't play a supercharged oldies revue like the Rolling Stones. Nor does he distort his catalogue into willfully eccentric renditions that separate "true" fans from mere pretenders, a la Bob Dylan. (Don't get me wrong: I love this about Dylan.) Petty doesn't perform for three and a half hours, like Bruce Springsteen, and he doesn't rely on expensive bells and whistles, like pretty much everyone else.
Monday night, at least, Tom Petty and the Heartbreakers satisfied themselves with a tight, confident, two-hour set that featured a handful of hits, a few well-chosen covers and lots of deep album cuts. (You can check out the complete set list at the bottom of this post.) His band has been playing together for more than 30 years -- he was only half-kidding when he introduced drummer Steve Ferrone, who joined in 1994, as "the new guy" -- and they couldn't be more in sync. Lead guitarist Mike Campbell shreds aplenty, and keyboardist Benmont Tench unleashed a solo during "Melinda" (a staple of the band's live set that has never made its way onto an album) that ranged from Jerry Lee Lewis to Pyotr Ilyich Tchaikovsky. But that was the extent of the fireworks.
Petty's voice has never been conventionally pretty, but it's well preserved, and he sounds great sneering over all those chiming Telecaster chords and squealing Les Paul riffs. He also looks better than ever, thanks to some bold but effective fashion choices (who woulda thunk a red tie, a black army jacket and brown velvet pants could jibe so well?) and a beard that nicely softens his beaky features.
Lyrically, Petty's the guy who's always shaking off his shackles and bee-lining for the open road. "Everybody's gotta fight to be free," he sings on "Refugee," a Top 40 rock anthem from 1980 that sounded absolutely gorgeous, and it's clear he means it. On 1985's "Rebels," he sings that he was born "with one foot in the grave and the other on the pedal." Even the covers fit the theme: "(I'm Not Your) Stepping Stone" anyone?
It all added up to a coherent night of expertly performed rock music -- even if that's not precisely what some of the Type-A New Yorkers in attendance had in mind. At these prices, people expect to hear hit after hit. It's possible Petty is spreading out his most recognizable tunes over the course of the four shows, but I think it's just as likely he prefers to play less familiar material. Either way, "Free Fallin'," "Here Comes My Girl," "Breakdown" and "Don't Come Around Here No More" were just a few of the audience favorites that didn't turn up in the set list. (UPDATE: It seems Petty usually plays his greatest hits; this is a special run of shows highlighting lesser-known tunes.)
Having studied set lists from the last few shows, I at least felt confident he would end the night with "American Girl." But first, the band tore through one last cover -- "Carol," which Chuck Berry once released as the B-side to "Johnny B. Goode." You could tell they were having a blast -- only to sink back down to Earth for "American Girl," which felt vaguely workmanlike. I don't know if Petty can't hit the song's high notes anymore or just couldn't be bothered trying, but this wasn't the climax I'd been hoping for.
I was beginning to feel ever-so-slightly let down when Campbell began carving out the high-speed riff that kicks in just as the song is ending. Staring out into space, Petty suddenly smiled -- not in a showy way, in a way that showed he'd heard something he liked. A moment later, he was mugging for the audience, but it was that spontaneous expression of pleasure that stayed with me. Here he was, playing his greatest song for what had to be the 100,000th time, and he was still finding new joy in it.
If that's not cool, I don't know what is.
Set List for Tom Petty and the Heartbreakers, Beacon Theatre, May 20, 2013
1. So You Want to Be a Rock 'n' Roll Star (The Byrds cover)
2. Love Is a Long Road
3. I Won't Back Down
4. Fooled Again (I Don't Like It)
5. Cabin Down Below
6. Good Enough
7. I'm Not Your Stepping Stone
8. A Woman in Love (It's Not Me)
9. Billy The Kid
10. Tweeter and the Monkey Man (Originally recorded by the Traveling Wilburys)
11. Rebels
12. To Find A Friend
13. Angel Dream
14. Willin' (Little Feat cover)
15. Melinda
16. I Should Have Known It
17. Refugee
18. Runnin' Down a Dream
Encore:
19. You Wreck Me
20. Carol (Chuck Berry cover)
21. American Girl