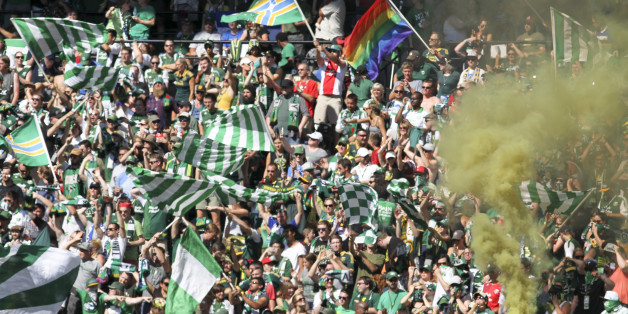 It goes without saying that this has been a bad couple of weeks for the NFL, so much so that a tweet -- post-Ray Rice, pre-Adrian Peterson -- came my way that read, "Let's all start watching soccer instead!" I smiled -- and retweeted, of course -- and for the moment, especially after chats with my soccer-head friends, felt a certain vindication.
Football, after all, the American kind, was brutal, violent, and rotten to its core, my friends all agreed, and now, slowly it was being exposed. Our beloved sport, on the other hand, until very recently the butt of jokes and relegated to third-class status in this country, was on the rise.
As I've chronicled in my new book "The Soccer Diaries: An American's Thirty-Year Pursuit of the International Game," I was a convert to the world's most popular sport in 1982. I've been vocal -- to anyone who would listen -- in my praise of soccer's virtues.
My first game -- a charity match in August of '82 -- brought the world's best players to a sold-out Giants Stadium. That combined with a rollicking speech by the entertainer and UNICEF spokesperson Danny Kaye and John Lennon's "Imagine" blasted from the PA, and I became obsessed. I was young and idealistic and thought this was an international brotherhood, where race, ethnicity, religion, even size (and I was small kid) didn't matter, that it was the sporting equivalent to "the content of your character."
It was and remains a wonderful game -- simple, maybe the simplest, but with great subtlety and nuance -- where there is relative parity throughout the world so that every four years thirty-two closely-matched teams can compete in an enthralling month-long tournament, and, as we witnessed over the summer, transfix billions of people, many now in the U.S. And while soccer is known as "the beautiful game" -- and it is, on occasion -- it's a term I deliberately avoided in my book. At the recent World Cup there was this, but also this, to say nothing of this.
That was on the field. Surrounding the game? There was deadly fan violence throughout the 1970s and '80s; sectarian strife, especially in Glasgow; anti-Semitism usually aimed at one particular club in North London; anti-Islam, emanating from the fans of a right-wing Jerusalem team; there's probably been blood-doping, especially in the 1990s; there have been betting scandals, notably in Italy in the 2000s, and you sense a new match-fixing scandal, like the Big One along the San Andreas Fault, can happen any time, and when/if it does we might not recover from its destruction. There's been glib sexism and corruption within FIFA, the sport's world governing body, which has partners in crime in big corporations and governments around the world.
Not all of this is in the sport's deep past, either: Racism is alive and well, and beyond the oft-cited offenders in Southern and Eastern Europe: Over the weekend, the Brazilian star Ronaldinho was referred to as "ape" by a Mexican politician. And yesterday, the popular Brazilian club Corinthians of Sao Paulo called on its fans to stop using homophobic chants.
If soccer can bring out the worst in people, it, too, can bring out the best. It's why I stuck with it (and why I wrote a book about it). It has a warmth and generosity that's hard to explain. It is international and egalitarian and open to all. Robbie Rogers became the first openly gay player in a major sport in the U.S. and plays regularly for L.A. in Major League Soccer; a woman, Kathy Carter, is president of Soccer United Marketing, one of the very top positions in that league; and the U.S. national team is a picture of diversity.
I grew up watching, and loving, the NFL, but as my devotion to soccer became complete, my interest in football (college and pro, and baseball and hockey and basketball) waned. Maybe soccer will gain some new followers -- to borrow from Twitter again -- because of football's latest woes. But before we moralize, or do a Robbie Keane-like somersault celebration as we watch the possible beginning-of-the-end of the NFL, it's probably best to look toward soccer's future with cautious optimism. And to remember the words of an Ole Miss grad, one who played a little quarterback in high school himself: "The past isn't dead. It isn't even past."
Michael J. Agovino is the author of The Soccer Diaries: An American's Thirty-Year Pursuit of the International Game.