I was in my early teens and in the "I-hate-this" phase. While having another argument over what I assume was trivial, I said "I hate you" to my parents. My mom responded, "you'd be lucky if you wind up half the man your father is!" I haven't the slightest idea of what we were arguing about, but it had something to do with him.
It's a decade later, and my father has Parkinson's disease; he's run three New York City Marathons, a few halfs, and numerous five and ten kilometer events. He didn't have to do any of that for what my mom said to be true. In fact, I've been impressed by my dad since I was a kid. He's easily the most driven person I have ever known. Nothing shakes him, nothing deters him, and he never quits. And honest to God, I can't think of a single moment when he has complained. He is a perpetual motion machine.
Hard work is something we all must do at some point or another. What my dad taught me was that working hard is something to be proud of, not hindered by. He worked the longest weeks for the better part of 23 years, paving 300 degree asphalt up and down the Hudson Valley. I imagine he would have liked me to choose something a bit easier; instead I chose to be a chef. Hint: it's not any easier. But because of him I relish that fact. I'm guilty of some bitching and moaning of course -- we can't all be Michael Kelly Sr. But when I complete a grueling week filled with sweat, blood, and the unmistakable aroma of a worn-for-13-hours shoe, I feel complete.
Of course this sunshine story isn't so simple; I was a real pain for a long time. No one knows that better than my folks. As a kid I cried and complained and wanted everything with a price tag. As a teen I hated everyone and everything and rarely did more than put on a fake smile for the grown ups. This is probably true of most white, middle class teens. I was a spoiled brat. I must have been told that a thousand times and thought it was ridiculous every single time.
Of course it was true, but it took me most of 24 years to figure that out. When I found out about my dad's Parkinson's I really didn't think much -- that was mostly due to not understanding it. I didn't know what the consequences were. Parkinson's is, in fact, a life sentence: there is no cure for now. I wasn't really shaken by this until the tremors in his hands became more obvious. His speech is apparently slurred, but to be honest I still don't really notice that. The one glaring effect I notice is his wavering motion; the motion used to be so incredibly confident, and yet today he seems unsure in his movements. And for all these negatives, I strangely feel that Parkinson's is possibly one of the best things to have happened to our family.
At the end of the day, it will never be fair to my dad -- he's the one who has to live with it. But this disease has brought our family closer again. When I was finishing college, my grandparents passed away, my sisters and I were not incredibly close anymore, and speaking with my mom was becoming challenging because we are so painfully similar. When my dad got serious about living with this illness (which, by the way, was immediately) we all got behind him too. He started running and then training for his marathon. My sisters were going to do it too, but that didn't wind up happening until the third time. What they did instead was organize fundraisers and events that would contribute to the Michael J. Fox Foundation. I don't think I knew what a grassroots movement was until I saw my sisters in action. Jen, the oldest, got some colleagues together and started the Team Fox Young Professionals of New York City. They raise tens of thousands of dollars every year that goes directly to research. Mary helped my dad put together the River View Run for Parkinson's Research along route 218 in Orange County, New York. We'll be holding the fourth run in the fall. This year, she started Pictures for Parkinson's, a photography event to raise money and awareness.
What have I done? Not much; I took myself too seriously in those earlier years and didn't put in the effort. I could make some excuses and a few would be valid, but there isn't much point. My failure is a result of laziness, but one can always take corrective action. I was due to run the 2012 New York City Marathon with my dad. Obviously that didn't happen, but we decided he would do one final marathon this year and somehow, Michael J. Fox has promised to finish the final leg of it with us. To say we have rallied together to save my dad would be understating what has actually happened. My dad rallied us together -- and as a result we have become the closest as a family that we have ever been.
Ultimately my mom was right, and if half the man is the best I become then that's still pretty darn good. There's a lot of opportunity to do great things, the difficulty is often just getting started. Michael Kelly Sr. is a man who has done great things and continues to do more of them. He's only just getting started.
Thanks, Dad. I love you and Happy Father's Day.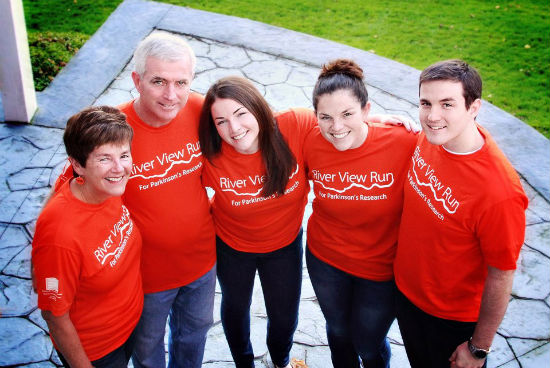 The Kelly Family: Ellen Kelly, Michael Kelly Sr., Jennie Kelly, Mary Kelly, Michael Kelly Jr.
Photo Credit: David Mires for Mary Kelly Photography
*****
Michael J. Kelly is a sous chef in New York City. He holds a Culinary Arts degree from the Culinary Institute of America in Hyde Park, New York. Kelly, along with his family, is an active member of Team Fox and the Michael J. Fox Foundation for Parkinson's Research.
For more information about the Michael J. Fox Foundation, click here. To get involved with Team Fox, click here.