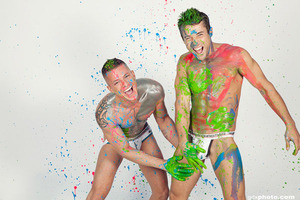 If you haven't heard of Colby Melvin or seen photos of the guy, it's more likely than not that you're living in a bubble, or at least not spending endless hours perusing the Web for photos of hot guys in underwear. The 20-something underwear model has literally taken the men's underwear industry by storm. Premiering in tons of videos and marketing campaigns for Andrew Christian underwear and a seemingly never-ending (and we don't want it to!) stream of photo shoots, in addition to extensive LGBT and political activism, the kid is literally everywhere.
He produced and starred in a music-video parody of One Direction's "What Makes You Beautiful" earlier this summer. The video, released by Full Frontal Freedom, a campaign to increase political awareness of LGBT issues and promote LGBT equality, showcased rewritten lyrics urging Romney to release his tax returns. That video has received 3.4 million views, by the way. Melvin is to present the video later this month at the Jim Owles Liberal Democratic Club's Pre-Election Reception in New York.
"I never expected the video to go as viral as it did. It's amazing that we can make a difference by just being us," Melvin told The Underwear Expert. "That's what Full Frontal Freedom is all about: being completely us and reaching an audience that hasn't really been spoken to."
All this under his belt and tons more in the works, and the underwear model has literally been at it for only six months. Prior to everything he's doing now, the Beaux Bridge, La., native was living and working in Houston, Texas. Doesn't that make him that much more appealing? A Southern boy turned underwear model? We think so. And it doesn't hurt that he's strangely modest about it all, too. "I really don't get the surge in my popularity, honestly," he said.
Melvin just starred in a photo shoot by photographer Gabriel Gastelum. You can find the shoot, titled "Splatter," here, and tons of Colby Melvin photos, interviews and more at The Underwear Expert.