When you think of Halloween and underwear, Mean Girls may come to mind. You know, that scene where they say that Halloween is just an excuse to dress in barely there underwear and pose as a "sexy" version of something for the night. When you work in an industry full of male underwear models, you see that this statement is true for men as well as women.
We at The Underwear Expert definitely acknowledge the idea of the sexy underwear Halloween costume, but we'd like to offer you some other suggestions about how you can get your underwear drawer into the spirit of Halloween.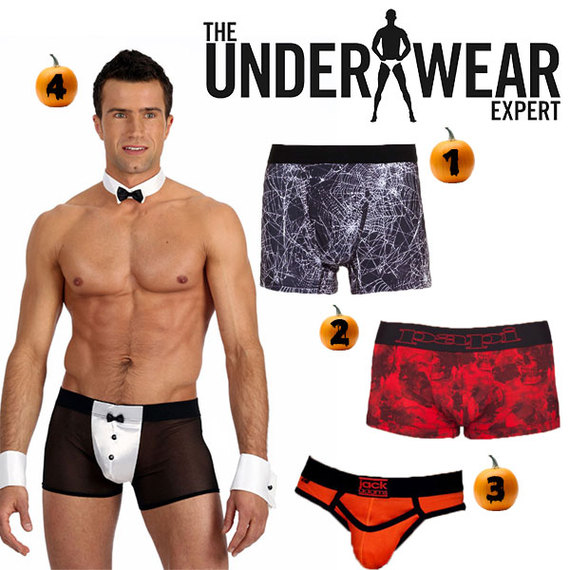 Literal & Campy
Halloween is the start of tacky sweater season. What started out as horrific style, the tacky sweater has etched a place in "ironic/not ironic" parties around the world. Underwear too can get a bot tacky during the holiday season with Halloween being one of those times people take out the gaudiest of prints. Top Man (1) makes very literal Halloween prints, but, adds more of a level of high fashion than some others.
Dia de los Muertos
Dia de los Muertos is celebrated during Oct. 31, Nov. 1, and Nov.2. It's a time to remember those who are no longer with us in this lifetime. Because of this, the skull head has become symbolic of this holiday. Miami-based underwear brand, Papi, has a new collection of skull inspired underwear (2).
Color
The most basic way to dress up your underwear for Halloween is with color. When you think of Halloween, autumnal colors like brown and auburns are a good choice. Neon greens or oranges mixed with black are also great color options. Jack Adams has a jock brief (3) that mixes orange and black really well. Unlike other jock briefs, this one has plenty of coverage.
Costume
Okay. We have to talk about underwear costumes a bit since there are plenty of brands who are specifically focused on underwear that is so avant-garde, they just need to be made into a costume. Gregg Homme has a collection of Tuxedo boxers (4) that you can pair with Gregg Homme cuffs and a collar. It's a bit out there, but, what's more sophisticated than a tuxedo?
For more underwear brands sure to get you into the spooky and playful spirit of Halloween, head on over to The Underwear Expert.

The Underwear Expert is the ultimate resource for 200+ men's underwear brands. Visit us for the latest men's underwear trends and more; like us on Facebook here.