In some Latin American countries, people believe that the color of your undies worn on New Year's Eve will influence your luck in the coming year. Playing to this superstition is a great way to focus on one thing you want to achieve, and working towards making it happen the very second the new year starts, so we're all about it. Plus, it involves underwear! And, with so many different choices of colors to choose from on the market right now, it won't be difficult to find the right New Year's Eve underwear before you toast "goodbye" to 2013 and say "hello" to 2014.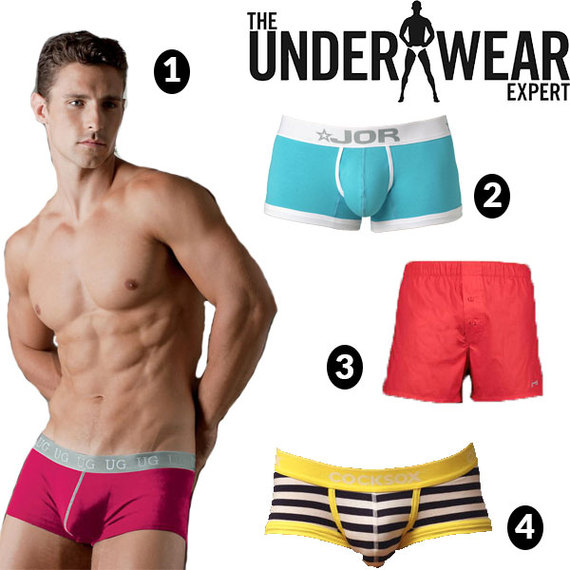 1) Pink

Wearing pink is said to bring you luck in love and harmony. The Undergear Basix collection has a dark pink trunk ($18) that is simple and features a contrasting center seam on the contoured crotch pouch to add extra volume to your goods, while the sleek back hugs the curves of your buttocks.
Wearing blue is said to bring you good health, wellness and tranquility. Jor's Juice Blue boxer ($28.90) is sure to quench your thirst. This collection is made from a super soft 94 percent cotton and 6 percent spandex fabric blend. Every piece is designed in a teal shade of blue and they have bright white contrasting details in the elastic leg trimmings, contouring trim around the crotch pouch and in the wide elastic waistband.
Wearing red is said to bring you passion, romance and love. The Jac5 Donaldo Boxer ($32) comes in a deep, passionate red. Unlike typical boxer shorts, these guys are constructed with back seat coverage to prevent any rising or bunching underneath trousers or pants. They also have a super-soft waistband on the inside to extend their comfort level, so you won't get any of those annoying ruffled waistbands digging into your skin and leaving marks.
Wearing yellow is said to bring you prosperity, wealth and success. A great way to incorporate yellow this year is by wearing one of Cocksox's gold selections. The trunk ($32) is made from 94 percent cotton and 6 percent lycra. The trunk has a black and white vertical striped pattern and has the gold color in the elastic waistband and lining around the leg openings and crotch pouch.
The Underwear Expert is the ultimate resource for 200+ men's underwear brands. Visit us for the latest men's underwear trends and more. Like us on Facebook.