In the realm of sexy men's underwear, the boxer short gets a bad rap. For starters, they are often times loose, so they don't show off your shape. When a playful pattern can look cute on a brief, it looks campier when placed on a boxer. It has also become known as the underwear you wear when you have none left, the laundry day underwear. The boxer is the underwear version of sweat pants, both usually worn on days you don't feel like caring about fashion.
We at The Underwear Expert don't discriminate when it comes to your undies. We believe that the problem most people have in purchasing boxers is that they just don't know what to look for. To help you shop for boxer shorts a little better, we've included a list of our favorite boxers below and why you may want to consider them on your next trip to Macy's or your favorite online retailer.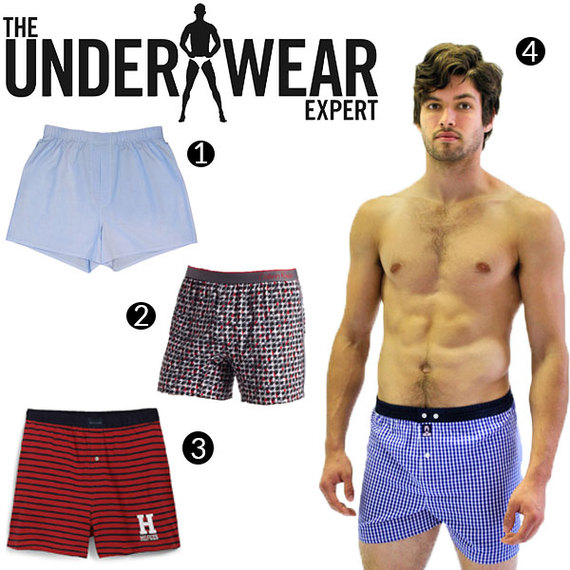 Charlie Dog Boxer Company
The man who is into simple boxers should consider The Blake by Charlie Dog Boxer Company (1). Charlie Dog boxers are made from the perspective of a woman who just wants to see her partner in sexy fitting underwear that didn't feel like sand paper.
Calvin Klein
Clavin Klein (2) is a brand that knows its underwear and its trends. The ck One Micro Slim Fit Boxer is fitted to the body but feels like boxers. The plaid look pictured above makes us think of houndstooth, which has made its mark on fashion these past few seasons. It's cool to see that translated into your underwear.
Tommy Hilfiger
A big trend we are seeing this Fall is preppy/rugby inspired looks. The Tommy Hilfiger Knit Stripe boxer (3) is preppy. It is also available in green and red, making them perfect for the Holiday season.
Charles Van Der Pear
Charles Van Der Pear (4) is another boxer brand that is focused on finding the best fit, comfort, and style for the everyday man. The tailored luxury boxers feature a soft cotton inner lining. The two buttons in the front add a nice flair to the overall look. The plaid look is classic in terms of boxers and is highly recommended.
For more fashionable boxers, visit The Underwear Expert.
The Underwear Expert is the ultimate resource for 200+ men's underwear brands. Visit us for the latest men's underwear trends and more; like us on Facebook here.