Unlike fine wine, underwear doesn't get better with age. Whether you do it on a consistent basis or you change it up in one fine sweep, you should upgrade your underwear drawer every six months. Stretched out, faded, or hole-y underwear is never a good look. Men, it's time to let go of your year old, more than a year old undies.
That said, there is one major way underwear is a lot like wine lately: color. Wine or deep, dark red colors have appeared across many collections this fall season. And, why not? In places where the temperature is changing, deep reds are one of the many colors you will walk past in parks. It's a must have fall color.
In the midst of upgrading your underwear drawer, why not include some wine underwear. Check out four ways you can style your underwear to be on trend this wine season.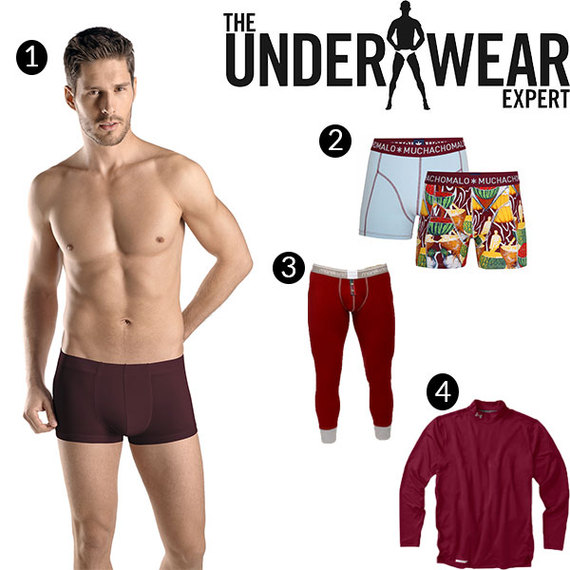 Solid
The easiest way to get on the wine trend is to go all out. Find an underwear that is completely wine red. We'd suggest a boxer brief from Hanro (1). The red here captures the sophistication of the trend. The underwear is a bit pricey but has a great cut, fit, and is made of the best cotton fabric.
Waistbands
Waistbands are a huge way to judge how fashionable an underwear brand is. There is a lot of time and effort spent on designing the waistband to compliment the underwear or add a new twist. Muchachomalo (2) has a two pack of boxer briefs that use wine red in the waistband to add a bit of contrast/flare to the underwear.
Long Johns
Being based in New York, we take fashionable long johns seriously at The Underwear Expert during the months of November and December. We are based in New York, and it certainly gets cold here during those months. The Marek + Richard prep long john (3) follows in another prevalent trend, preppy plaids, while putting the wine trend front and center. They are also very comfortable to cuddle up in bed in.
Athleticwear
You can add wine to your workouts. Under Armour has a wine colored mock turtle neck that will keep you warm during work outs in and out of the gym (4).
For more "wine"derful brands, head on over to The Underwear Expert.
The Underwear Expert is the ultimate resource for 200+ men's underwear brands including Under Armour, Hanro , Tommy Hilfiger and tons more. Visit us for the latest men's underwear trends and more; like us on Facebook here.