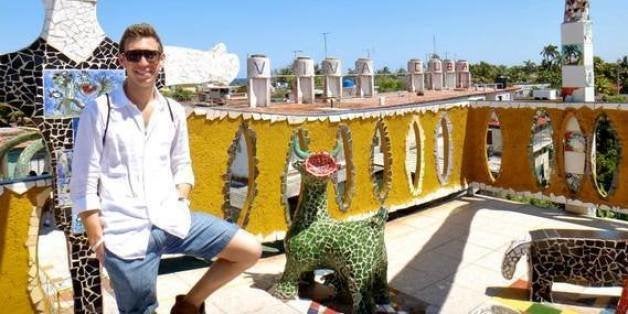 In the late night hours of March 26, 2014, I was being questioned in a police station in Havana, Cuba. I had no cell service and no Internet. And you know what? It was glorious. I was completely and utterly disconnected. Even in a moment when digital technology would have served me well to get in touch with my group mates -- and not just to provide an Instagram-checking distraction -- I was still OK. Actually, I was more than OK; I was liberated.
Let me backtrack to where this story began. It actually traces back to elementary school, when my Spanish teacher instilled in me a life-long passion in her native Cuba. It became my goal to one day reestablish diplomatic relations between our countries, and I carried this desire throughout my academic studies. As a Global Liberal Studies major at NYU, I continued to pursue this interest, and naturally, I decided to write my senior thesis on a post-Castro era in Cuba. My program awarded me a grant to join a "People-to-People" U.S. Treasury-sanctioned trip to Cuba as a complement to my research.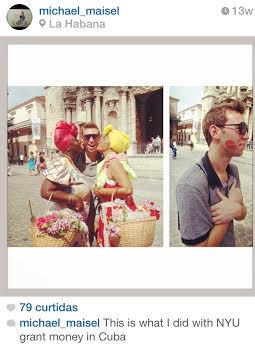 I had been to Cuba once before, in 2009, and thus was familiar with the lackluster digital technology on the island. But back in 2009 I wasn't yet addicted to my cell phone, so the 4G/LTE-less country didn't pose much of a problem to my 17-year-old self. Going to Cuba five years later, however, was a different story. In the days leading up to my departure, I felt like I was getting ready to sever a limb. How would I survive an entire week and a half without getting my Facebook notifications, checking my email and scrolling through Instagram? When I returned to the U.S., would I drown in the influx of beeps and vibrations of my iPhone catching up with the past 10 days of missed connectivity?
When I arrived in Havana, my first impulse was to turn off airplane mode on my phone. With luck, I thought, AT&T's signal would be strong enough to pick up cell service from Florida, 90 miles to the north. (Wishful thinking.) I took a deep breath, grudgingly realizing this would be the case for the remainder of the trip. And yet like an animal trained in habit, I pulled out my phone moments later while waiting in the airport immigration line. After laughing at myself for my apparent digital addiction, I began to look around and take in my surroundings.
Now it's nothing that hasn't been said before: When you stop looking at your phone, you start taking in what's really going on in the world around you. (My boss and in-house spiritual leader Arianna Huffington has recently been touting the benefits of unplugging.) But it's one thing to hear about the eye-opening experience of putting down your cellular device and another thing to do it yourself. For me, this embrace of being "unplugged" started almost immediately after putting away my phone. For example, I noticed that the Cuban airport immigration system had changed since my last trip in 2009; the government officials were no longer behind intimidating closed doors with their faces hidden from nervous visitors like myself. Now that these customs agents were visible; I found it curious that many were wearing brand name clothing. When I visited in 2009, it certainly would have been taboo for a government worker to wear Calvin Klein sunglasses.
A stream of observations was non-stop for the remainder of my trip. I don't think I can recall a single moment of boredom. Whether waiting for my passport to be stamped or for our plᅢᄀtanos to emerge from a restaurant's kitchen, my brain would fill with an overload of incoming sensory and cultural examination. I began to carry around a notebook to jot down little notes, which I would then type out when I got home each evening. (In fact, this was incredibly useful as I later incorporated them as last-minute additions to my thesis.) So here's the main point: If I had been carrying my phone, the distractions of our hyper-connected digital world would have crept in. But forced to disconnect, I was able to challenge my own preconceived academic assumptions of what I would find in a 2014-era Cuba. On a more spiritual level, I underwent a heightened sense of awareness that I thought was reserved for fictional characters -- like CIA officer Carrie Mathison on Homeland.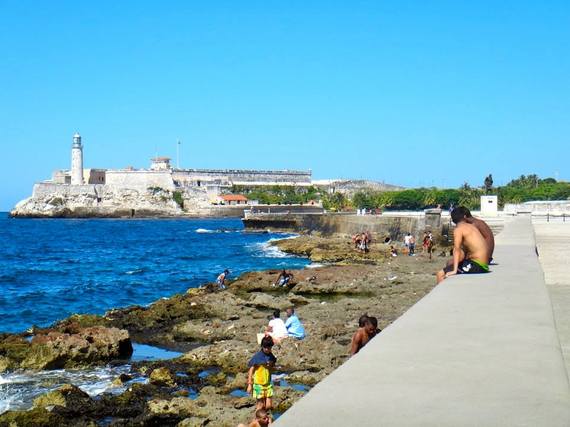 When a fellow traveler's purse was snatched during a late night walk -- which, by the way, is incredibly abnormal in the uber-policed Havana streets -- I went to the police station to help file a report since I was the only Spanish speaker on the trip. (What ensued in the bizarre bureaucracy of the Cuban Department of the Interior deserves its own post.) But several hours later, in the middle of a hectic police station, I was grinning from ear to ear. I still can't tell you why, but I have a hunch that knowing that I was phone-less and would have to navigate this situation entirely on my own, without the crutch of social media distractions or the ability to call someone and vent about my situation, induced quite the endorphin rush.
The next day, I returned to Miami. And I craved the memory of my night's stay at the Cuban Department of the Interior so much that I just had to snap a picture of the official document that declared me an official translator for the Cuban government. And then posted it on Instagram.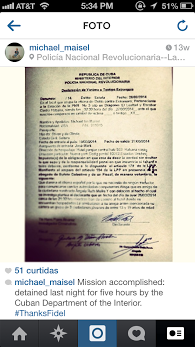 This post is part of the Third Metric Challenge series. We invite you to find a creative way to incorporate the pillars of the Third Metric (well-being, wisdom, wonder and giving) into your life and share your story. To submit a post, email thirdmetric@huffingtonpost.com.