So, my son Chas calls me in Manhattan from Bard College, 90 minutes up the Hudson.
"Wassup this Saturday?" he asks me. "Wanna cook?"

"How many?"
"Twenty-five."
"Let's do it!" I say. "We'll bring the eats, you get the sous chefs. And don't forget to bring your dog, Hank."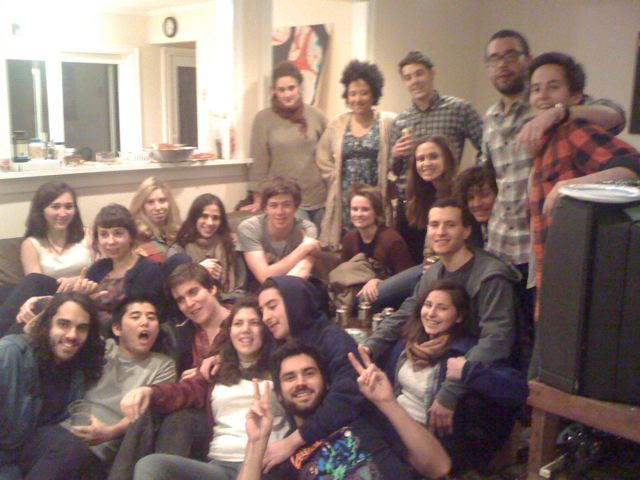 I call Chef Kyung at Michael's New York to see if the first of the Dutch white asparagus has shown up. They have, an awesome sign that spring is here. And to follow:
Snake River Kurobuta pork chops. This is to pork what Wagyu is to beef. It all started with the English Berkshire breed, and then the Japanese refined it beyond belief. We get ours American-raised from Snake River Farms in Idaho.
Debragga and Spitler Prime rib-eyes. These are my favorite steaks--meaty, juicy, and rich and tender with fat--and they taste great with lots of fresh thyme.
*Murray's chicken breasts. We buy only the best, from Murray's Chicken. The birds are raised in the Pennsylvania countryside, free range central.
First of springtime's wild salmon. Enough said.
Peewee potatoes, buttery tasting, to be baked crisp. And, of course, some spinach: We must have those greens.
The fixings for what has come to be known as the famous Kim's Salad. My wife lives on it: baby gem lettuce, rocket, mache, endive, frisee, fennel, sweet onions, white mushrooms, chives, and a white wine Dijon mustard vinaigrette.
"And while you're at it," I tell Kyung, "let's do that asparagus with some fresh Oregon morel mushrooms, Ventura fava beans, jamon Serrano, Parmesan, a little beurre blanc--and, of course, fresh chives for 28!"
I call our daughter Clancy. "Ready for another road trip?" (We had a wild ride last year eating our way through 14 meal periods in the hinterlands of England with my pal Harry Kipper, his wife Bette Midler, and their daughter Sophie. But that's another story.)
Then, I call Seth, the somm at Michael's New York, and order the all-purpose Prosecco Vallis Mareni NV; Olivier Leflaive Bourgogne Blanc Les Setilles 2007, which tastes like Puligny Montrachet and is Seth's new favorite for French white by the glass; and some magnums of the famous Prisoner, Orin Swift's Zinfandel blend 2008 from Napa.
And we're done.
I rent a Lincoln Town Car--need to have lots of room to transport the big eats and beverages of choice--and Kim, Clancy, and I are on the road again.
Power driving across the GW Bridge and up the Palisades Highway, we hit a mega wind/rain storm, Wizard of Oz time, fallen trees flying everywhere. But thinking about the meal ahead, it's only a minor distraction.
We check into this cool little place, the Madalin Hotel in Tivoli, near Bard. We call Chas, get him outta bed, and send him off to get the Haagen-Dazs, Hershey's chocolate sauce and walnuts, some great local baguettes, garlic, and more butter (Land O'Lakes, salted).
We meet up with him at his old house and the gang is all there, ready to rock. His buddy Jun fires up the barbecues.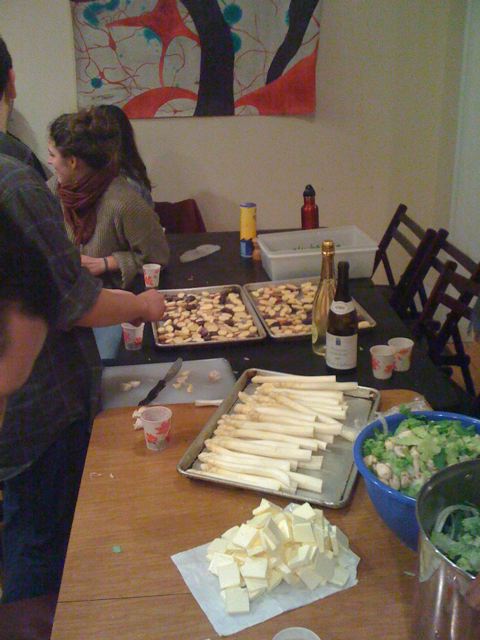 Jun is the grill man, and in the heat of the two behemoths he has loaded with glowing hardwood charcoal, he tells me he hangs with Hawaiian superstar chef Roy Yamaguchi, who used to work for me at Michael's Santa Monica. Chas's friend Tommy is on the shallots for the beurre blanc. Manny is in charge of the mustard and fines herbes marinade for the chicken. Will and I prep the rib-eyes. Jun slathers the pork chops with KC Masterpiece barbecue sauce (the best). Sara slices the pee-wees, Philippa does fresh thyme leaves detail, Kim and Lana put together her famous green salad, Clancy opens the wine, Yvonne helps with the salad and sets the tables. I boil water for the white asparagus and get started with a snort of cold Prosecco.
This college crowd usually drinks beer, but they're all over the great wines, big time. Let the games begin.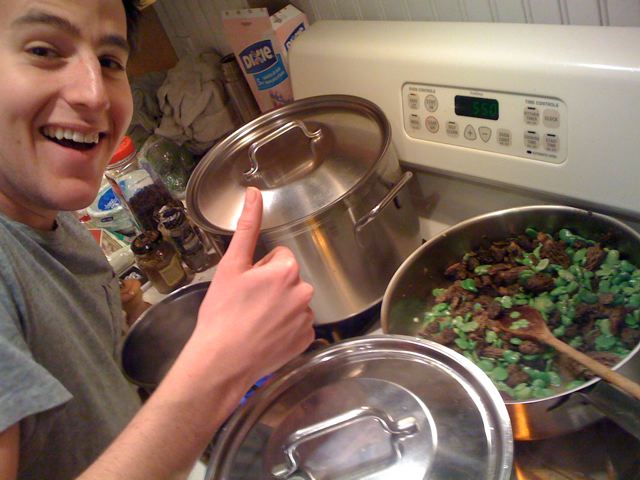 Everybody assembly lines the white asparagus first, hitting each serving with a big spoonful of beurre blanc, followed by the morels and favas, Parmesan, Serrano, and finally the chives. Goes great with the Prosecco and Leflaive.
Meanwhile, Jun and I have the rib-eyes on one grill and the pork chops on the other. I share with him the big-time chef's secret of how to check for doneness (for perfectly medium-rare, a quick fingertip touch of the meat should have the same give as the fold of skin between your thumb and forefinger). Then we throw on the Murray's chicken and wild salmon.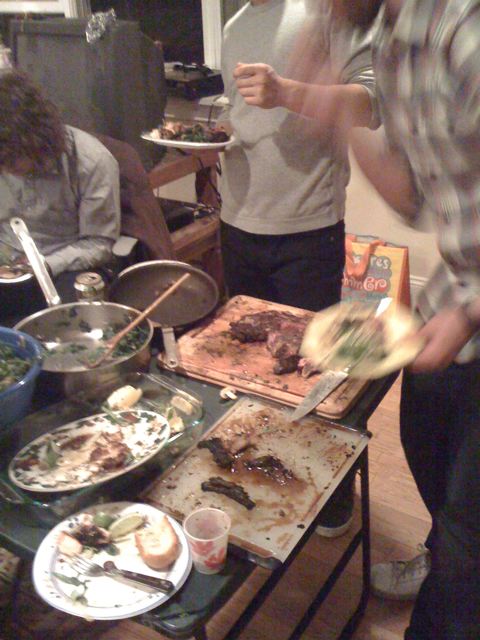 By now the big magnums have aired enough and are ready to pour. Cooper tosses the salad. Chas slices the meat. We load up a card table with all the eats, slice the hot garlic bread, and it's buffet time!
Hank the dog, goes nuts for all the samplers he can charm off of everyone.
It's Hoover time, in a classy way, as the food all disappears. Soon, Tommy is back on the cutting board chopping walnuts, and the gang starts dishing up ice cream and chocolate sauce. We are happening.
This being college and all...well, to finish up, I'll leave that up to your own imagination!
Great meal!
Chow, MLM

Follow HuffPost Food on Twitter and Facebook!